The Frostwild Scourge Preview #4
Bitter Cold
Welcome back, Ashes players! Preview season continues for the second expansion in the Red Rains cycle: The Frostwild Scourge! This expansion comes with a mono-natural magic preconstructed deck of all-new player cards. Rounding out this deck, we have some icy cold magic, and a moment of reprieve. Check it out.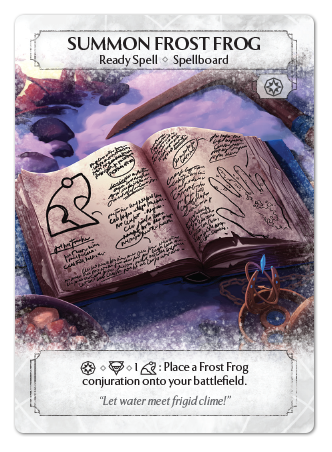 Summon Frost Frog
Main.
Main, Exhaust, 1NP: Place a Frost Frog conjuration onto your battlefield.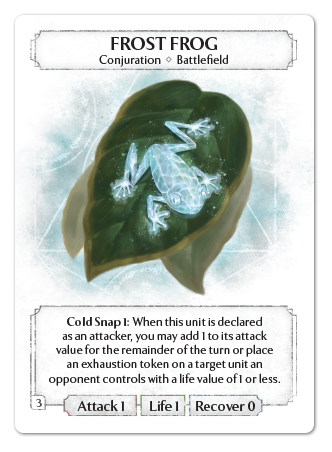 Frost Frog
Conjuration (3)
1/1/0
Cold Snap 1: When this unit is declared as an attacker, you may add 1 to its attack value for the remainder of the turn or place an exhaustion token on a target unit an opponent controls with a life value of 1 or less.
The manifestation of natural magic itself is here! The Frost Frog is another adaptive creature of the elements, being able to choose between increased attack power or a splash of icy exhaustion.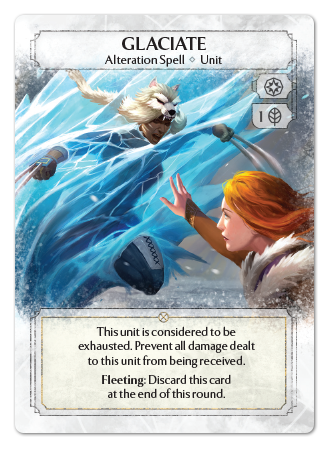 Glaciate
Alteration Spell. Main, 1NC
[INEX: This unit is considered to be exhausted. Prevent all damage dealt to this unit from being received.
Fleeting: Discard this card at the end of this round.]
Flash freeze your foes and friends alike with Glaciate! This temporary spell can lock down a threat for a round, or preserve a unit in a block of ice to allow it to recover the next round.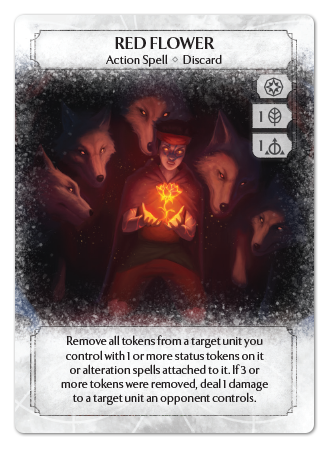 Red Flower
Action Spell. Main, 1NC, 1B
Remove all tokens from a target unit you control with 1 or more status tokens on it or alteration spells attached to it. If 3 or more tokens were removed, deal 1 damage to a target unit an opponent controls.
Take comfort from the fire brought by Koji from his home of the Spiral Jungle. This spell can fully refresh a unit that has seen much battle, and can even imbue them with fiery abilities upon revitalization!
That's all for the natural deck from this set. Next, we'll begin to share what threats the new Chimera will pose in The Frostwild Scourge!