Announcing The Frostwild Scourge!
Another Chimera Awakens
Hello again, Ashes players!
It is time to announce the next expansion in the Red Rains cycle. Four brave Phoenixborn, the masters of natural magic, have answered the call to journey to the frigid wastelands beyond Frostdale, the great icy city in the north. Join Rin, Lulu, Aradel, and Koji as they fight to defeat the titanic chimera known as the Frostwild Scourge. This new chimera will challenge players in fresh ways through the use of two conjured alteration spells it can put into play. Tremble before its might as it enrages and strengthens its aspects with imbued Vigor, all while fighting off the elements that will Stun your characters from acting and deplete your sources of magic. Endure harsh winter storms and combat the strength of this mighty giant in The Frostwild Scourge!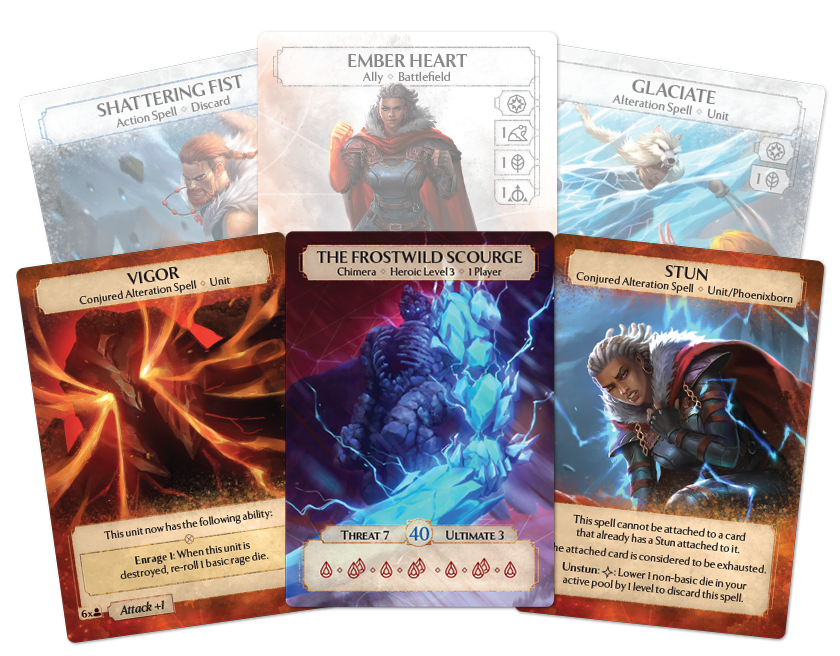 Vigor
Conjured Alteration Spell-Unit
+1 Attack
This unit now has the following ability:
[INEX: Enrage 1: When this unit is destroyed, re-roll 1 basic rage die.]
Stun
Conjured Alteration Spell-Unit/Phoenixborn
This spell cannot be attached to a card that already has a Stun attached to it.
The attached card is considered to be exhausted.
Unstun: Side: Lower 1 non-basic die in your active pool by 1 level to discard this spell.
The Frostwild Scourge expansion set will feature an all new Chimera opponent with two complete aspect decks, as well as an all-new, natural magic player deck, led by four returning Phoenixborn with brand new unique cards for them to use! Additionally, for the first time since the launch of Ashes Reborn, we will be including a handful of balance errata in this expansion. For more details on the cards being changed and the rationale behind each choice, please check out our latest Organized Play update article here.
I hope you are excited for the continuing adventures of the Red Rains cycle! Stay tuned for more preview articles as we draw closer to the release of The Frostwild Scourge this summer!