More Rise of the Phoenixborn Deck Changes
Maeoni, Coal and Noah
Welcome back, Ashes players!
Last week, we took a look at some of the changes you'll see in the Reborn decks for three of the original Phoenixborn. Today, let's round out the rest of the Rise of the Phoenixborn updates you can expect to see with Maeoni, Coal and Noah's decks.
The Snakes in Silver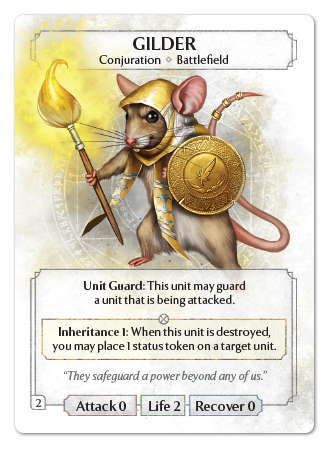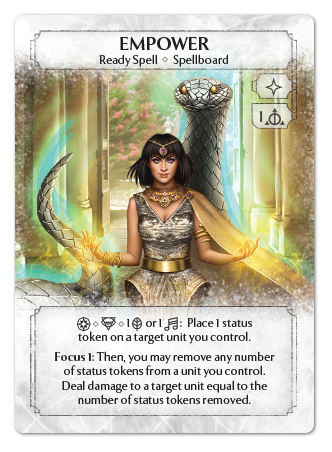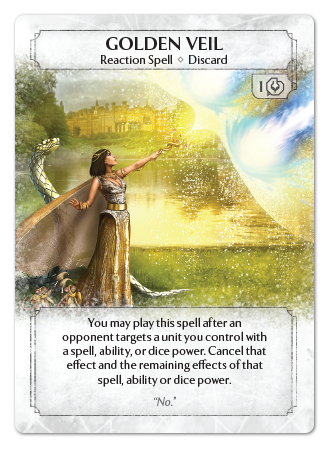 The Gilder is another iconic staple conjuration from Ashes 1.0 that was only held back by the Charm die cost to play the ready spell that summons it. With dice exhaustion from illusion magic gone, Gilder has much more room to be included. As a result, it has received an attack reduction to 0 to balance its usability as proactive ping damage and the ever-valuable Unit Guard role.
Empower takes on a new role as a status token generator and payoff card! Its flexible cost and application will ensure Empower is a strong consideration for any deck in need of status tokens for buffing up units!
Golden Veil gets a very significant cost change for Ashes Reborn! Dropping down to only 1 charm die frees up players looking to add safety to their units. This is yet another reaction spell with a power die cost, allowing for more dynamic gameplay with reading players' dice pools.
The Iron Men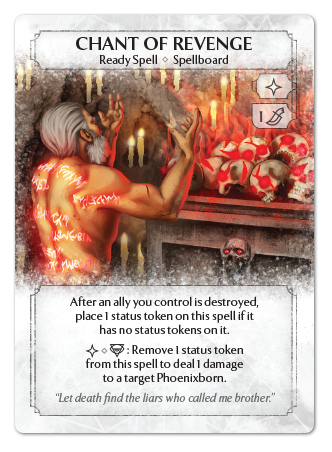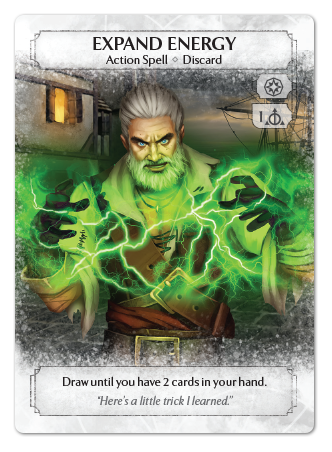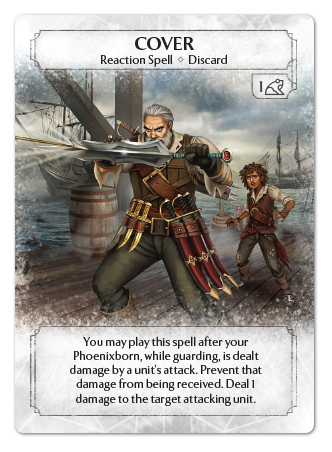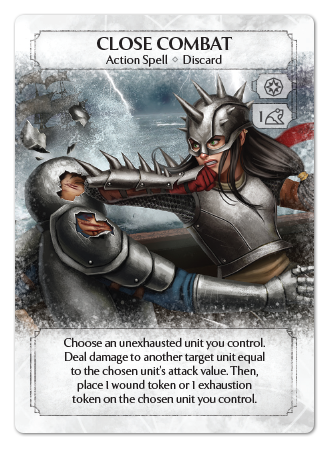 Coal's base deck receives a huge number of changes! Chant of Revenge was previewed before, but here it is again with clarified text. Expand Energy is a new basic-only tool to help draw cards for Coal to Slash away! Cover and Close Combat add new damage and protection options to the Natural card pool, reinforcing the class' identity of premier battlefield control.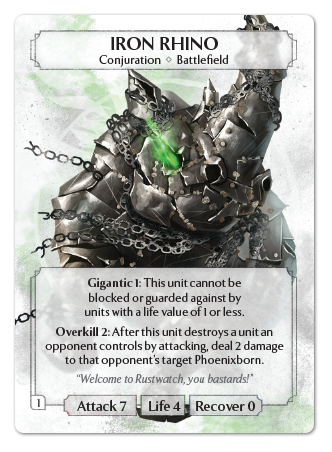 The Iron Rhino receives a dramatic update, making it much more worth its steep cost. Iron Rhinos come crashing to the table with Gigantic 1 and Overkill 2, on top of a 7/4/0 statline! Any way you slice it, the Rhino is here to do some damage!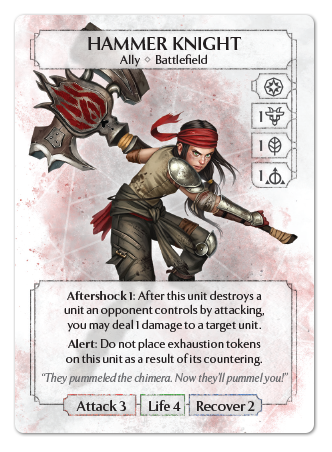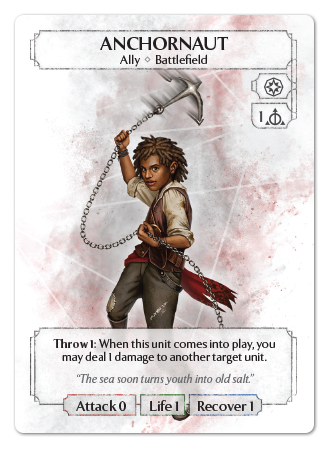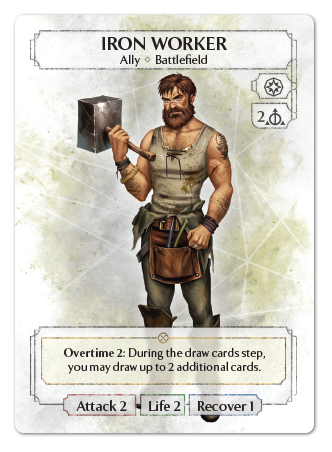 Coal's three allies have also received updates. The signature Hammer Knight demonstrates a change to large allies that will be seen among similar units in Ashes Reborn. The Hammer Knight balances offensive and defensive capabilities with Aftershock and Alert. Proper timing of playing and attacking with a Hammer Knight is crucial to getting value from it! It can be a massive battlefield upheaval if you can attack with your Hammer Knight after your opponent's Phoenixborn has let their guard down! Anchornaut previously had an ability that could trigger in nearly any timing window, leading to some quirky interactions. Anchornaut has been simplified to dealing Throw damage when it enters play, and now still providing a 0/1/1 unit to use on the battlefield. Iron Worker was a classic combo-enabler unit in 1.0 by granting additional side actions. This ability was replaced in the interest of expanding design space for Time magic, so you can still look forward to new ways to gain side actions in the future!
The Shadows of Viros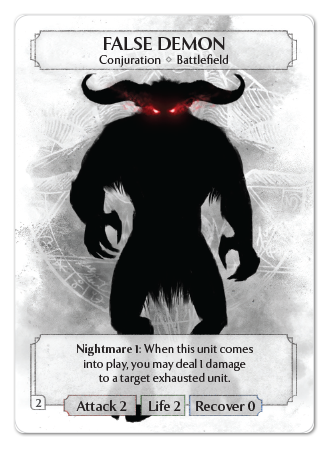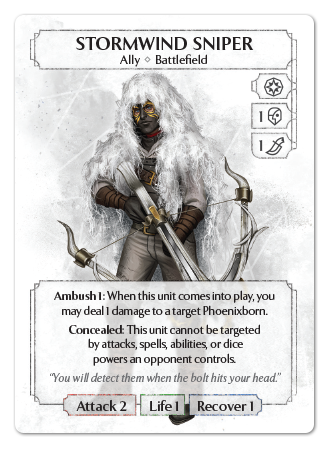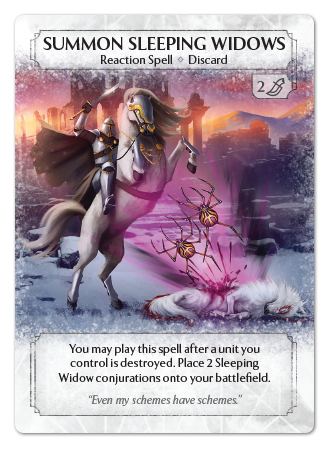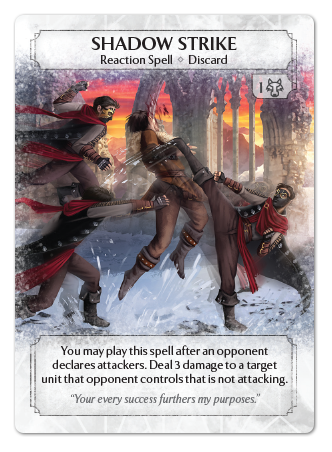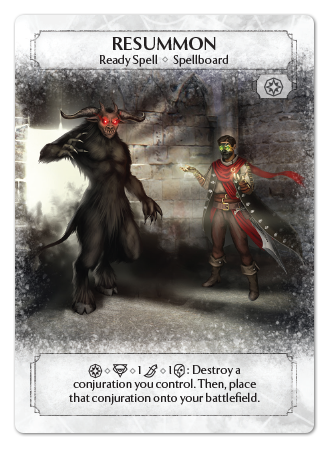 The last base deck in the Master Set is Noah's, receiving several new tempo control tools to suit Noah's playstyle. False Demon gains an enter play effect to help clear away exhausted units for a bigger swing at the top of the next round! Stormwind Sniper debuts the new Concealed ability, allowing the Sniper to avoid being targeted until after it attacks. Ambush has also been rebalanced to only target Phoenixborn in order to reduce the amount of authority ceremonial magic has on the battlefield. Summon Sleeping Widows receives a subtle timing adjustment to fit the philosophy of the Reborn rules. Shadow Strike offers illusion magic a new reaction spell for punishing any players who try to organize their attack patterns in a specific order! Lastly, Resummon is a new ready spell with loads of interesting utility. Resummon can trigger both 'when destroyed' effects and 'enters play' effects, allowing you to double down on some of your strongest abilities. It also gives you a fresh copy of a conjuration, free of any wounds and exhaustion!
Conclusion
I hope you have enjoyed seeing the full extent of Ashes Reborn changes made to the original 6 Phoenixborn and their base decks. There are still many more secrets to discover in Ashes Reborn, so be sure to check back soon for more card reveals!