Rise of the Phoenixborn Preview
A Glimpse at the Master Set
It has been quite some time since players first received Ashes: Rise of the Phoenixborn. In this original core set, players were introduced to 6 Phoenixborn: Jessa, Aradel, Saria, Maeoni, Coal, and Noah. A lot has changed in Ashes Reborn, including some of these classic characters and their iconic spells from the world of Argaia. Let's take a peek at the new look in Ashes Reborn!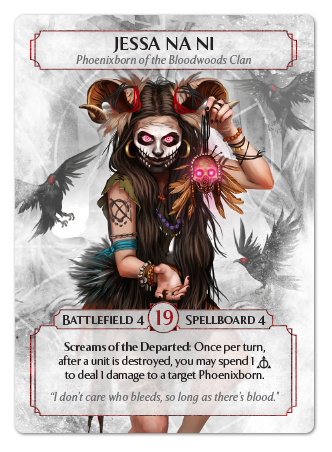 Jessa Na Ni
Both Jessa and her unique spell received an update. Jessa was a powerhouse of a Phoenixborn right from the launch of Ashes. Her ability, Screams of the Departed, was a built-in win condition, allowing Jessa to convert unit deaths into damage to the enemy Phoenixborn. This was always a personal favorite Phoenixborn of mine, and Jessa received a variation on her ability to still capture her signature gameplay style. Screams of the Departed can now trigger off any unit being destroyed, but is limited to once per turn. Players who enjoy '1000 cuts'-style strategies may enjoy using Jessa to whittle away at their opponent over the course of the game.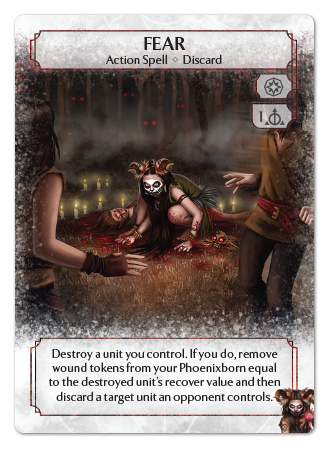 Fear
Jessa's ability was always complimented by Jessa's unique spell, Fear. Fear was formerly one of the best cards in Ashes, giving players an unconditional, free removal of an opponent's unit. This power level is far above the curve for what could be considered healthy for Ashes, so Fear is receiving an update. Fear now dives a little deeper into the theme of Jessa and the Bloodwoods Clan; it depicts a blood sacrifice ritual performed by Jessa, now allowing her to heal her wounds and scare off anyone who mistakenly walked in on her sinister act! Fear remains a powerful unique spell for Jessa, while receiving appropriate costs and conditions to use. Lastly, Jessa received a reduction in battlefield and an increase in life to support her role as a sacrificial, outlasting Phoenixborn. Use her small battlefield and need to sacrifice against her by fielding as many small threats as you can!

Aradel Summergaard
Aradel returns to Ashes Reborn, same as ever! A powerful offensive ability in Water Blast paired with a battlefield of 8 allows Aradel to command the flow of battle very consistently and effectively.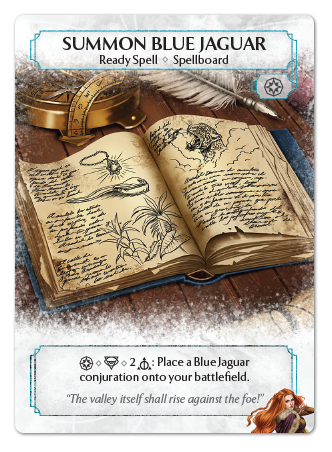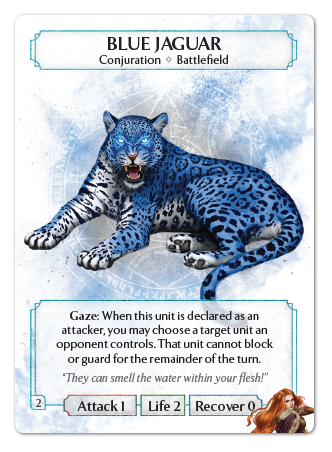 Summon Blue Jaguar and Blue Jaguar
Aradel's signature unit, the Blue Jaguar, receives an update. The original Blue Jaguar was a dominating force in preconstructed Ashes gameplay, giving access to tremendous amounts of battlefield control. The Blue Jaguar now takes a more aggressive stance, supporting a swarm of attacking units by denying the opponent one of their defending units!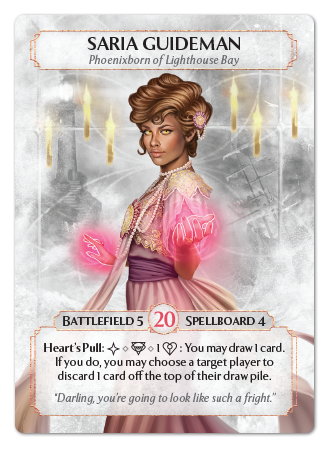 Saria Guideman
Saria is another Phoenixborn receiving no changes to herself. Ashes Reborn has reduced the overall life values of Phoenixborn, making 20 the highest life a Phoenixborn can have. Saria indirectly benefits from this change, making her one of the toughest Phoenixborn to bring down quickly.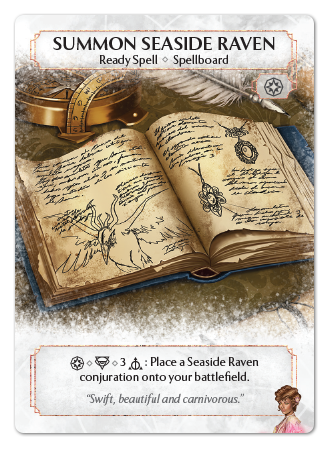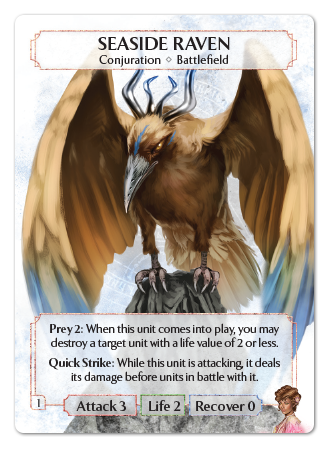 Summon Seaside Raven and Seaside Raven
While the ready spell hasn't changed, the Seaside Raven certainly has! This unit comes into play aggressively Preying upon one of your opponent's weaker units, then further threatens them with a 3 attack Quick Strike! Quick Strike is an ability replacing Battle Advantage from original Ashes, in an effort to encourage players to utilize the new attacker-favored battle rules previewed in our last article. Overall the Seaside Raven provides very strong battlefield control, while Saria graciously hosts her malevolent feasts in her dining hall...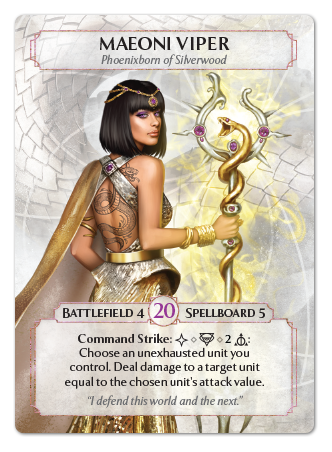 Maeoni Viper
Maeoni has always been a popular Phoenixborn among fans, but was held back in the competitive environment by her small battlefield. Maeoni's stats have been rebalanced to support her general usability, and has also received a new Command Strike ability to send her Silver Snake out to hunt before they are ready to commit to an attack!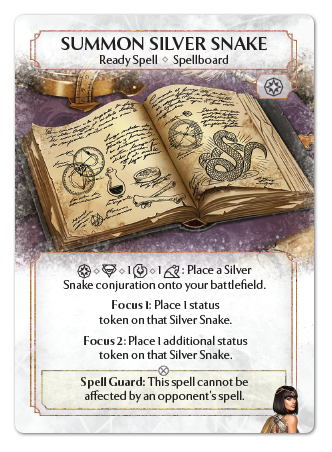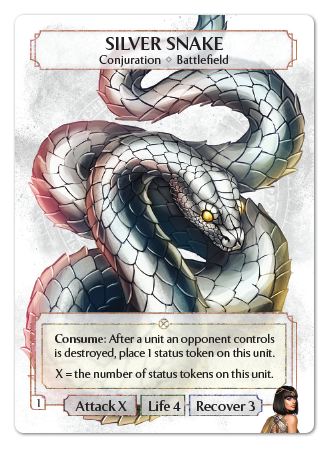 Summon Silver Snake and Silver Snake
Silver Snake has been reduced to a conjuration count of 1. This follows the pattern of Ashes Reborn reducing the overall conjuration counts of units. When these counts are too high, players are more likely to focus down on their best units, and the counts were hardly ever a restriction in gameplay. Ashes Reborn is exploring lower conjuration counts to promote unit diversity in both deckbuilding and on the battlefield.
Just because there is only 1 Silver Snake does not make it a slouch by any means! The Silver Snake now consumes any unit when it is destroyed, not just when Maeoni does the destroying! You may see your Silver Snake grow faster, Strike harder with Maeoni's ability, and attack bigger against enemy Phoenixborn!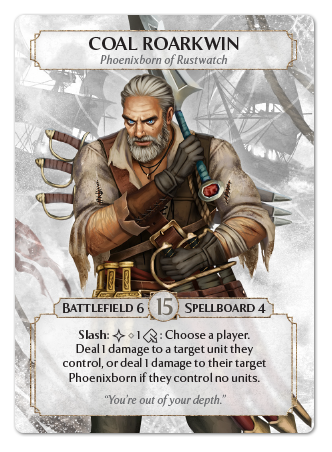 Coal Roarkwin and One Hundred Blades
Coal returns to Ashes Reborn very much the same as he ever was. A small spellboard reduction and clarified ability are the only tweaks he received. One Hundred Blades returns unchanged as well. What has changed for Coal is the opponents he faces. A general reduction of Phoenixborn life has put Coal closer in contest with other Phoenixborn, and the ability to deal 1 damage to units quickly and reliably has only gone up in value in Ashes Reborn. Make no mistake; Coal is here to win.

Noah Redmoon
Noah was sadly an outcast Phoenixborn in the original Ashes metagame. He was tied to both ceremonial and illusion magic, lacking flexibility. He also had an expensive unique ready spell in Summon Masked Wolf that was hard to afford, and also filled up his small 3 spellboard. Noah is back, free from ceremonial magic requirements in his ability, and also boasting much more aggressive stats to support a swarm of Masked Wolves.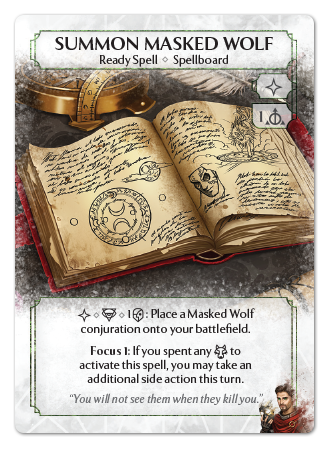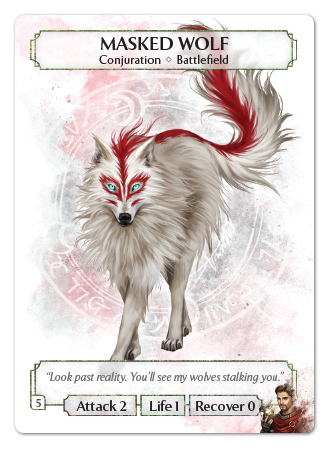 Summon Masked Wolf and Masked Wolf
Noah's signature conjuration is frightening! Masked Wolves are very fast and very efficient swarm attackers. They have a much more affordable cost than before. Paired with a fresh focus 1 ability, Noah is capable of summoning multiple Masked Wolves immediately before sending them out to attack!
Conclusion
That is all for today's preview! I hope you enjoyed seeing the familiar Phoenixborn of the Master Set! Stay tuned for more previews as we continue to explore the changes being made in Ashes Reborn.
Take Care!