The Frostwild Scourge Preview #3
Alterations Abound!
Welcome back, Ashes players! Preview season continues for the second expansion in the Red Rains cycle: The Frostwild Scourge! This expansion comes with a mono-natural magic preconstructed deck of all-new player cards. Natural magic places a heavy emphasis on alteration spells to power up your units, so let's check out some new ways it does so.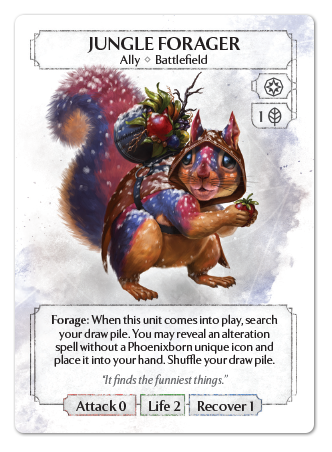 Jungle Forager
Ally. Main, 1NC
0/2/1
Forage: When this unit comes into play, search your draw pile. You may reveal an alteration spell without a Phoenixborn unique icon and place it into your hand. Shuffle your draw pile.
These furry friends have traveled a long way from the Spiral Jungle to aid Koji in the quest to save the Frostwild region. Their displacement won't stop them from doing what they do best: finding all sorts of supplies to help you out! Forage through your deck to find just the right alteration spell to suit your needs.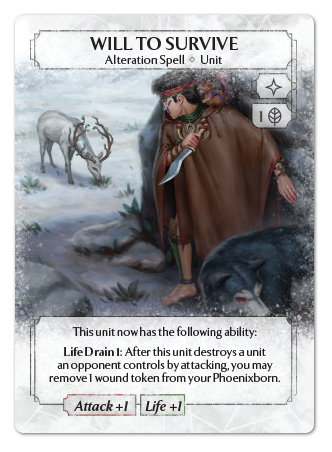 Will to Survive
Alteration Spell. Side, 1NC
+1 attack, +1 life
This unit now has the following ability:
Life Drain 1: After this unit destroys a unit an opponent controls by attacking, you may remove 1 wound token from your Phoenixborn.
When traversing the frozen wastelands of the Frostwild, survival means everything. Take down your prey with cunning and resiliency to live another moment.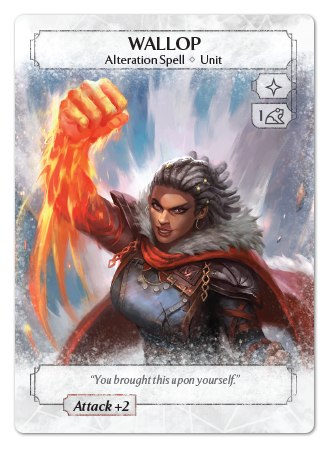 Wallop
Alteration Spell. Side, 1NP
+2 attack
POW!
Stay tuned for the next article as we wrap up the player card previews for The Frostwild Scourge!