The Frostwild Scourge Preview #2
Champions of the Elements
Welcome back, Ashes players! Preview season continues for the second expansion in the Red Rains cycle: The Frostwild Scourge! This expansion comes with a mono-natural magic preconstructed deck of all-new player cards! It also comes with reprints of the Phoenixborn Rin, Lulu, Aradel, and Koji, each with a new unique card only they can use. Let's take a look at these exclusive cards today!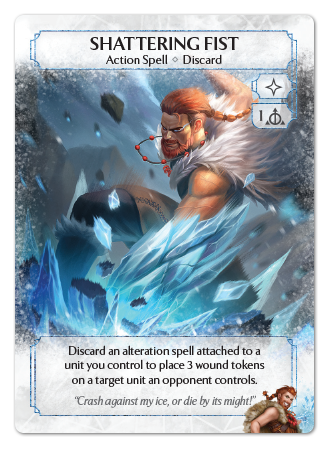 Shattering Fist
Rin Unique, Action Spell. Side, 1B
Discard an alteration spell attached to a unit you control to place 3 wound tokens on a target unit an opponent controls.
Breakthrough your opponent's defenses with Shattering Fist! This fast and powerful removal spell comes at the cost of one of your own alterations, but Rin has plenty more where those came from with his Ice Buff ability. Build up your battlefield with buffed up units, and make the sacrifice when the moment is right!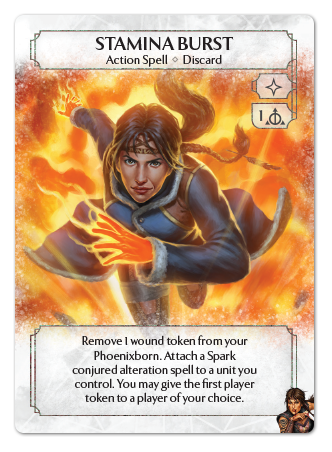 Stamina Burst
Lulu Unique, Action Spell. Side, 1B
Remove 1 wound token from your Phoenixborn. Attach a Spark conjured alteration spell to a unit you control. You may give the first player token to a player of your choice.
Lulu explodes onto the scene with a groundbreaking new action spell, Stamina Burst! This burst in tempo can completely change the pace of the game, giving Lulu the ability to steal the start of the next round with clever shifting of the First Player token. Use this speedy advantage alongside an extra Spark, to catch your opponent completely off guard!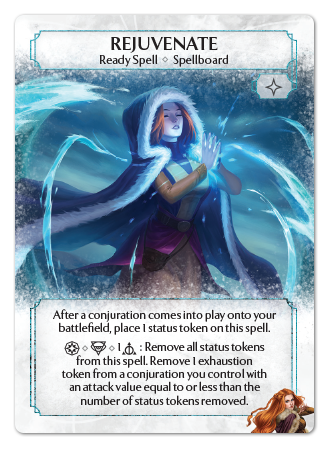 Rejuvenate
Aradel Unique, Ready Spell. Side.
After a conjuration comes into play onto your battlefield, place 1 status token on this spell.
Main, Exhaust, 1B: Remove all status tokens from this spell. Remove 1 exhaustion token from a conjuration you control with an attack value equal to or less than the number of status tokens removed.
Aradel has always had an affinity for conjuration units. With this new spell, she can draw power from her magical companions, and pay it forward to refresh them once again. This effect is especially useful when refreshing units with lots of alterations on them, to maximize the value you can get from each buff!

Wolfpack Leader 
Koji Unique, Ally. Main, 2B
2/2/1
Charged 2: When this unit comes into play, place 2 status tokens on it.
Call the Pack: At the start of your turn, you may remove 1 status token from this unit to place a Pack Wolf conjuration onto your battlefield.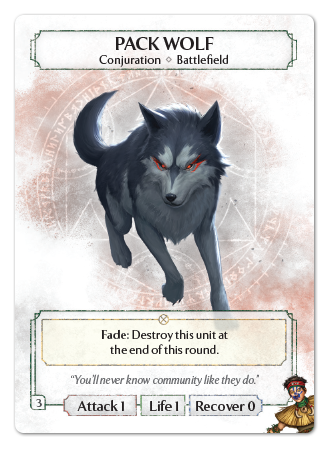 Pack Wolf
Conjuration (3). 1/1/0
[INEX: Fade: Destroy this unit at the end of this round.]
The Boy Among Wolves has finally summoned his pack of feral friends! Make use of Koji's massive battlefield size by swarming the field with a new Pack Wolf each turn. The more status tokens you can add to your Leader, the bigger the pack it can lead.
Stay tuned to see more of what these natural Phoenixborn have in store in The Frostwild Scourge!