The Frostwild Scourge Preview #1
Fire and Ice
Welcome back, Ashes players! Preview season is back for the second expansion in the Red Rains Cycle: The Frostwild Scourge! This expansion comes with a mono-natural magic preconstructed deck of all-new player cards! In the harsh cold of the Frostwild tundra, our brave Phoenixborn must either embrace the cold or ignite their inner phoenix to simply survive. Let's take a look at how this deck embraces the duality of these elements.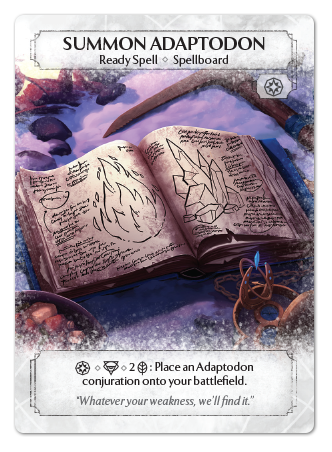 Summon Adaptodon
Main. Main, Exhaust, 2NC: Place an Adaptodon conjuration onto your battlefield.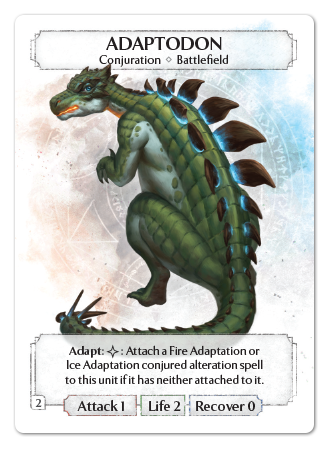 Adaptodon
Conjuration (2) 1/2/0 Adapt: Side: Attach a Fire Adaptation or Ice Adaptation conjured alteration spell to this unit if it has neither attached to it.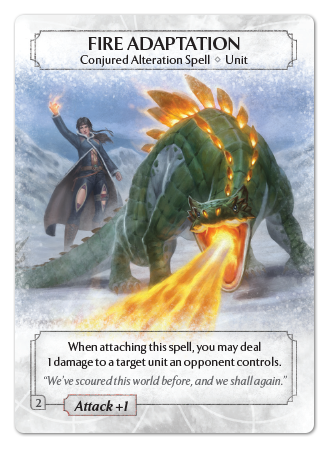 Fire Adaptation
Conjured Alteration (2) +1 attack When attaching this spell, you may deal 1 damage to a target unit an opponent controls.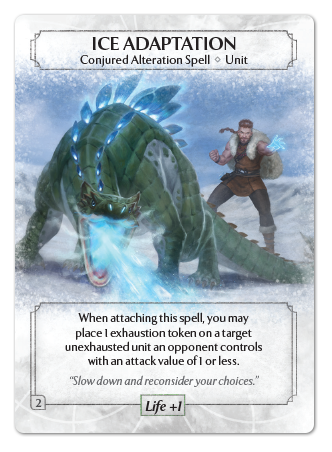 Ice Adaptation
Conjured Alteration (2) +1 life When attaching this spell, you may place 1 exhaustion token on a target unexhausted unit an opponent controls with an attack value of 1 or less.
Whichever way you choose to handle the elements, Adaptodon is ready to follow suit. This conjuration comes with the flexibility to adjust its stats and ability based on what you need more. Burst through with fiery damage, or lock things down in ice!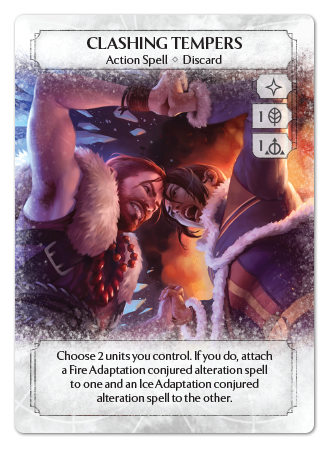 Clashing Tempers
Action Spell. Side, 1NC, 1B Choose 2 units you control. If you do, attach a Fire Adaptation conjured alteration spell to one and an Ice Adaptation conjured alteration spell to the other.
Even when cooperating to save Argaia, some of our more hot-headed Phoenixborn can get into disagreements on the best approach. Luckily with Clashing Tempers, you don't have to choose! Use this speedy double alteration spell to flip the battlefield in a burst of elemental energy!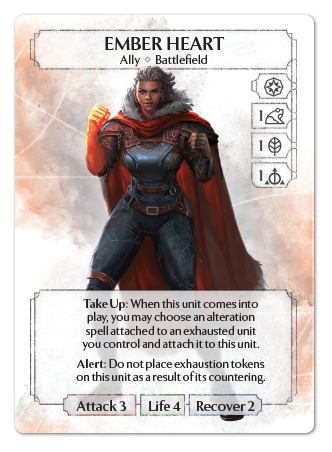 Ember Heart
Ally. Main, 1NP, 1NC, 1B 3/4/2 Take Up: When this unit comes into play, you may choose an alteration spell attached to an exhausted unit you control and attach it to this unit. Alert: Do not place exhaustion tokens on this unit as a result of its countering.
The Ember Hearts are a brave band of allies capable of carrying the torch of other teammates before them. Maximize the potential of your alteration spells by Taking Up their powers with Ember Hearts, which even allows you to activate their effects that trigger when attaching them!
Stay tuned to see more of what these natural Phoenixborn have in store in The Frostwild Scourge!