Ashes Card Changes and Organized Play Update
New Errata and OP Rules
Hello again, Ashes players!
Today I have a big announcement for the future of Ashes Reborn. For the first time, we will be issuing errata to a small pool of cards which have proven to be above the acceptable power level of the game. Additionally, there is an update to the Chained List in our Organized Play rules, and a fresh FAQ document, up-to-date with the latest releases.
Errata
Errata is not a decision made lightly, as there are many tradeoffs and risks involved with doing so. However, I believe in the power errata can have in reshaping the metagame and course correcting unhealthy trends developing within the metagame. Until recently, the Chained List was a sufficient and minimally-invasive method for curating the meta, but it has become clear that it is unsuitable as the only tool in our kit for managing balance. As such, the following cards will be receiving errata, with free copies to be included in the next Ashes release (The Frostwild Scourge), updated in future print runs, and provided online today with a print-and-play downloadable file. As such, these updates are considered to be active for competitive play TODAY!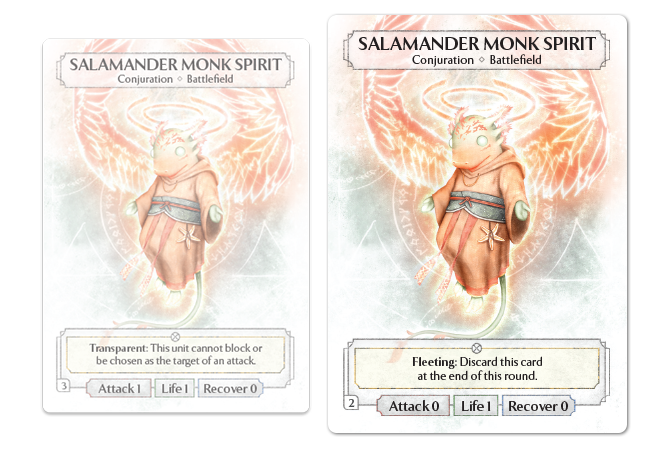 Salamander Monk Spirit
Salamander Monk has seen an extraordinarily high amount of play for the lifetime of Ashes Reborn, for many reasons. Costing only a single class die, this conjuration represents a very low resource commitment for the amount of upside it affords. Its two 1/1 bodies aggressively and efficiently pressure your opponent's Phoenixborn guard. Effects that require sacrificing a friendly unit cost very little with Salamanders on the board, oftentimes even benefitting from the sacrifice. For these reasons, we felt it was time to change the power of this card in some way. While the summon spell and Salamander Monk will remain the same, the Salamander Monk Spirit will be changed to a conjuration count of 2, an attack value of 0, and its ability changed to Fleeting. Going to 0 attack takes away the innate offensive utility that made combatting this unit so challenging, but will still allow for decks using attack buffs to make use of the extra unit in play. The ability change also allows the Spirit to be declared as a blocker, shifting its role from a guard-pressuring attacker to a reliable defender. Fleeting is put into place to minimize the amount of defensive value Spirit can provide long-term.

Brennen Blackcloud
Brennen has risen to the top of the Phoenixborn roster over the past several months, thanks to their explosive early game options paired with a very fast burn package to end games quickly. Phoenixborn life points have become very precious in the fast metagame Brennen has ushered in, and the means by which Brennen does so are difficult to interact with. Brennen's Spirit Burn ability is at the heart of this hyper-aggression and will be changed from costing a side action to a main action, and can only be used to sacrifice allies, not conjurations. The combination of these changes go a long way to add interactivity from opponents into Brennen's burn game, as eligible sacrifice targets have been reduced and the added window of vulnerability from the slower paced main action cost. On top of this, I feel it is appropriate for Brennen's life total to match the speed in which they want to play, and is being reduced from 18 to 16. My hope is that Brennen moves from being a seemingly uncounterable aggressive threat to a Phoenixborn that still demands respect and consideration, but offers more avenues of interaction and counterplay on par with other Phoenixborn.

Three-Eyed Owl
This infamous conjuration makes a triumphant return, flying off the chained list and into our errata list. Much has been said in the past on this bird, and I am happy to provide an errata that maintains the spirit of the original design while leaving behind the issues it caused in the First Five. Three-Eyed Owl is being reduced to conjuration count 2, and receives an ability text box update. TEO's signature Memory Drain ability will now automatically trigger at the end of the prepare phase, ensuring that it cannot be used to disrupt an opponent's First Five. Additionally, TEO gains the new Peer 1 ability, allowing it to scope out a random card in your opponent's hand to help you prepare for the future. TEO still represents a threat an opponent will want to answer, but they are no longer punished to a huge degree if they fail to prepare for it. I hope that fans of charm magic find this errata to provide an exciting breath of life back into the bird that was previously lost to the Chained List.

Indiglow Creeper, and a note on Hope Everthorn
This conjuration has seen a tremendous increase in power since the introduction of Hope Everthorn (a pretty funny name choice in retrospect). The reaction spell Double Down and Hope's Duplicate ability took advantage of the Creeper's life value of 1 and strong ability when it is destroyed to produce levels of battlefield value far exceeding what was intended from those cards. Hope has been another dominant Phoenixborn, packing a strong statline, fast aggressive tempo plays, and a robust unique spell in Void Pulse. It is clear the Hope using Indiglow Creeper was producing results well beyond other Hope decks. Through heavy consideration and playtesting, I have decided to issue an errata to Indiglow Creeper, and not Hope. Indiglow Creeper is being reduced to a conjuration count of 1 to prevent it from working with Hope's Duplicate, as well as Double Down. Taking away Hope's most exploitable conjuration, in conjunction with the Salamander Monk Spirit errata, has left Hope in what I believe is a healthy state. I expect Hope to remain a powerful tempo-based Phoenixborn, and one that players can find more joy in using and facing with the removal of the overpowered interactions that Indiglow Creeper provided.
The Chained List
The Chained List is a rule for the competitive Ashes environment with a couple goals in mind. It is intended to restrict certain strategies that create negative play experiences in one form or another, thus allowing players to express themselves more freely without the harsh punishment that some of the most powerfully devised First Fives can impose, and to keep the metagame fresh. Each card on the Chained List has its own unique reasons for being on there, typically following one of the following guiding principles: limiting early aggression, minimizing burdensome First Five selection, and limiting excessively valuable cards. I'd like to take this time to briefly summarize each card's reason for being on the list, as well discuss the latest addition (Meteor) and omission (Three-Eyed Owl) from it.
Limiting Early Aggression
Many of the most powerful First Fives in Ashes use an aggressive strategy of dealing as much damage as they can as fast as possible to minimize the options their opponent has in a longer game. Many players find these types of Ashes games to be less satisfying than ones where games have a more rounded arc of development, vying for advantage over time, and bringing the game to a close with fully realized combos or cleverly decisive plays. The following cards are chained to help reduce the viability of hyper-aggressive strategies and to let the game breathe.
Exhortation, Explosive Growth, and Massive Growth: These cards can be used in round 1 to aggressively push damage through to the opposing Phoenixborn before they are able to assemble a reasonable defense. These 'sucker punch' attacks pressure the outcome of the game too high too early, before the game can reach a satisfying arc.
Summon Shining Hydra: Specific card combinations exist that can push Shining Hydra into a nearly unblockable attacking threat capable of ending the game very fast. The options to defend against such an attack are quite limited and dubious at best, earning Shining Hydra a place on the Chained List, while still posing a legitimate threat in rounds 2+, after the early development stage of the game.
Summon Sleeping Widows: This unit duo can be summoned and attack at very fast speeds, getting high damage into the opposing Phoenixborn before they have a reasonable chance at defending it. Even with the errata to Brennen Blackcloud, cards like Light Bringer still create windows of opportunity too quickly and effectively to reasonably defend a Widows rush. Hyperspeed attacks like this allow decks to pivot into focusing on using burn spells to quickly close out games before the consequences of sacrificing in their own battlefield set in.
Minimizing Burdensome First Five Selection
Three-Eyed Owl: This card is happily leaving the Chained List with the incoming errata, removing the negative play experience it put into the First Five selection and round 1 parts of the game.
Psychic Vampire: This unit is on the list for similar reasons that Three-Eyed Owl was, in that disrupting a player's hand in the First Five goes against a core tenant of the Ashes play experience. While Psychic Vampire is not as proactively able to do this, options exist for forcing your opponent into triggering its effect, and I believe it is best to remove these hand disruption elements from round 1 altogether instead of leaving them out in the wild for players to unsuspectingly get ambushed by.
Limiting Excessively Valuable Cards.
River Skald: This unit's ability to deal damage based on the cost of another card in your hand is easily used to deal 4 damage consistently by discarding a 4-cost card from your First Five. This goes against the spirit of the card's variable nature, and can too efficiently destroy units that cost more than it, while also developing the battlefield. We find River Skald is a more interesting card to play when it only appears in rounds 2+, where you have less control over what is in your hand. This invites players to think carefully about the overall cost of cards in their River Skald decks, rather than being a single-use cannon in round 1.
Meteor: The final new addition to the Chained List, and one that has been in consideration for some time. This spell allows players to level out advantages gained in the developing stage of the game too effectively, while simultaneously allowing them to apply pressure in other avenues, such as burn damage to opposing Phoenixborn. Many times, an opposing player's Meteor in the First Five leaves you with no good options, ensuring a very high power ceiling on Meteor. We find Meteor to be a much more exciting card when it appears in the midgame as a way to come back from disadvantageous board states, rather than as a key part in defining the early game.
FAQ v4
You can download the latest version of the FAQ here. Check out the recommended First Fives for your newest decks, and brush up on the finer details and interactions you may encounter in your games of Ashes. The latest errata are also listed in there for reference. Included are answers to several questions on the new Red Rains game mode as well, so check it out!
Thank you all for taking the time to read today's update. A lot goes into making decisions surrounding Organized Play, and I hope you find these changes to be in everyone's best interest when it comes to playing the game we all love. The goal of these updates is to keep the game as fun as it can be for all players. My door is always open for feedback on Discord and I'll be around to chat, but for now I have another Chimera to go stop!!! 
I'll see you on the battlefield!