The Corpse of Viros Preview #4
Red with Rage
Welcome back, Ashes players! Preview season continues for the first expansion in the Red Rains cycle: the Corpse of Viros! If you missed our announcement of this set, catch all the details of this monumental new set here.
This expansion comes with a mono-ceremonial preconstructed deck of all-new player cards! Managing wound tokens on cards is a key part of playing ceremonial magic, and there are still more tools in the deck to support this playstyle. Check it out.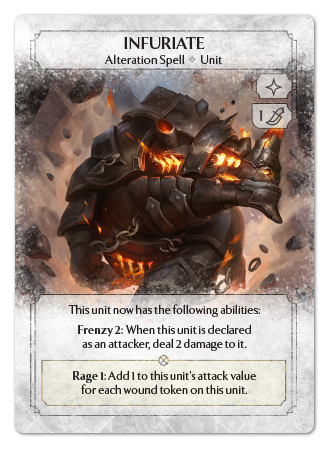 Infuriate
Alteration Spell. Side, 1CC
This unit now has the following abilities:
Frenzy 2: When this unit is declared as an attacker, deal 2 damage to it.
[INEX: Rage 1: Add 1 to this unit's attack value for each wound token on this unit.]
This new alteration has a mix of risk and benefit to it. Turn your units into bloodraged fighters if they can tolerate taking some added damage, or Infuriate your enemies, dissuading them from attacking at all!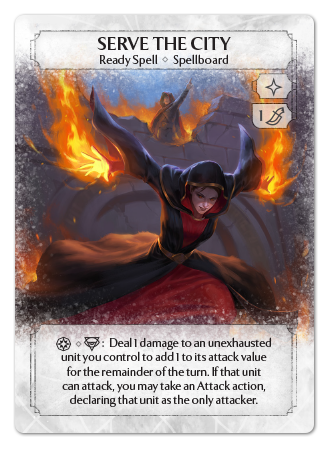 Serve the City
Ready Spell. Side, 1CC
Main, Exhaust: Deal 1 damage to an unexhausted unit you control to add 1 to its attack value for the remainder of the turn. If that unit can attack, you may take an Attack action, declaring that unit as the only attacker.
This ready spell can be used to inspire your allies to risk it all for protecting Viros from the Chimera. Watch as your units dive into the dangers within Viros, charged with the power of ceremonial blood magic.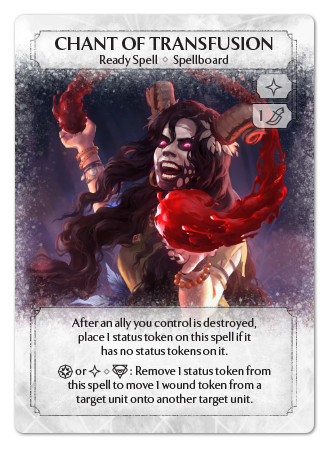 Chant of Transfusion
Ready Spell. Side, 1CC
After an ally you control is destroyed, place 1 status token on this spell if it has no status tokens on it.
Main or Side, Exhaust: Remove 1 status token from this spell to move 1 wound token from a target unit onto another target unit.
Another addition to the 'Chant' arsenal, Chant of Transfusion gives you the freedom to maneuver wound tokens among any units on play. Wounds truly are the great resource of ceremonial users around Argaia.
That's all for the ceremonial deck from this set. Next, we'll begin to share what threats the Chimera will pose in The Corpse of Viros!