The Red Rains are Coming!
The Corpse of Viros
"Though long years have passed and no humans live who bore witness, there is not a child upon this rock who does not know the story of the horrifying Red Rains. So you understand then when I tell you that as those first new drops fell, there was a psychic shockwave of panic that swept across Argaia, like nothing ever witnessed before."
- Darius, Terminal Amurai
Since the last Ashes release, the Phoenixborn Rowan Umberend has been in a deadly pursuit of knowledge regarding the history of Argaia. Through his excavations in the ruins of the Abylon Outskirts, he has discovered the power of the Red Raindrops- the fossilized essence of the terror that once swept over the world. Rowan has used the Red Rains to resurrect the Chimera for his own pursuit of power, but in doing so, he has unleashed the wrath of the Chimera across all of Argaia!
Rumors have been spreading of a horrific force awakening in the city of Viros, and several Phoenixborn have risen to the occasion to investigate. Join Coal, Jessa, Noah, and Brennen as they travel to Viros and battle the resurrected threat of the Chimera in, Ashes: Red Rains – The Corpse of Viros!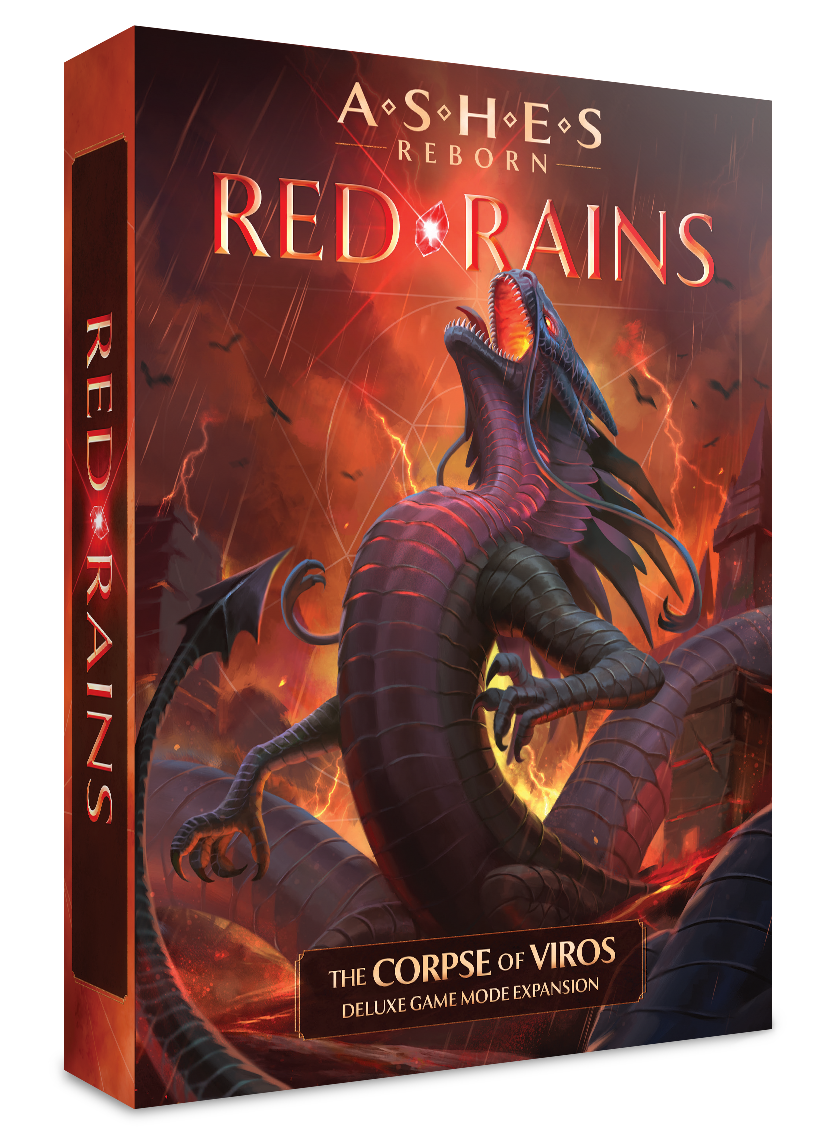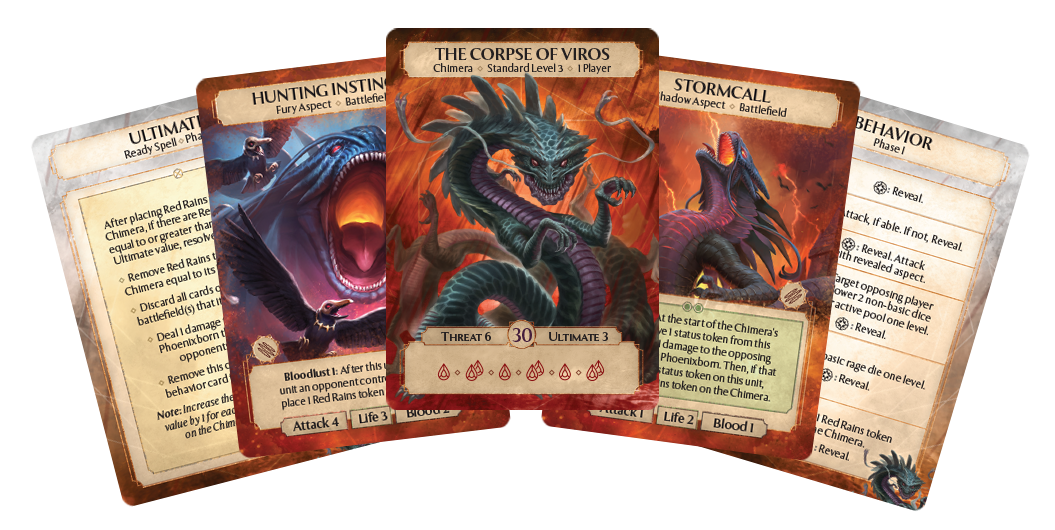 The Corpse of Viros
The Corpse of Viros is a deluxe game mode expansion for Ashes Reborn. Needing only a Master Set and this expansion, either team up with another Phoenixborn or venture alone to defeat the Chimera wreaking havoc in the ruins of Viros. Coordinate your actions and outsmart the Chimera's behavior to slay this gigantic beast. But beware, the Chimera is an unpredictable and aggressive foe with many powerful aspects. Fight it with everything you have, or suffer the true wrath of the Red Rains as the Chimera unleashes its ultimate power!
New Preconstructed Player Deck
This set comes with a new, mono-ceremonial magic, preconstructed deck which can be piloted by one of four returning Phoenixborn! Choose your style and enter the fray with powerful new blood spells and loyal allies, sacrificing anything to slay this global threat!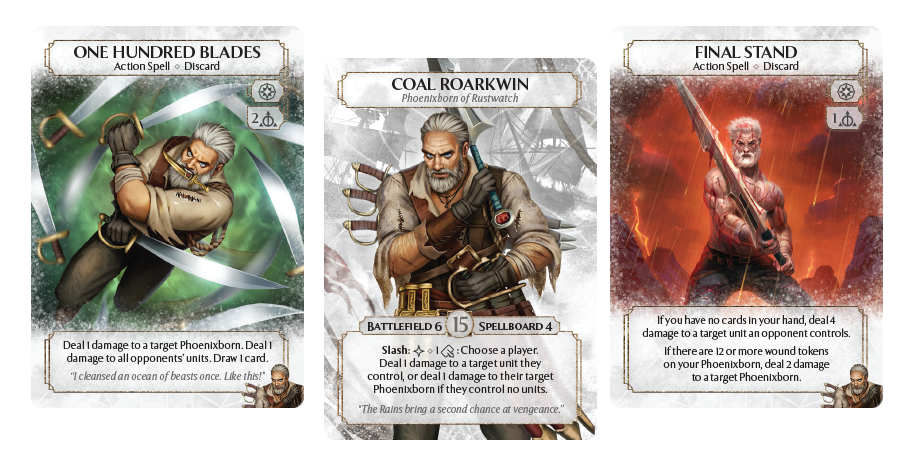 New Phoenixborn Unique Cards
Ashes: Red Rains expands on the existing cast of Phoenixborn in an exciting new way: each Phoenixborn will be re-released with a new card exclusive to them! Players can mix and match these powerful signature cards for their favorite Phoenixborn, but may not include more than three in their deck, and cannot include more than one in their First Five. Will your Coal deck choose to shred the Chimera in a flurry of One Hundred Blades, or will you have him hold his ground and fight to the end with Final Stand? It's your choice!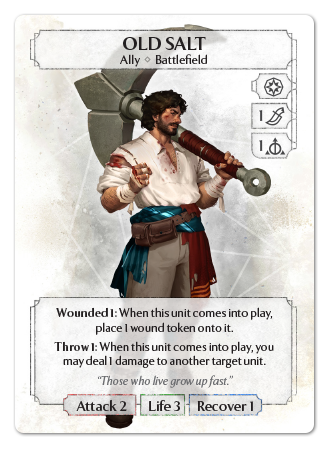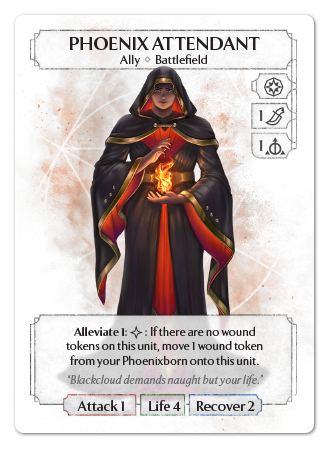 New PreConstructed Player Deck
This set comes with a BRAND NEW, mono-ceremonial magic, preconstructed deck which can be piloted by one of four returning Phoenixborn! Choose your style and enter the fray with powerful NEVER BEFORE SEEN blood spells and loyal allies, sacrificing anything to slay this loyal threat!
Campaign Play
The Red Rains game mode supports playing through multiple Chimera encounters as a campaign. Begin your journey with any preconstructed deck, and receive deck-building bonuses from your Ashes collection for each victory you earn against the Chimera. Face the Chimera at its standard difficulty level, or go for glory in a campaign set at a heroic difficulty!
Want to bring your very best to the table? Play against the Chimera using any deck you've constructed, choosing the difficulty you have the courage to face, and see if you can master this brand new game mode.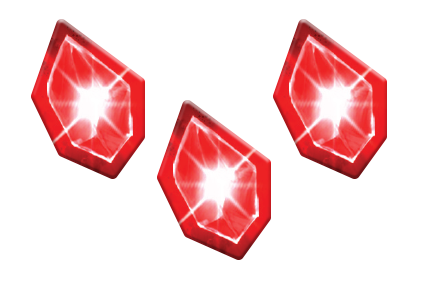 The Red Rains Cycle
With the Time Cycle of expansions complete, The Corpse of Viros marks the first expansion in the Red Rains Cycle. Our exact plans for this cycle are not set in stone just yet, but here is what we have in store thus far:
All seven magic types will receive a new mono-color preconstructed deck.
Each of these decks will include 4 returning Phoenixborn, each with a new unique card.
A minimum of three Chimera decks will be released this cycle, giving players expansive depth in customizing the Red Rains game mode to their liking.
We hope all Ashes players find joy in playing Red Rains with other Ashes fans and in sharing Ashes with new players through this approachable, cooperative experience. This game mode has been a large endeavor desiring to explore more of what Ashes Reborn has to offer. Plaid Hat Games is terribly excited to see the community's response to it.
Red Rains in Action!
Our partners at Team Covenant are streaming an introduction to Ashes Red Rains over on their YouTube and Twitch streams, Wednesday, November 30th at 1 pm CT. Join them to see what Red Rains is all about, and find out if they have what it takes to defeat the Chimera.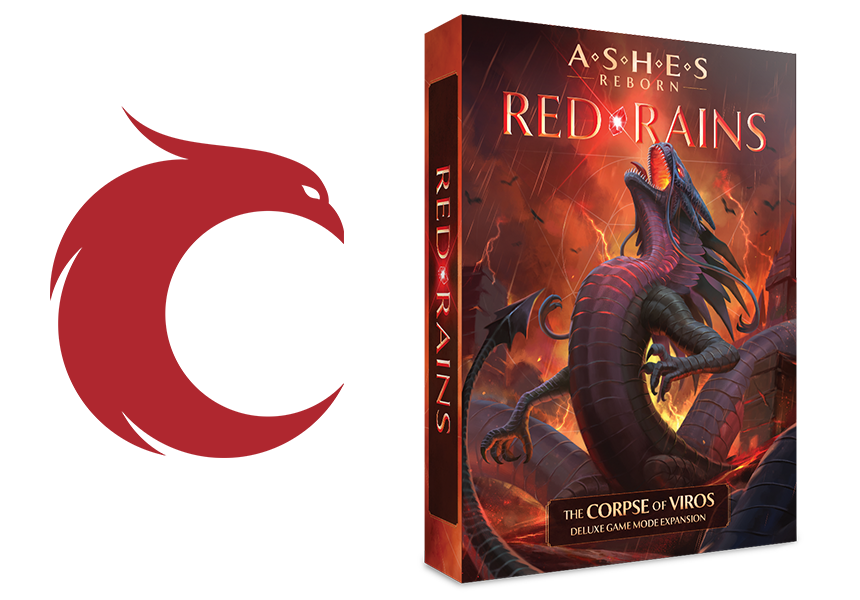 To be among the first to receive this game mode expansion, sign up for the Ashes Reborn subscription at teamcovenant.com. If you have no Ashes collection yet, we will be offering a special pre-order bundle of the Ashes Reborn Master Set and The Corpse of Viros Red Rains expansion here at plaidhatgames.com for $69.95. Choose whichever method works for you, and be sure to subscribe to Team Covenant when you are ready for the next release – more Phoenixborn and Chimera await!