The Corpse of Viros Preview #2
Heroes Reborn
Welcome back, Ashes players! Preview season continues for the first expansion in the Red Rains cycle: the Corpse of Viros! If you missed our announcement of this set, catch all the details of this monumental new set here.
This expansion comes with a mono-ceremonial preconstructed deck of all-new player cards! It also comes with reprints of the Phoenixborn Jessa, Brennen, Coal, and Noah, each with a new unique card only they can use. Let's take a look at these exclusive cards today!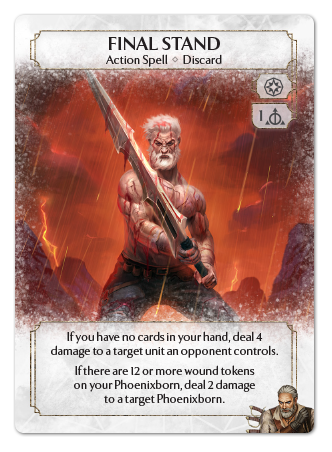 Final Stand
Coal Unique, Action Spell. Main, 1B
If you have no cards in your hand, deal 4 damage to a target unit an opponent controls.
If there are 12 or more wound tokens on your Phoenixborn, deal 2 damage to a target Phoenixborn.
Fight to the bitter end with Coal's new signature move, Final Stand. Coal's massive arsenal of one hundred bladed weapons can't last forever, but that doesn't mean he is out of the fight. Use Final Stand when you are backed into a corner to end games with a thrilling conclusion!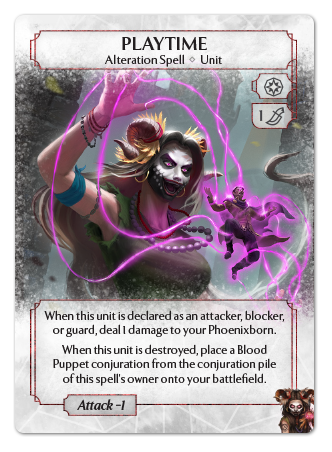 Playtime
Jessa Unique, Alteration Spell. Main, 1CC
-1 Attack
When this unit is declared as an attacker, blocker, or guard, deal 1 damage to your Phoenixborn.
When this unit is destroyed, place a Blood Puppet conjuration from the conjuration pile of this spell's owner onto your battlefield.
Jessa extends her puppet magic into the hearts of her opponents with the new alteration spell Playtime. Sew the strings of Jessa's malice into an enemy unit, and curse them with a Blood Puppet should they try to escape your control!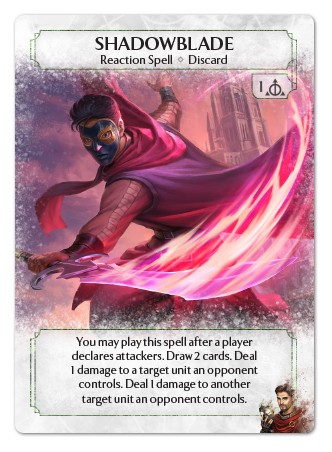 Shadowblade
Noah Unique, Reaction Spell. 1B
1/4/2
You may play this spell after a player declares attackers. Draw 2 cards. Deal 1 damage to a target unit an opponent controls. Deal 1 damage to another target unit an opponent controls.
Noah draws forth his powerful sword of dark magic in a flash of speed. Cast Shadowblade when any player initiates an attack, then cut down attackers or blockers alike with this high tempo reaction spell!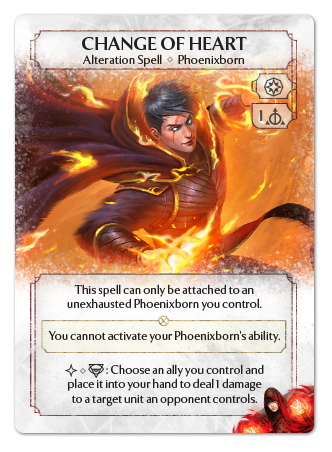 Change of Heart
Brennen Unique, Alteration Spell. Main, 1B
This spell can only be attached to an unexhausted Phoenixborn you control.
[INEX: You cannot activate your Phoenixborn's ability.]
Side, Exhaust: Choose an ally you control and place it into your hand to deal 1 damage to a target unit an opponent controls.
Brennen began their story as a Phoenixborn in deep isolation and with heavy emphasis on the cold-hearted, darkest use of ceremonial magic. Brennen's ethos has been challenged time and time again over the course of their life as a Phoenixborn, and has reached a boiling point with the return of the Chimera, a foe Brennen was not alive for in their first coming. Change of Heart represents Brennen's willingness to let go of the old ways of Blackcloud, choosing to honor their allies with heroic bravery over ruthless sacrifice.
Stay tuned to see more of what these ceremonial Phoenixborn have in store in The Corpse of Viros!