Sand Goblins Preview #4
Uncle Sparks, Silts, Clnk
Welcome back summoners! The champions of the Sand Goblins are here to support the vehicular onslaught of Krusk!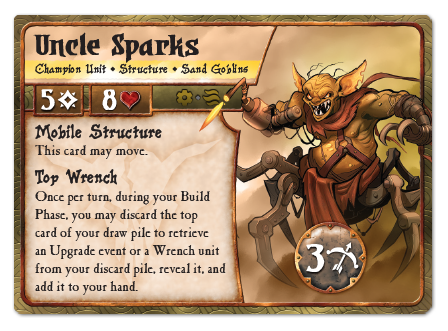 Uncle Sparks is the mastermind behind many of the Sand Goblins' mechanical assets. As the gang's Top Wrench, he is able to whip up any upgrade on a whim, and as a structure unit himself, can mod it onto himself! Beware the iron juggernaut that is Uncle Sparks!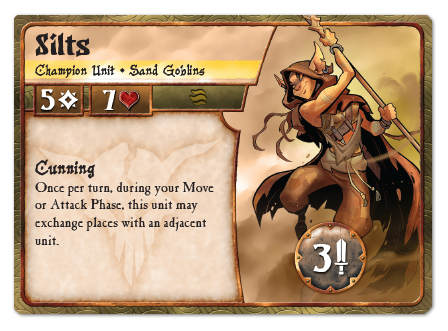 Silts is a name known only to few survivors of the desert wastes, but her reputation precedes her presence on the battlefield. This devious goblin can infiltrate almost any enemy formation to deliver the final blow to unsuspecting summoners.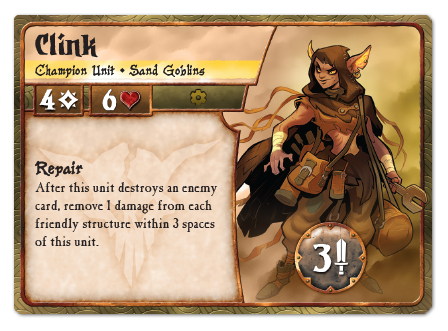 Clink is perhaps the only Sand Goblin with any semblance of foresight. She gives attention to repairing the crew's vehicles to make them last, only for their riders to take them out in yet another explosive ride! It's a mostly thankless job, but one Krusk can't help but admire.
That's all for the Sand Goblins, see you next time for more Summoner Wars previews! Be sure to check out the Obsidian Dwarves previews as well and to subscribe to be among the first to get these decks. These two decks are set to ship out to subscribers the week of November 21st. Until then, happy summoning!