Mount up!
Xander and Rimea Reborn!
Reborn Update
Before we start this preview, we have an update for the Ashes Reborn subscription. It is increasingly difficult to accurately predict the full timeline for production and release of our games given the current state of the world. Production is well underway for Ashes Reborn, and the most recent update indicates we can expect to ship Ashes Reborn subscriptions and pre-order products in January 2021. We thank you for your patience and dedication to Ashes Reborn, and canot wait to get the game into your hands!
This preview features updates for The King of Titans and The Ghost Guardian Expansion decks. These decks introduced the Mount mechanic to Ashes, allowing allies to ride on rampaging dinosaurs and ethereal steeds. While these decks were originally paired with a Dismount rules reference, Ashes Reborn has simplified this mechanic, keeping all the rules text on the Mount units themselves. While the cards that summon these Mounts haven't been changed, each of the units themselves have. Let's take a look!
The King of Titans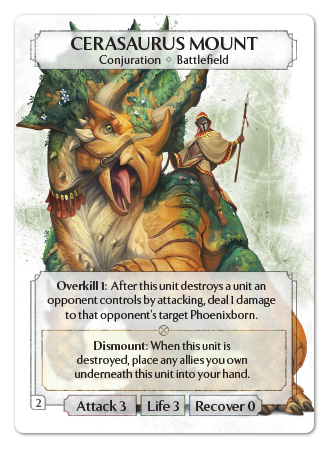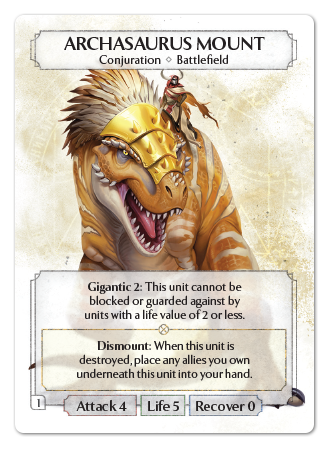 Xander comes crashing onto the scene with two fearsome mount units, each with a battle ability that is sure to leave an impact. Cerasaurus Mounts are happy to crash into a defending unit to get some Overkill damage in, while the Archasaurus Mount can ignore many defenders altogether!
Now that the Dismount ability returns allies to hand, the allies that specialize in mounting up have changed. Low cost allies with an 'enter play' ability, such as Anchornaut or Fire Archer, make perfect candidates for this. They keep mount costs down and can repeatedly use their ability after being Dismounted to hand!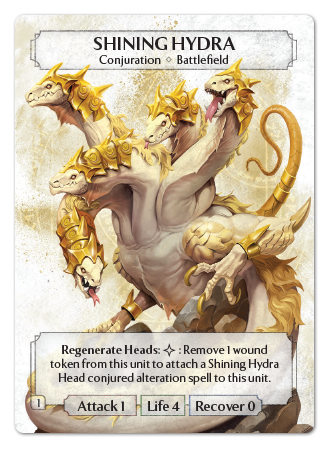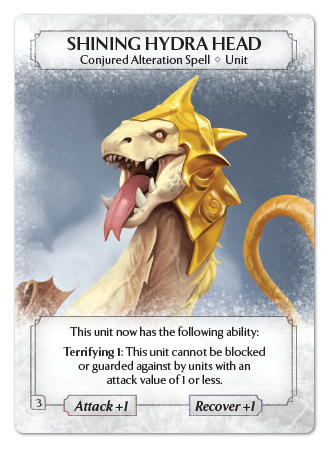 Mounts aren't the only dinos Xander will be deploying. The Shining Hydra gets a significant simplification to its mechanics, becoming quite the force to be reckoned with! The Shining Hydra Heads allow you to reap the benefits of your investment much more reliably. At its peak, the Shining Hydra can become a 4/4/3 with Terrifying 3!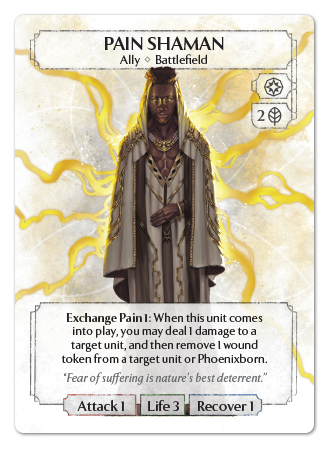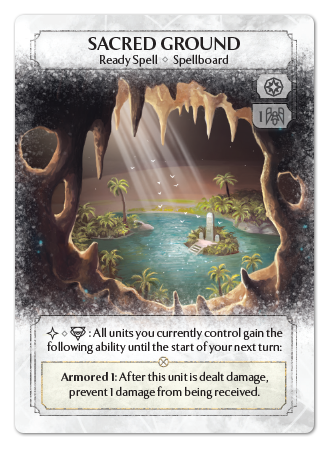 Rounding out Xander's deck, we have Pain Shaman and Sacred Ground updates. The Pain Shaman is a simple and effective unit to turn the texture of the battlefield around in your favor. A single ping damage and heal can often be the difference between victory and defeat, so use them wisely!
Sacred Ground is an effective way to bolster your side of the battlefield with the Armored ability. This can set you up for a strong all-out attack, or protect your units from area of effect damage like Nature's Wrath or Xander's own Earthquake.
The Ghost Guardian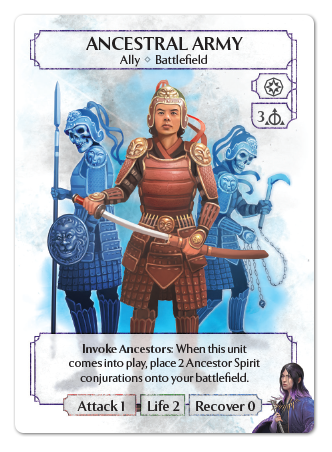 Rimea's signature ally, Ancestral Army, receives a full overhaul to support her in several ways. This is a 3 for 1 ally that can give Rimea an immediate board presence, as well as an ally ready to ride a mount unit.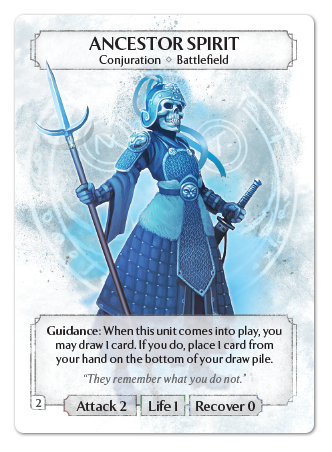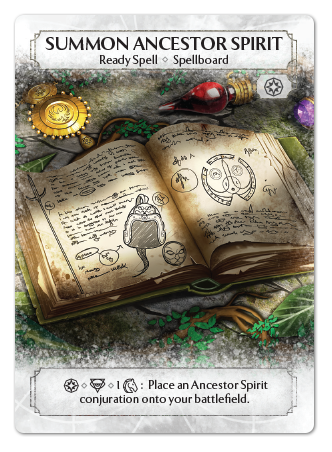 The Ancestor Spirits that come with it are a perfect compliment to Rimea's ability to curate the top 3 cards of her draw pile and get just the right cards for any situation.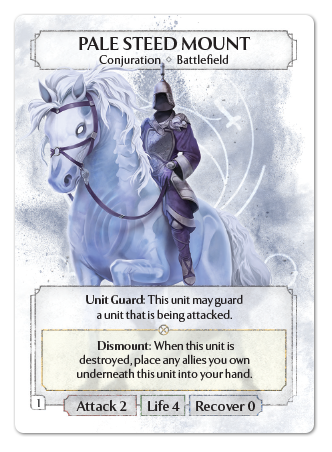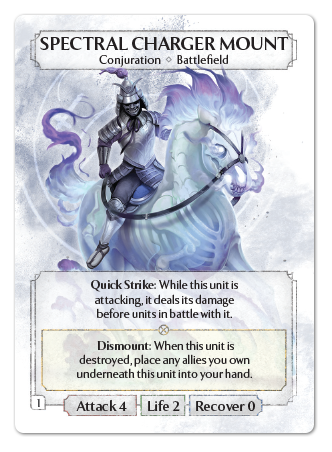 Rimea comes with a suite of mount units, each serving a unique function. Pale Steeds are a sturdy defender, while Spectral Chargers can take down almost any defender with ease.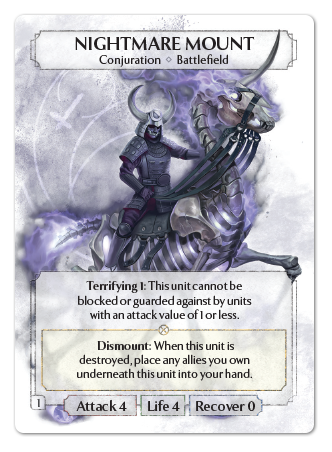 If you are able to get your Ghostly Mount spell to Focus 2, you can even summon the Nightmare Mount! This unit boasts a brutal 4/4/0 statline on top of Terrifying 1. Not many Phoenixborn can survive repeated attacks from this mount, so once they start arriving, it is time to act quickly!
Thank you for checking out this preview article. Be sure to check out Team Covenant as well for more Ashes Reborn previews, content, and subscriptions. Until next time, take care!