Blight of Neverset Preview #1
Charmed
Welcome back, Ashes players! Preview season is here for the third expansion in the Red Rains cycle: The Blight of Neverset! This expansion comes with a mono-charm magic preconstructed deck of all-new player cards. The charm dice power is a mechanical centerpiece of this set, opening up new ways to subdue your enemies and passively punish them!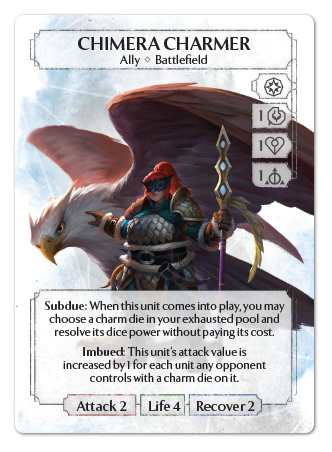 This robust new knight-class unit is here to emphasize the deck's focus on charm dice powers. She enters play with a free charm dice power, and can even increase beyond her base stats with even more charm dice placements!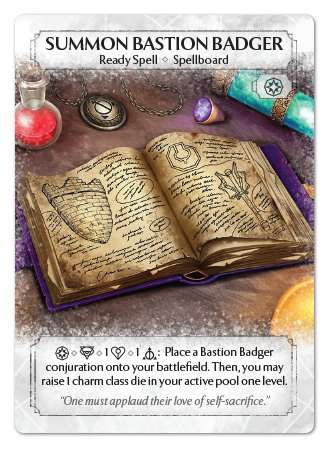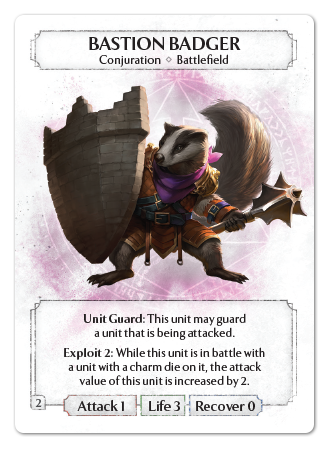 Bastion Badgers make a great frontline unit for a charm-focused strategy. The combination of Unit Guard and Exploit ensures that whether you are taking an offensive or defensive position, you'll get additional mileage out of placing charm dice. Be sure to keep a steady supply of power dice ready to maximize the power of this conjuration!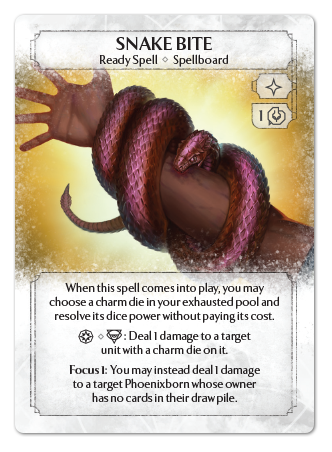 Rounding out this suite of charm based cards is Snake Bite. This potent ready spell helps out the deck both in the short term by providing a free charm die and some battlefield control against charmed foes, while also bundling in a long term focus ability. Charm decks are well known for their ability to take their opponent's to fatigue by discarding cards from their opponent's deck, and Snake Bite preys on those unfortunate foes with accelerated burn damage!
Stay tuned for the next article as we continue player card previews for The Blight of Neverset!