The Corpse of Viros Preview #5
Fury Strikes!
The Corpse of Viros is the first Chimera to manifest after the events of Rowan's calling of the Red Rains. Noah Redmoon's home city of Viros, was long ago burned down by the Phoenixborn sworn to protect it. Much hatred and anger lies dormant within the ruins of this lost palace-city. Born from this concoction of spite and ruin comes the Corpse of Viros, the very manifestation of Noah's past actions. This Chimera comes in two aspects, Fury and Shadow, exemplifying two distinct behavioral patterns the Phoenixborn may encounter it in. Today we will be examining the Fury aspects that make up this debut foe of the Red Rains cycle.

Hunting Instincts, Firebelly, and Frozen Fear
The Corpse of Viros is a vicious hunter with many powerful abilities that trigger when an aspect attacks. Wise Phoenixborn will enter the fray with a proactive mindset, planning to dispatch these aspects before they get the time to strike.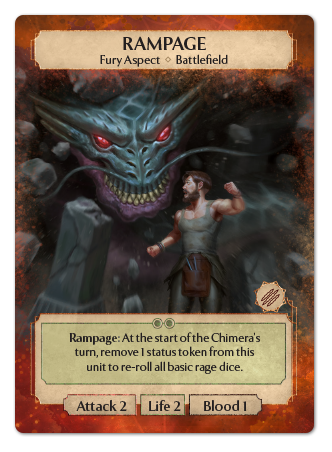 Rampage
Should the Phoenixborn take a moment of rest amid the fight, the Corpse of Viros will punish them dearly with Rampage! This status ability puts the pressure on by threatening acceleration of the chimera's rage meter, leading up to its ultimate ability.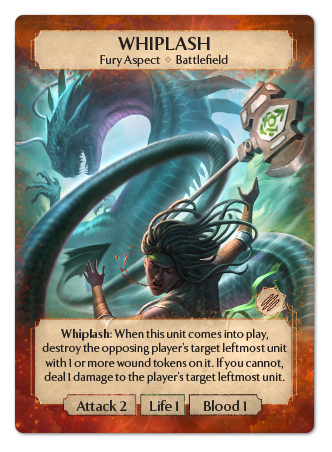 Whiplash
Chimera don't leave everything out on the table, packing some surprise effects when their next aspect is revealed. Whiplash is a fast-striking damage effect that can dispatch wounded allies in the blink of an eye.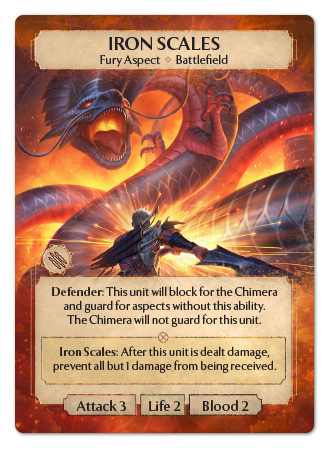 Iron Scales
This Chimera is as resilient as it is aggressive, packing a tough defender aspect in Iron Scales. No matter how you slice it, this aspect will take several attempts to dispatch, draining Phoenixborn of precious time to combat its other brooding threats.
Next week, we will take a look at the Shadow aspects of the Corpse of Viros. See you there!
The Corpse of Viros is now expected to ship out to Team Covenant subscribers early March 2023!