New Organized Play Rules
Ashes OP Version 3
Greetings, Ashes players!
The Ashes metagame has gone through some dramatic changes throughout the Time cycle. I wanted to put out an update to the Chained List to account for the topmost aggressive strategy- Brennen Widows rush. Summon Sleeping Widows is a powerful reaction spell, summoning two aggressively statted units at reaction speed, after a unit is destroyed. The most potent use of this spell is through Brennen Blackcloud's Spirit Burn ability, allowing them to summon and attack with both Widows in an instant. This strategy is very difficult to defend against, and fits my definition of a hyper-aggressive strategy that is too difficult to realistically defend against during the first round. As such, I am adding Summon Sleeping Widows to the Chained List v3 to help alleviate the degree to which players must prepare a massive defensive pivot into their First Five planning.
A Note on Hope Everthorn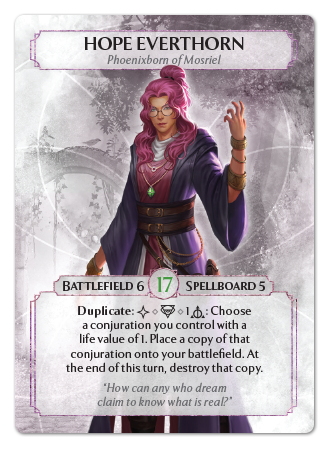 This newcomer Phoenixborn has quickly made a significant impact on competitive Ashes, thanks to their powerful Duplicate ability and unique spell Void Pulse. Hope decks have taken a strong liking to 2-cost conjurations with 1 life to maximize the effectiveness of their tools and has become a top level threat. While their power level is higher than anticipated, I still think they are within acceptable boundaries, and no Chained List updated will be made to account for Hope at this time. I will be keeping an eye on Hope decks in the future as we see how they perform against other deck archetypes to come in the future.
The new Ashes Reborn OP Rules can be found here!
AshCon3 is right around the corner, and this update will be in effect for that event!  I hope this OP update improves the overall experience for Ashes competitive play for as many players as possible. Take care, and see you on the battlefield!
Make sure to register for AshCon today!