The Ocean's Guard Preview #2
Tidal Forces
I met Tristan Darkwater once when he visited Sunhold. The lad was bright and friendly but only spoke when etiquette required, and never more than was needed. I am certain he felt great unease socializing among his own kind.
- Darius, Terminal Amurai
Welcome back, Ashes players! Preview season continues for The Ocean's Guard today. Let's see how Tristan can control the tides of battle through new water spells!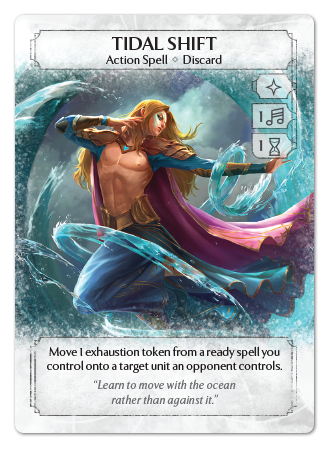 Tidal Shift
Action Spell. Side, 1SC, 1TC
Move 1 exhaustion token from a ready spell you control onto a target unit an opponent controls.
Only Tristan knows how the tides will flow when battling on his home turf. Unsuspecting foes may find themselves facing more threats than expected and coming up suspiciously low on options themselves when the tides begin to change!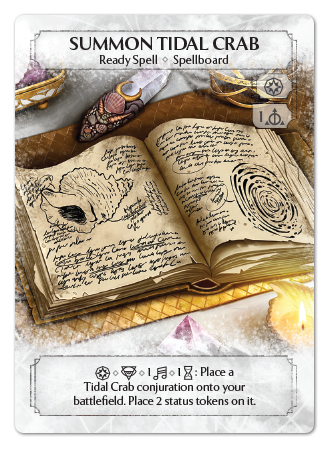 Summon Tidal Crab and Tidal Crab
Ready Spell. Main, 1B
Main, Exhaust, 1SC, 1TC: Place a Tidal Crab conjuration onto your battlefield. Place 2 status tokens on it.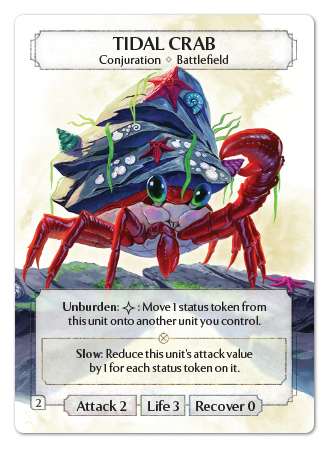 Conjuration (2)
2/3/0
Unburden: Side: Move 1 status token from this unit onto another unit you control.
[INEX: Slow: Reduce this unit's attack value by 1 for each status token on it.]
Tristan has yet one more conjured creature to join the aquatic ecosystem, and that is the Tidal Crab! This little guy is slow to start, but boasts a strong statline and a bounty of status token support when given the time to shine!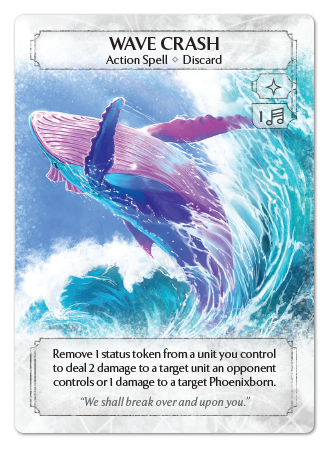 Wave Crash
Action Spell. Side, 1SC
Remove 1 status token from a unit you control to deal 2 damage to a target unit an opponent controls or 1 damage to a target Phoenixborn.
Bring down the might of the ocean onto your opponents with Wave Crash! This quick spell can cause quite the shift in board state right before making a critical attack, or serve as the final bit of damage needed to finish off the enemy Phoenixborn! Even stray status tokens on unassuming units have the strength of the ocean behind it.
Stay tuned to see more of what Tristan has in store in The Ocean's Guard!