The Ocean's Guard Preview #1
The Aquatic Ecosystem
The vision unfolded before me and I saw two great fiery birds arise from the depths. One smoldered as it burst from the ocean and as it spread its wings, it carried upon its train a host of lifeforms never before seen by human eyes. The other arose from cracked recesses within the ground, its cries speaking the language of ruin, and upon its head was stamped the name of Blasphemy.
I cannot explain why, yet I am certain this was my final revelation. Whatever is yet to come, I do not think I shall survive it.
– The Final Pythia
Welcome back, Ashes players! Preview season is back for the final two decks of the Time cycle; The Ocean's Guard and The Scholar of Ruin! Today we will take a look at the aquatic conjurations commanded by Tristan.

Summon Prism Tetra and Prism Tetra
Ready Spell. Main
Main, Exhaust, 2SC: Place three Prism Tetra conjurations onto your battlefield.
Focus 1: Until the start of your next turn or the next round, Prism Tetras you control cannot be targeted by spells, abilities, or dice powers an opponent controls.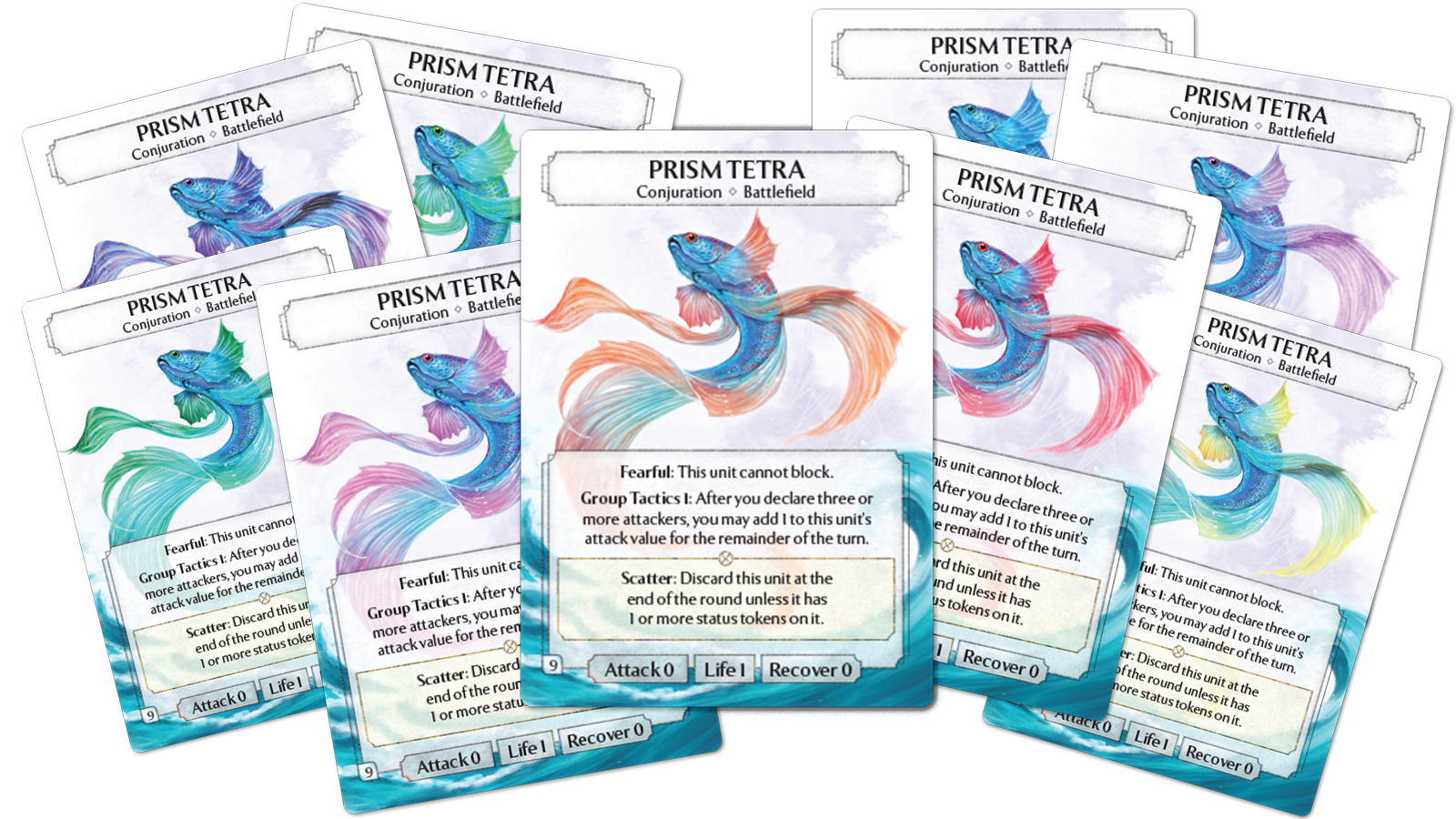 Conjuration (9)
0/1/0
Fearful: This unit cannot block.
Group Tactics 1: After you declare three or more attackers, you may add 1 to this unit's attack value for the remainder of the turn.
[INEX: Scatter: Discard this unit at the end of the round unless it has 1 or more status tokens on it.]
The ocean holds a near infinite amount of creatures, each of which Tristan can bond with to ensure safety of their shared aquatic dwelling. The Prism Tetras are next to nothing on their own, but grouped together they can come crashing down like a tidal wave! Their Group Tactics ability can be paired up with Tristan's Magnify ability to double down on their attack power!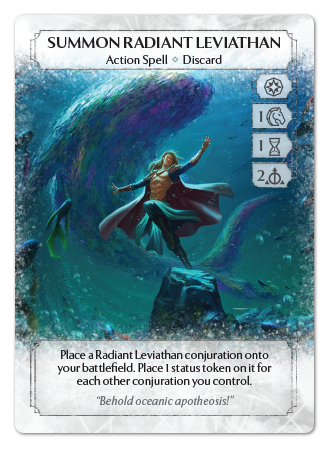 Summon Radiant Leviathan and Radiant Leviathan
Action Spell. Main, 1SP, 1TC, 2B
Place a Radiant Leviathan conjuration onto your battlefield. Place 1 status token on it for each other conjuration you control.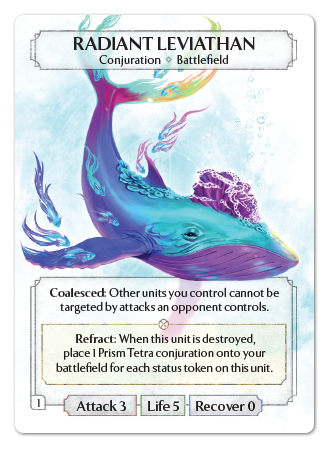 Conjuration (1).
3/5/0
Coalesced: Other units you control cannot be targeted by attacks an opponent controls.
[INEX: Refract: When this unit is destroyed, place 1 Prism Tetra conjuration onto your battlefield for each status token on this unit.]
Prism Tetras have an even deeper power within them. On Tristan's command, they can pool together their strength to form the mighty Radiant Leviathan! This massive creature is a dominant presence on the battlefield, demanding your opponent's attention. And when the time comes for the Leviathan to retreat, it will Refract into yet another swarm of Tetras for the cycle to repeat!

Summon Seafoam Snapper and Seafoam Snapper
Ready Spell. Main
Main, Exhaust, 1TP: Place a Seafoam Snapper conjuration onto your battlefield.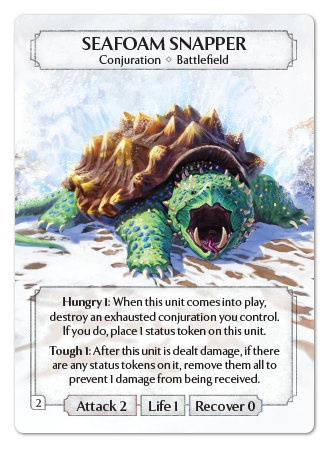 Conjuration (2)
2/1/0
Hungry 1: When this unit comes into play, destroy an exhausted conjuration you control. If you do, place 1 status token on this unit.
Tough 1: After this unit is dealt damage, if there are any status tokens on it, remove them all to prevent 1 damage from being received.
The ocean isn't home to just these beautiful rainbow fish, it also is home to the aggressive and temperamental Seafoam Snapper. This conjuration will snack on any easy prey in the ocean as it enters play, bolstering its Tough armored shell to withstand the elements.
Stay tuned to see more of what Tristan has in store in The Ocean's Guard!