Announcing the Ocean's Guard and the Scholar of Ruin
Time Magic Cycle Goes Out With a Bang!
"The vision unfolded before me and I saw two great fiery birds arise from the depths. One smoldered as it burst from the ocean and as it spread its wings, it carried upon its train a host of lifeforms never before seen by human eyes. The other arose from cracked recesses within the ground, its cries speaking the language of ruin, and upon its head was stamped the name of Blasphemy.
I cannot explain why, yet I am certain this was my final revelation. Whatever is yet to come, I do not think I shall survive it."
– The Final Pythia
Prepare for the epic conclusion to Ashes Reborn's time magic cycle with The Ocean's Guard and The Scholar of Ruin expansion decks! Tristan Darkwater, the Phoenixborn that only rumors have known, has finally risen to the surface to answer the call of the Phoenix in The Ocean's Guard! Behold his power as he communes with the life of every being in the ocean.
Tristan Darkwater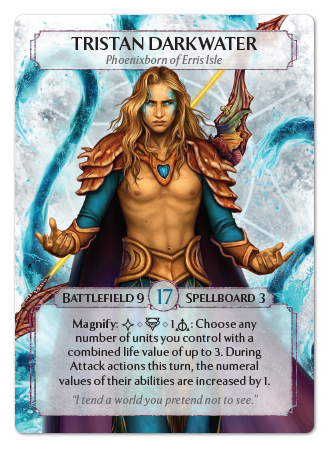 9 battlefield, 17 life, 3 spellboard
Magnify: Side, Exhaust, 1B: Choose any number of units you control with a combined life value of up to 3. During Attack actions this turn, the numeral values of their abilities are increased by 1.
Tristan uses sympathy magic and time magic to enhance the innate abilities of his ecosystem of oceanic creatures, as seen through his Magnify ability. He uses this power to specialize in swarming the battlefield. But Tristan isn't one to sit back passively. When the time is right, he will unleash his signature move to clear a path for his tidal wave of attacking force!
Tsunami Shot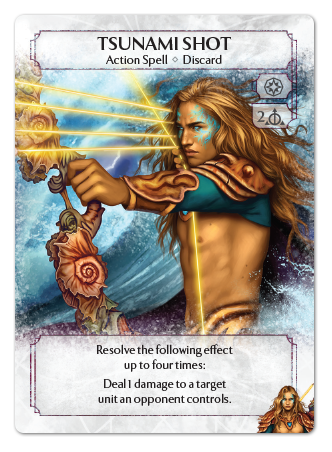 Action Spell. Main, 2B
Resolve the following effect up to four times:
Deal 1 damage to a target unit an opponent controls.
Tsunami Shot is as dynamic as Tristan's Magnify ability, allowing for perfect control over dismantling enemy defenses. Whether you need to remove a staunchly defending Knight or clear away a row of small blockers, Tsunami Shot is the solution!
The Vermillion Council has long been a secretive organization dedicated to the study of the Phoenixborn. But what happens when a double agent from within seeks to use that knowledge for himself? And what if that traitor is secretly a Phoenixborn? Introducing Rowan Umberend, The Scholar of Ruin!
Rowan Umberend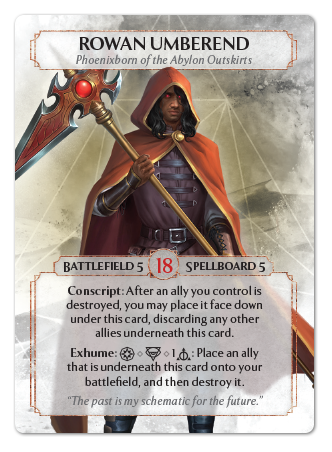 5 battlefield, 18 life, 5 spellboard
Conscript: After an ally you control is destroyed, you may place it face down under this card, discarding any other allies underneath this card.
Exhume: Main, Exhaust, 1B: Place an ally that is underneath this card onto your battlefield, and then destroy it.
Rowan uses ceremonial and time magic to excavate the physical and temporal ruins surrounding the historic battle site of Abylon. This original home of the legendary Phoenixborn Jericho is a powerful well of dormant magic, and Rowan will stop at nothing to harness it! Rowan's pair of abilities allows him dynamic access to the powerful abilities of his closest allies, letting him simulate their life and death in an instant to reap the rewards of their lifetime of work! The ruins of Abylon's outskirts are not easy to navigate, so Rowan will need many lifetimes worth of knowledge to make his grand discovery a reality.
Discovery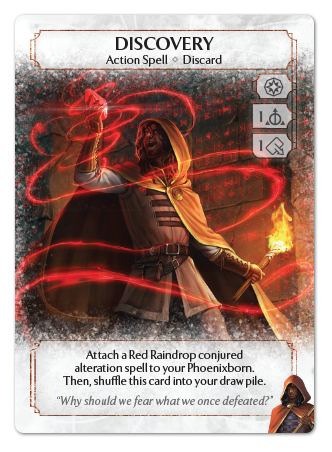 Action Spell. Main, 1B, 1Discard
Attach a Red Raindrop conjured alteration spell to your Phoenixborn. Then, shuffle this card into your draw pile.
Deep in the ruins, Rowan is able to discover powerful artifacts and harness their energy. By shuffling back into your deck, Rowan can continue his exploration over the course of the battle. But what do these mysterious Red Raindrops do? Stay tuned for Rowan's next preview to discover the secrets hidden within!
Thanks for checking out today's preview! I hope you are excited to see where Ashes is heading with these next releases. Be sure to subscribe to Team Covenant's Ashes Reborn subscription to be the first to receive these next expansions. Preview season for these expansions will continue as we draw closer to their release. Until then, see you on the battlefield!