AshCon2
May 2022 Update!
Hello everyone! I hope you have been well and are enjoying the latest release for Ashes Reborn, The Queen of Lightning and The Artist of Dreams! These expansions have been sent to Team Covenant, and should be arriving to subscribers shortly (if not already received). We have just announced the next two expansion decks as well, which will debut Tristan Darkwater and Rowan Umberend, bringing the Time Magic cycle to its conclusion. At this point, I'd like to take some time to outline where Ashes Reborn is and where it is going.
AshCon2 (May 23-27)
Last year, in lieu of attending GenCon, PHG hosted the online Ashes tournament event AshCon! We had over 100 tournament attendees, livestreamed events via TheShuffleBus, offered exciting prize support, and overall it was an awesome celebration of Ashes. I would like to continue supporting Ashes with these events alongside each release of new expansions, starting with this most recent release! AshCon2 registration is now open! AshCon2 is a FREE tournament that will take place over the week of May 23-27. Sign up and be placed into a pod of three other competitors, where you'll have the whole week to schedule one game of Ashes against each other. Games will be played over Ashteki.com. Registration closes Friday, May 20th at 5pm EDT. Pods will be announced shortly after that, giving you the weekend to begin scheduling your matches.
To sign up for AshCon2, you will need to do several things:
Register for a Discord account and join the Ashes Reborn Community server: https://discord.com/invite/RJdUfNQNcF
Be prepared to play Ashes on ashteki.com
Sign up for the event here! https://forms.gle/hDZykssavHzc6cjF6
Plan enough time to schedule in all three games over the course of the event week.
To celebrate the release of Dimona and Hope, your AshCon deck must include at least 1 card from either The Queen of Lightning or The Artist of Dreams! Take your new cards for a spin and see what your opponents cook up with this new set of cards!
(As AshCon is a casual tournament, there will be no formal enforcement of this deckbuilding theme – it is just for fun!)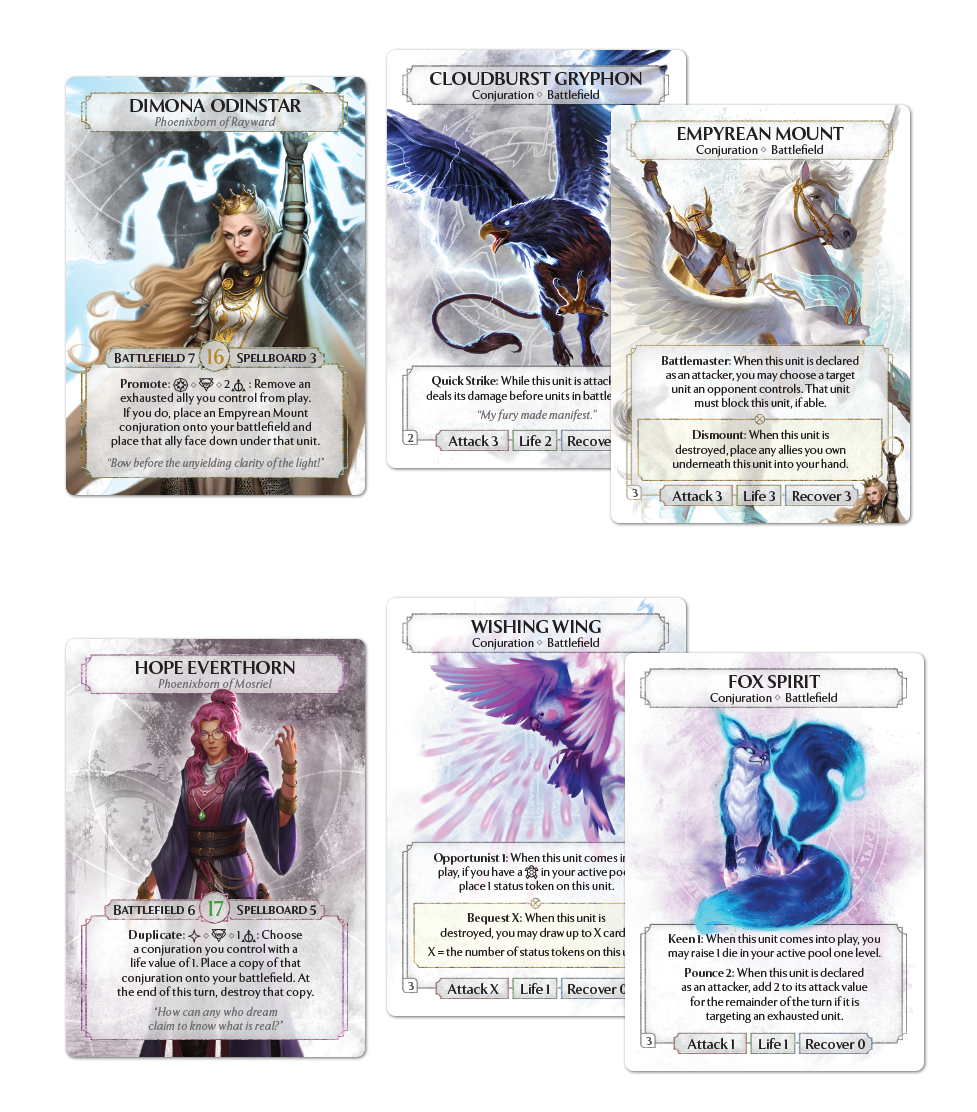 Prizes will be awarded to the winner of each pod! This is another opportunity to receive the special translucent dice packs. We are running low on our stock of these rare dice, so now may be a good time to play for them before we add new prizes to our roster!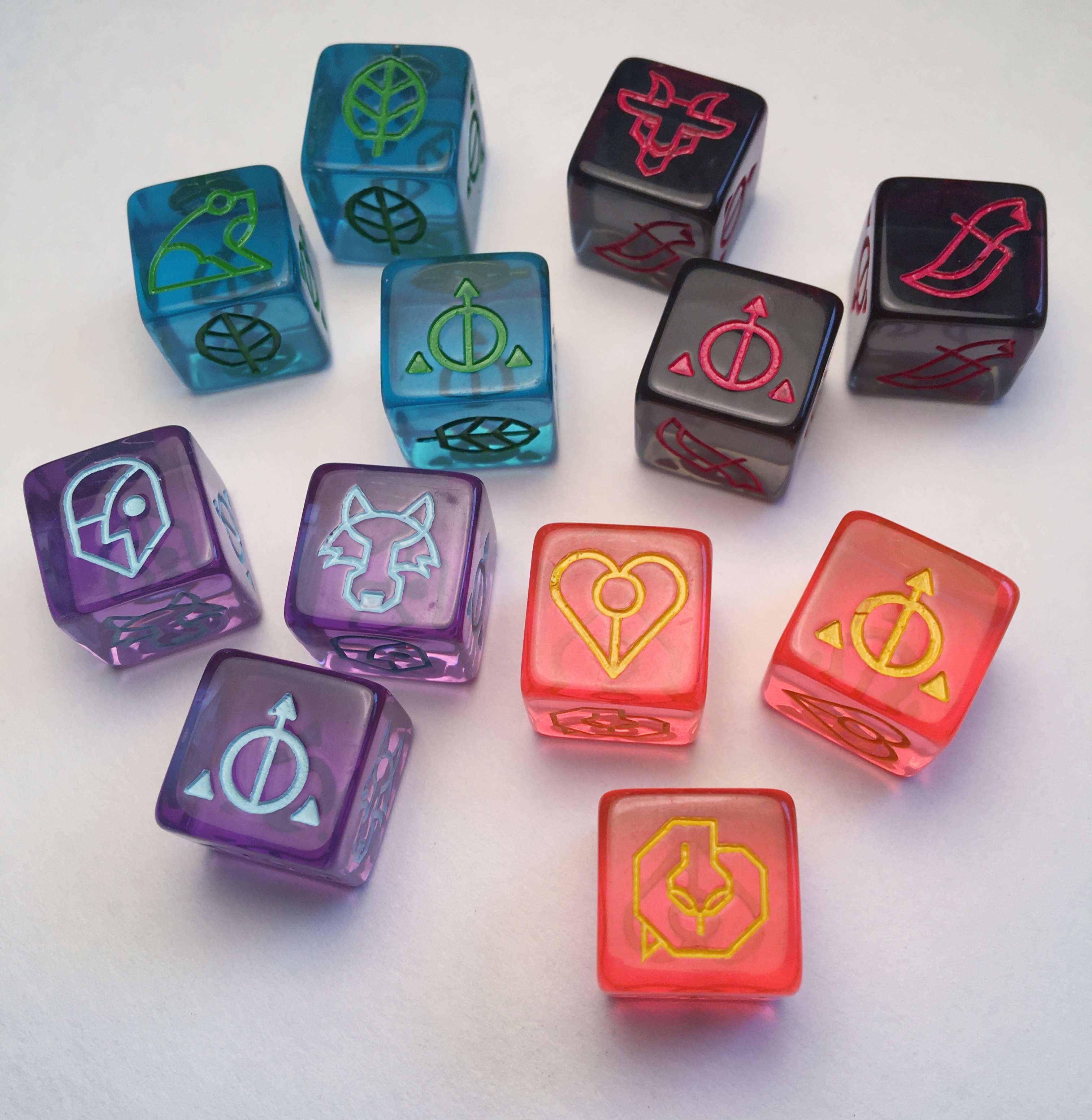 You can also receive a bonus set of translucent dice by submitting one of your AshCon matches for our featured match showcase, hosted by TheShuffleBus on Twitch! Play your match live on their stream, receive top-level commentary from the SB guys, and show the Ashes community what you are made of! Details for feature match submission will be shared via Discord once registration closes and pods are determined.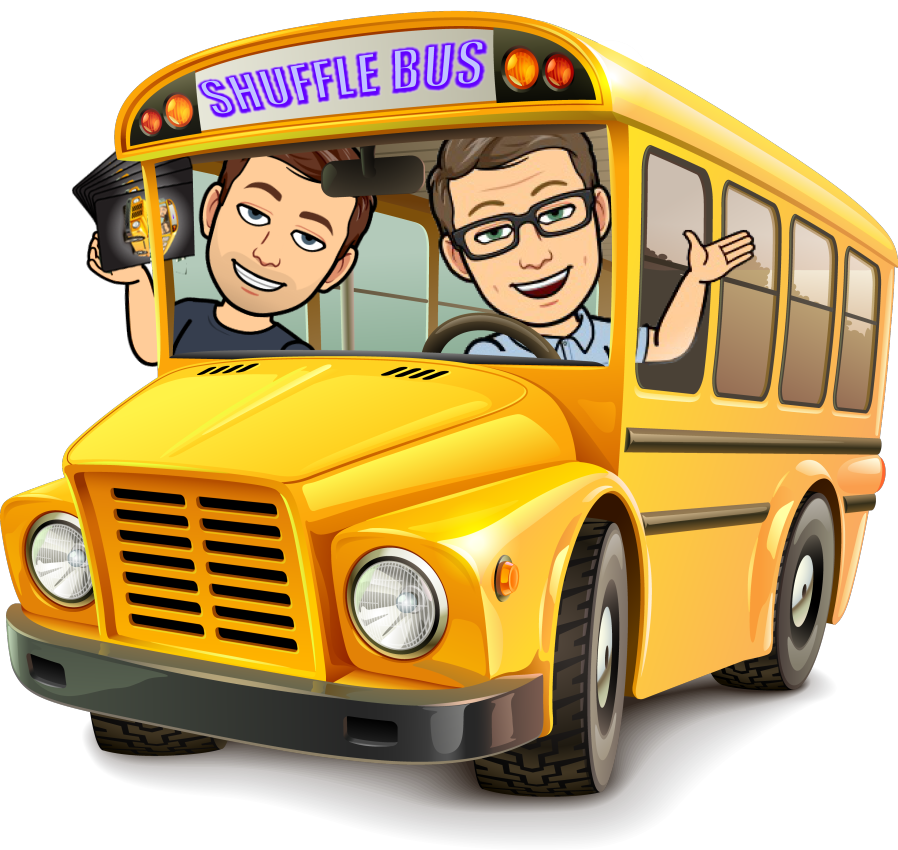 Ashes FAQ v2
The Ashes FAQ is very close to receiving an update, and should be available for reference before AshCon begins. Stay tuned!
Ashes Organized Play Update
Download the latest AOP Rules here!
With the start of AshCon2 on May 23rd, there will be an updated AOP rulebook in effect. The changes include a revised Top Cut procedure, expanded Sudden Death rules, and most notably, an updated Chained List. I'd like to take some time to discuss the additions to the Chained List, explain the reasoning behind them, and the purpose of the Chained List as a whole.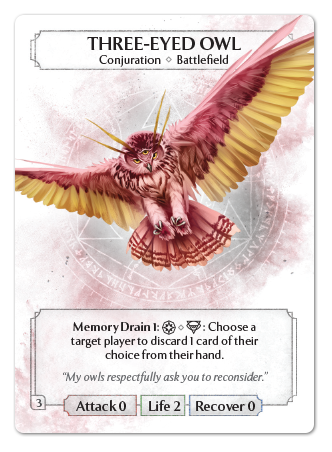 Three-Eyed Owl is one of the most infamous units in Ashes' history. Memory Drain directly attacks one of the core mechanics of Ashes, the First Five. Forcing discards from a player's First Five is a mechanic I no longer feel is beneficial for the health of the game, for new players and experienced players alike.
New players to Ashes are promised the ability to choose their starting hand. This is a very unique feature to Ashes, and leads to a lot of exciting possibilities for strategies, exciting combos, and the satisfaction of starting the game on the right foot. The moment a player gets hit with Memory Drain without knowing how to prepare for it, this promise is destroyed. The player suddenly loses a key card to their opening strategy, on top of losing the ability to invest their dice into something they had planned for. Losing a card to Memory Drain in this capacity can be a significant setback for the rest of the game, and it is a negative play experience for any new players wanting to see if Ashes is the game for them. I believe this is a very different play experience than simply being outplayed by a skilled opponent, which can inspire a new player to learn more about the game to reach the level of more experienced players.
There are several different solutions to not getting Memory Drained in this way. You can plan to draw an extra card, recur an ally from your discard pile, attempt to destroy the Owl before it can use Memory Drain, and so on. This is a lesson all Ashes players are required to learn for any time they go up against an opponent with Charm magic. The cost of not doing so is too severe to ignore. I do not think it is doing new players any favors by allowing such a harsh lesson to be learned as they begin exploring the game.
For the experienced Ashes player, the reality is that none of these solutions to Memory Drain can outmatch the efficiency of Three-Eyed Owl. Each solution to dodge Memory Drain breaks even at best, or puts you behind at worst. The onus is on the non-Owl player to prepare a way to mitigate Memory Drain and opt to bring it in the First Five, or risk that large setback. This is all required before Owl is even summoned, brought in the First Five, or even in their Charm deck at all. The result is players are forced to respect the threat of Owl to a degree so high, it affects the freedom players have to simply play the First Five they want. This is different to me than picking a First Five to try and outwit your opponent. The simple existence of Owl requires suboptimal First Five choices, not just alternative First Five choices. I believe a lot of negative play experiences can be removed from the game when players aren't forced to respect Memory Drain, both in the deckbuilding process and when sitting across from Charm magic.
I want to also talk about the prevalence of Owl in competitive play. Owl has a history of being one of the most played and winningest conjurations in the game, and for good reason. The recent tournament landscape has seen a large drop in Owls, with the game shifting to a fast-paced metagame. I am adding Owl to the Chained List with knowledge of this metagame trend, and want to emphasize that the Chained List, and especially the addition of Owl, is a decision grounded in honoring the spirit of the game more than it is a response to the current state of the metagame. I understand that Owl may be a piece of the puzzle that slows down aggressive decks, and am mindfully designing new defensive tools for slower decks to utilize in the future. Chaining Owl is not without other consequences. However, I'd much rather players experience the freedom to choose the First Five they think is best for each game they play. My hope is that players are able to bring more creative First Fives into the game and that clever deck builders are rewarded for planning out exciting new First Fives! Three-Eyed Owl simply goes against the promise of Ashes' First Five concept, and I believe the way it uniquely warps the First Five stage of the game is an experience worth removing. We have made a minor update to the Chained List ruling to account for chaining conjurations, so you are still able to First Five Summon three-Eyed Owl, but just not summon the Owl itself in round one.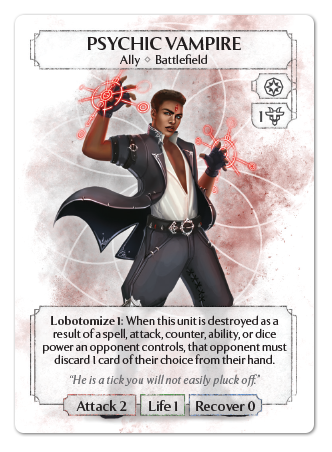 In the spirit of honoring the promise of the First Five mechanic, I have also made the decision to add Psychic Vampire to the Chained List. This ally is much less offensive in terms of hand pressure, but I wish to remove all instances of forced discard from round 1, where hand pressure means a very different thing. Psychic Vampire also exhibited some problematic interactions with upcoming unreleased Ashes cards, and restricts some design space in that same sense. Chaining it now made sense to me, as its reason for Chaining is adjacent to that of Three-Eyed Owl, and also preemptively stopping these incoming interactions from surfacing.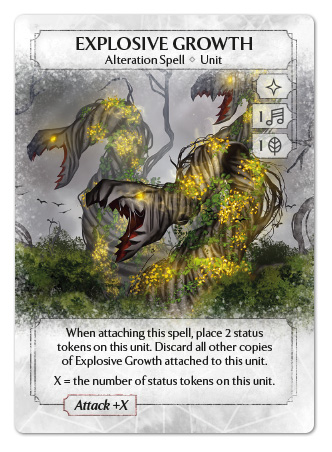 The cousin to the already-Chained Massive Growth is also being added to the Chained List in this update. Explosive Growth has many of the same issues as Massive Growth does, namely providing a massive spike in damage output in the very early stages of the game, when defending such an attack is very difficult. Exhortation is on the Chained List partly due to being used in conjunction with Explosive Growth. I feel it is still safest to keep Exhortation Chained, in addition to adding Explosive Growth to the list. Both of these cards exacerbate the issue of round 1 aggression, while remaining an otherwise exciting buff card in the mid to late stages of the game. Additionally, Explosive Growth is a dangerous support piece for Maeoni's Silver Snake. It does so by removing the slow startup phase of her gameplay pattern, especially against decks trying to keep the Snake from growing by reducing their own summoning output.
Looking Forward
As I observe the Ashes metagame evolve with each new tournament and set release, I see lots of discussion around which strategies appear dominant, what counterplay is available to them, and so on. I want to clarify that the intent of the Chained List is primarily to keep the integrity of the promises Ashes makes to its players; Choosing the opening strategy you want to play, allowing for flexibility to account for your opponent's strategy, and ensuring that the game has enough length to it to feel satisfying. There are several deck archetypes out there that are proving their strength and rising to the top of the tournament brackets. Maeoni's Silver Snake and Brennen with Widows rush openings stand out as top tier decks. While the intent of the Chained List is not simply to decrease the strength of the best decks out there, I am always thinking about different solutions to balancing the Ashes metagame, and will stay aware of how the meta develops over time. I do not want to make additions to the Chained List lightly, and also do not necessarily think the Chained List is the best tool to answer such questions. Each addition is done with great care, and comes with its own set of consequences that must be weighed. I hope I have your trust that these changes are being made with the health of the game in mind, and that we can walk this path as a community to keep Ashes in the best shape it can be!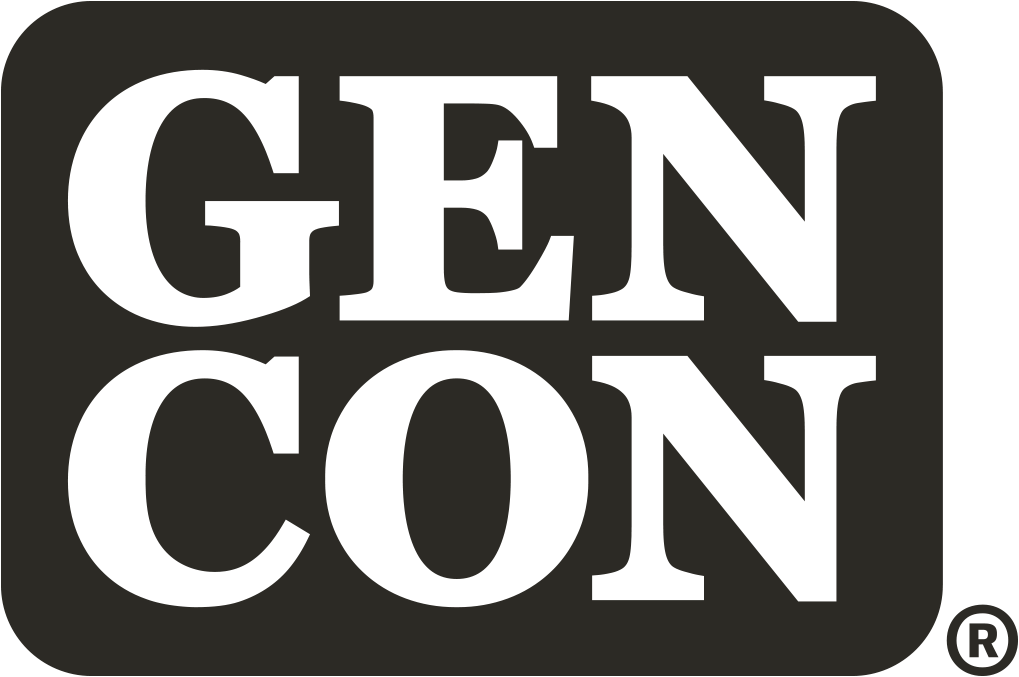 In other news, Plaid Hat will be attending GenCon, and I'll be there hosting an Ashes tournament. Registration is open right now! Stay tuned for information on prize support!
Also, this is not the last we have for updates related to Ashes Organized Play! More plans are in the works to support Ashes players. My plan is for AshCon2 to be the kickoff event of regular AshCon events alongside each product release, as well as more official PHG sponsored events and prize support for you all. I appreciate your patience as we get these systems locked down and underway. In the meantime, I hope you all have a great time playing in AshCon2! I'll see you on the battlefield!