The Ocean's Guard Preview #3
Oceanic Depths
Have you ever been to Erris Isle? Its walls are the angry sea that crashes upon sharp rocks hidden just beneath the waves. Its vineyards are grizzled fisherfolk resigned to one day dying on the job. Its culture is a lone brewhouse that's made the same appalling swill for generations. I suppose if you're a Phoenixborn looking for isolation, it's paradise.
– Darius, Terminal Amurai
Welcome back, Ashes players! Preview season continues for The Ocean's Guard today. Take a look at the deepest secrets the ocean has to offer!

Darkwater Hunter
Ally. Main, 2TC
3/2/1
[BLUE: Blood Scent: After 1 or more wound tokens are placed on an opponent's Phoenixborn, you may play this unit from your hand without paying its main action cost.]
Stalk: This unit cannot be guarded against.
From the depths comes the Darkwater Hunter! This deadly ally and animal pair can smell the blood of a Phoenixborn even from below the ocean's surface. Use this ally to strike in a flash, landing a sure blow to unsuspecting prey.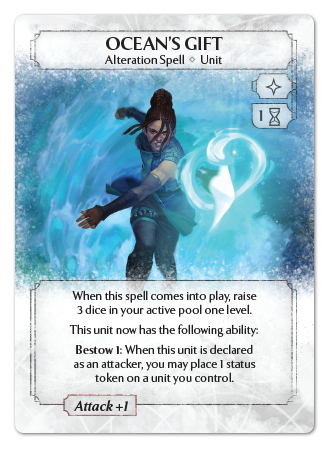 Ocean's Gift
AlterationSpell. Side, 1TC
Attack +1
When this spell comes into play, raise 3 dice in your active pool one level.
This unit now has the following ability:
Bestow 1: When this unit is declared as an attacker, you may place 1 status token on a unit you control.
The ocean is an entity larger than life, and when called upon, can provide many different benefits. This alteration spell blesses the user with three distinct pieces of utility, and those that can find ways to maximize the effectiveness of them all at once will find themselves grateful for the aid.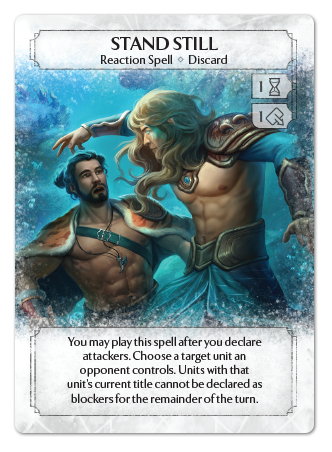 Stand Still
Reaction Spell. 1TC, 1D
You may play this spell after you declare attackers. Choose a target unit an opponent controls. Units with that unit's current title cannot be declared as blockers for the remainder of the turn.
Tristan holds the power to drag enemy Phoenixborn deep into the ocean, where they are vulnerable to the swift swimming attackers allied with Tristan. Catch your opponent off guard with Stand Still to make the most of your oceanic offense!
That's all for The Ocean's Guard previews! I hope you look forward to commanding the ocean with Tristan when this set releases soon! Be sure to subscribe to the Team Covenant Ashes Reborn subscription to be among the first to receive this new deck. See you on the battlefield!