The Scholar of Ruin Preview #3
The End of Days
The source of a scholar's study reveals much. And yet the Council, ever fawning over the Phoenixborn they fear are replacing them, never bothered with oversight or discretion when it came to the records they shared. They think Umberend will see them as allies, when all he could ever see them as is meat upon a carcass.
— Darius, Terminal Amurai
Welcome back, Ashes players!Our expedition with Rowan comes to a climactic conclusion this week, centered around card previews that provide inevitable doom as time draws to a close.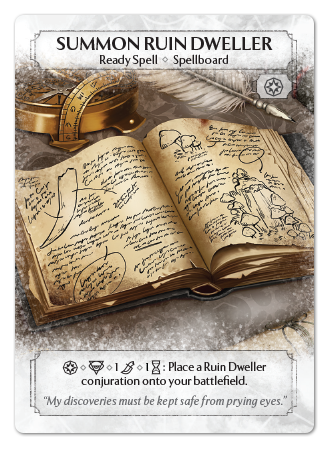 Summon Ruin Dweller and Ruin Dweller
Ready Spell. Main
Main, Exhaust, 1CC, 1TC: Place a Ruin Dweller conjuration onto your battlefield.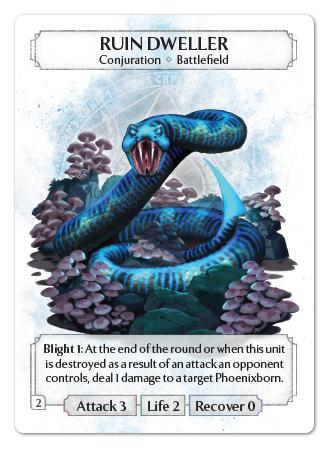 Conjuration (2)
3/2/0
Blight 1: At the end of the round or when this unit is destroyed as a result of an attack an opponent controls, deal 1 damage to a target Phoenixborn.
Rowan summons these lethal serpents to lurk in the ruins to protect him from behind as he delves deeper into the ruins. Intruders beware, as pursuing Rowan will lead to some harsh encounters with these creatures! Ruin Dwellers are not solely passive however, as their Blight ability will chip away at enemy Phoenixborn simply as time passes.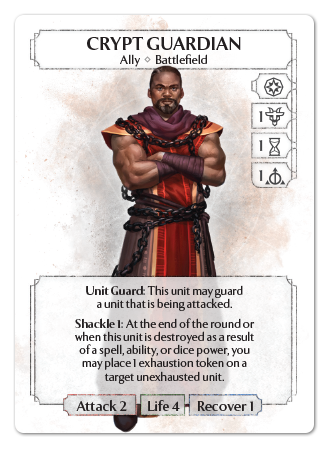 Crypt Guardian
Ally. Main, 1CP, 1TC, 1B
2/4/1
Unit Guard: This unit may guard a unit that is being attacked.
Shackle 1: At the end of the round or when this unit is destroyed as a result of a spell, ability, or dice power, you may place 1 exhaustion token on a target unexhausted unit.
If Ruin Dwellers weren't enough to dissuade intruders, Rowan also has the Crypt Guardians to defend the ruins and Shackle any intruders. As a 'knight' class unit, Crypt Guardian is susceptible to removal spells taking it off the board, but it won't leave without shackling one last enemy as a parting gift.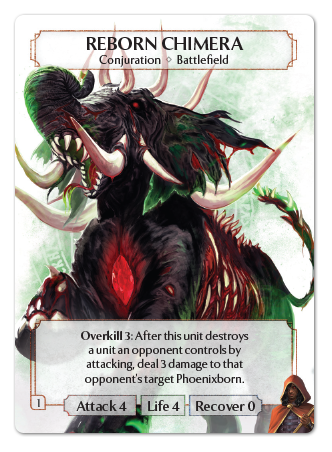 Reborn Chimera
Conjuration (1)
4/4/0
Overkill 3: After this unit destroys a unit an opponent controls by attacking, deal 3 damage to that opponent's target Phoenixborn.
Rowan has finally succeeded in his excavation mission. With all three Red Raindrops assembled, Rowan can call upon the undying threat of the Chimera! His first horrific creation uses the corpse of a fallen Abylonian elephant from time now forgotten. The Reborn Chimera is an absolute terror on the battlefield, and will reanimate itself into play every single round until one Phoenixborn falls!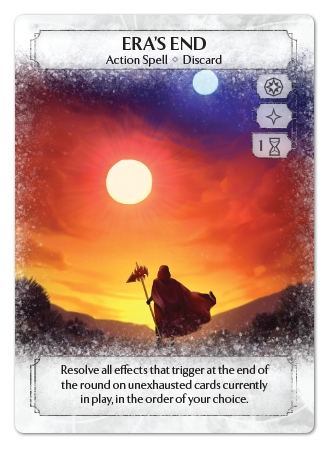 Era's End
Action Spell. Main, Side, 1TC
Resolve all effects that trigger at the end of the round on unexhausted cards currently in play, in the order of your choice.
Our final preview for the time cycle is Era's End. This spell is as simple as it is deadly, unleashing the culmination of everything Rowan has to offer in a single moment in time.
We have now reached the conclusion of the Time cycle for Ashes Reborn. With the Chimera reawakened by Rowan Umberend's relentless pursuit for power, will he be able to remain in control of this forbidden force? Find out for yourself as Ashes Reborn enters the Red Rains cycle next!
Be sure to subscribe to the Team Covenant Ashes Reborn subscription to be among the first to receive this new deck. See you on the battlefield!