The Scholar of Ruin Preview #2
Knowledge and Destruction
If my expulsion from the Vermillion Council has provided benefit, it is that I am never again required to share space with Rowan Umberend.
— Darius, Terminal Amurai
Welcome back, Ashes players! We continue our expedition into the ruins of Abylon Outskirts with Rowan this week, introducing another new ally and a pair of destructive spells.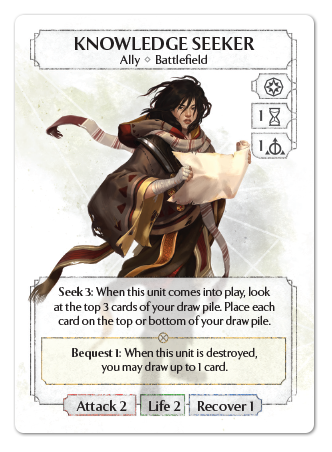 Knowledge Seeker
Ally. Main, 1TC, 1B
2/2/1
Seek 3: When this unit comes into play, look at the top 3 cards of your draw pile. Place each card on the top or bottom of your draw pile.
[INEX: Bequest 1: When this unit is destroyed, you may draw up to 1 card.]
This ally is a tremendous help for Rowan's ultimate plan of seeking out the Red Raindrops. The Knowledge Seeker helps you rummage through your draw pile to seek out the exact card you are looking for, and can even draw you the card when destroyed! This pair of abilities works especially well with Rowan's Exhume ability, providing both an enter play effect and a destroy effect to reuse.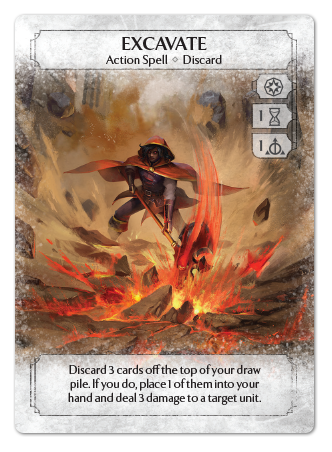 Excavate
Action Spell. Main, 1TC, 1B
Discard 3 cards off the top of your draw pile. If you do, place 1 of them into your hand and deal 3 damage to a target unit.
Rowan will stop at nothing to find these legendary artifacts, and is willing to go to extreme measures to enter the ruins. Rowan's approach to excavating the ruins has some serious collateral damage, but the reward for doing so is well worth it!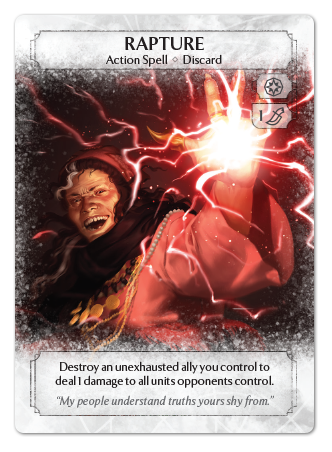 Rapture
Action Spell. Main, 1CC
Destroy an unexhausted ally you control to deal 1 damage to all units opponents control.
Rapture adds a new 'area of effect' action spell into the card pool, representing a deadly threat behind each ally you have ready on your battlefield. At a moment's notice, an ally may feel this rapturous surge in desire to serve the cause, going out in an electrifying blaze of glory to buy Rowan valuable time to continue his mission.
Where is the Reborn Chimera?
Last week, we previewed the Red Raindrops that Rowan is seeking out to resurrect the power of the Chimera. Expecting to see it today? I think you'll need to keep digging to find it! See you in the next preview article!