The Fungal Dwarves Preview #1
Spore Carrier and Fungal Beast
Welcome back, summoners! We have recently introduced Kuldak, summoner of the Fungal Dwarves in our announcement article. Kuldak fosters a colony of infectious spores that mutate and enhance the people they attach to. This creates a cycle of growth and decay, best represented by this pair of common units.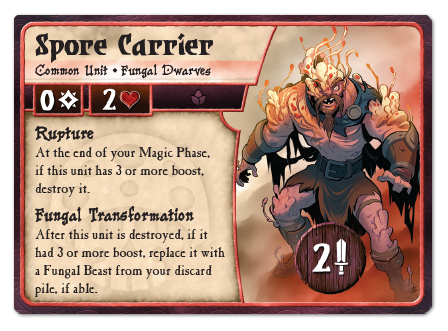 The Spore Carrier starts things off as an unassuming 0-cost common. As units around Kuldak are destroyed, these Carriers will collect more spores until they reach their breaking point of 3 boost, at which point they will burst into a fully grown Fungal Beast!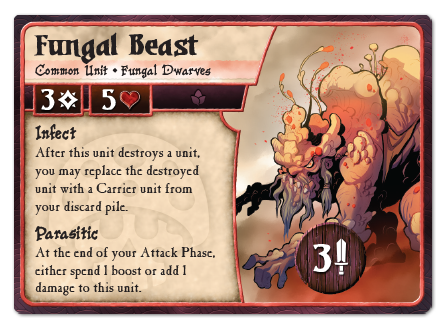 The Fungal Beast will fight to spread the infectious spore, and as it defeats enemies, they will reanimate as Spore Carriers to begin the cycle again! Fungal Beasts have a hard time maintaining their new body form and will decay each turn they are in play, so act quickly!
Tomorrow, we continue Summoner Wars previews as we share the dark blood magic the Fungal Dwarves use to manage this newfound power. See you there!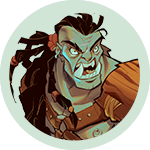 Nobody turn me into mushroom man!