The Artist of Dreams Preview #3
Reimagine, Ensnare and Double Down
Welcome back, Ashes players! Today we wrap up The Artist of Dreams previews with a suite of reaction spell focused cards and synergies.
Reimagine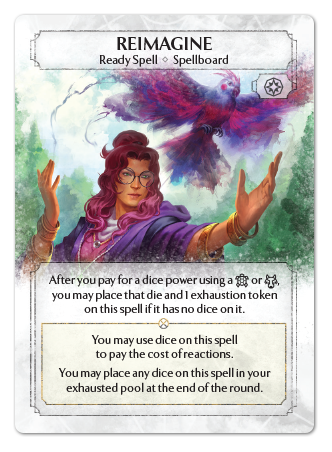 Ready Spell, Main
After you pay for a dice power using a TP or IP, you may place that die and 1 exhaustion token on this spell if it has no dice on it.
[INEX: You may use dice on this spell to pay the cost of reactions.
You may place any dice on this spell in your exhausted pool at the end of the round.]
This ready spell helps blend together the benefits of dice powers and reaction spells into one economical package. Typically dice powers are on the lower side of efficiency to make up for their easy access, while reaction spells can be tricky to have the power dice needed at the right time. Reimagine rewards you for proactively paying for dice powers by putting that towards a reaction in the future, keeping that die safely on its power side for your best reactions!
Ensnare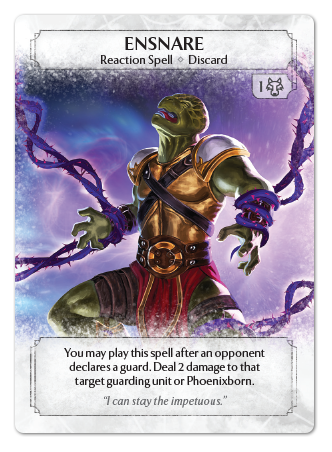 Reaction Spell, 1IP
You may play this spell after an opponent declares a guard. Deal 2 damage to that target guarding unit or Phoenixborn.
One reaction spell that can be paid for by Reimagine is Ensnare; a powerful tool for pushing through some extra burn damage after you opponent commits to guarding an otherwise unassuming attack.
Double Down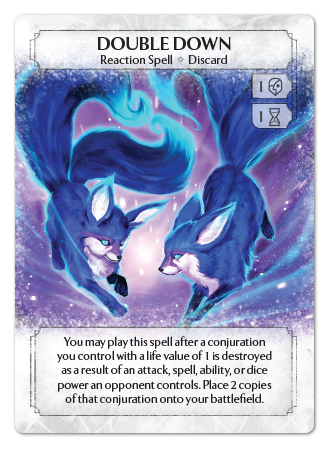 Reaction Spell, 1IC, 1TC
You may play this spell after a conjuration you control with a life value of 1 is destroyed as a result of an attack, spell, ability, or dice power an opponent controls. Place 2 copies of that conjuration onto your battlefield.
When playing Hope, everything is better in pairs. Double Down can help ensure your smallest conjured creatures resist your opponent's efforts of picking them off, then giving them twice the trouble in return!
That's all for The Artist of Dreams previews! Be sure to subscribe to the Team Covenant Ashes Reborn subscription to be the first to receive the next two Phoenixborn expansions when they release in April 2022! Until then, see you on the battlefield!