The Queen of Lighting Preview #2
Reinforce, Crystal Armor & Adept Duelist
Welcome back, Ashes players! Today we check out the ways Dimona can enhance her units and dismantle her foe's formations!
Reinforce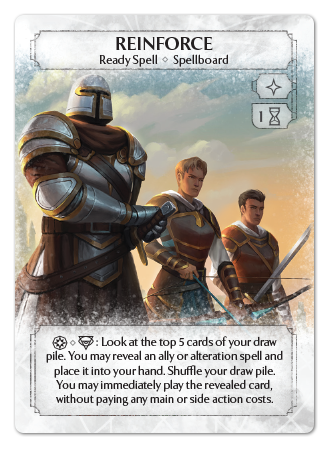 Ready Spell, Side, 1TC
Main, Exhaust: Look at the top 5 cards of your draw pile. You may reveal an ally or alteration spell and place it into your hand. Shuffle your draw pile. You may immediately play the revealed card, without paying any main or side action costs.
This ready spell represents Dimona's access to her barracks in times of battle. Reinforce can dig a whopping 5 cards into your deck to help you find just the right ally or alteration spell for the job, and even circumvents the action cost needed to play it! For a strategy all about attacking with allies and having them survive to promote to Empyrean Mounts, Reinforce offers plenty to the cause.
Crystal Armor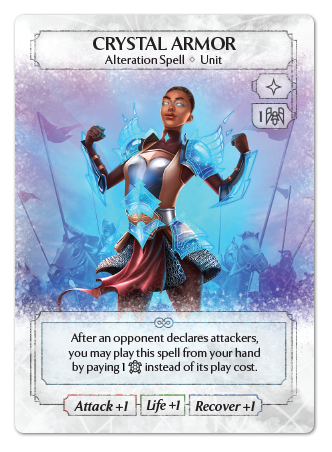 Alteration Spell, Side, 1DC, +1/+1/+1
[BLUE: After an opponent declares attackers, you may play this spell from your hand by paying 1TP instead of its play cost.]
One of the cards you may want to find with Reinforce is Crystal Armor. This hybrid cost spell can be used to quickly buff a unit before it attacks, but can also be a devastating punish to opponent who choose to attack one of your units and expect to get the kill. At reaction speed, Crystal Armor completely deconstructs the combat math of your opponent, setting you up for a ruthless counter swing the following turn!
Adept Duelist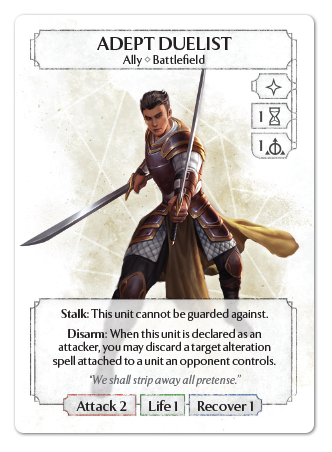 Ally, Side, 1TC, 1B, 2/1/1
Stalk: This unit cannot be guarded against.
Disarm: When this unit is declared as an attacker, you may discard a target alteration spell attached to a unit an opponent controls.
When your opponent is going toe-to-toe with you on summoning units and enhancing them with alterations, Adept Duelist can slip right in to pick apart their formations. Both the Stalk and Disarm abilities give you plenty of control over how to do this, and can even attack right from hand with its side action play cost!
Thanks for checking out today's Ashes preview! Be sure to subscribe to the Team Covenant Ashes Reborn subscription to be the first to receive the next two Phoenixborn expansions when they release in 2022! Until then, see you on the battlefield!