The Queen of Lightning Preview #1
Rayward Recruit, Piercing Light and Blessing of Lightning
Welcome back, Ashes players! Today we dive into the core divine magic powers that Dimona uses to command her Rayward army to victory!
Rayward Recruit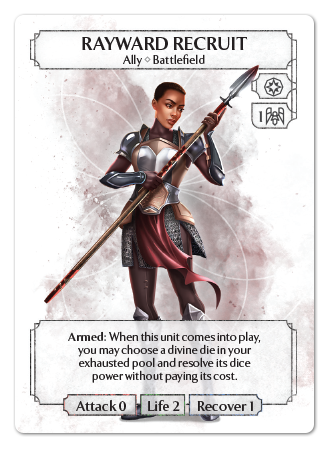 Ally, Main, 1DC
0/2/1
Armed: When this unit comes into play, you may choose a divine die in your exhausted pool and resolve its dice power without paying its cost.
Dimona doesn't just deploy cavalry knights, she also has many foot soldiers with whom she marches into battle. The Rayward Recruit enters play alongside a divine power die buff, letting her enter the fray herself, or simply support one of the many warriors already on Dimona's battlefield. +1 attack can be useful in many situations, but being a divine die gains some new utility under the command of Dimona…
Piercing Light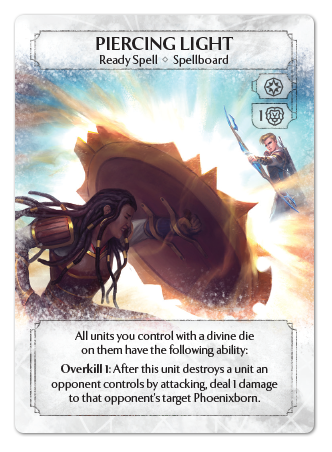 Ready Spell, Main, 1DP
All units you control with a divine die on them have the following ability:
Overkill 1: After this unit destroys a unit an opponent controls by attacking, deal 1 damage to that opponent's target Phoenixborn.
This ready spell sends a harsh message. Dimona will attack you and you will take damage. Piercing Light helps push your army through defenders, punishing any unit that can't survive. Better yet, additional copies of Piercing Light stack up, making each divine die worth up to 3 points of Overkill damage! One thing is certain; you must do everything it takes to withstand Dimona's lightning quick attacks!
Blessing of Lightning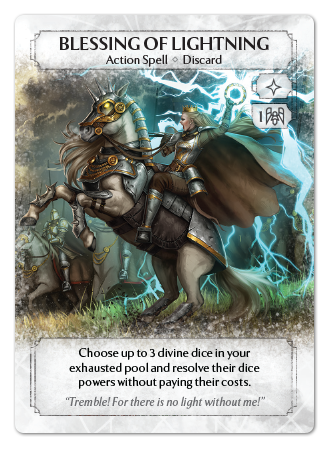 Action Spell, Side, 1DC
Choose up to 3 divine dice in your exhausted pool and resolve their dice powers without paying their costs.
Rounding out Dimona's divine magic tactics is the Blessing of Lightning! This powerful spell can push out an absurdly high amount of damage when used alongside a divine-heavy battlefield. Proper timing is key to making the most out of this spell, so be sure to field lots of units and get enough divine dice spent early to make this Blessing as deadly as possible!
Thanks for checking out today's Ashes preview! Be sure to subscribe to the Team Covenant Ashes Reborn subscription to be the first to receive the next two Phoenixborn expansions when they release in 2022! Until then, see you on the battlefield!