Messenger of Peace Preview #3
Ruby Cobra, Captivate and Generosity
"The Phoenix cannot bear the strain of its fractured soul, but I would urge you to resist. I have walked the flow of time and I tell you now, our future is our past. We must be united as we once were, for our great task is not yet complete!"
- Orrick Gilstream in a letter to his Phoenixborn siblings
Welcome back Ashes players! Today we have the final round of previews for the Messenger of Peace expansion, bringing this reveal season to a close.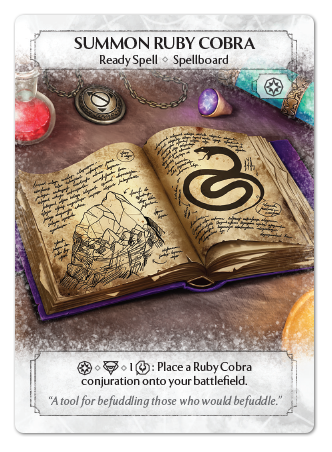 Ready Spell. Main.
Main, Exhaust, 1HP to summon.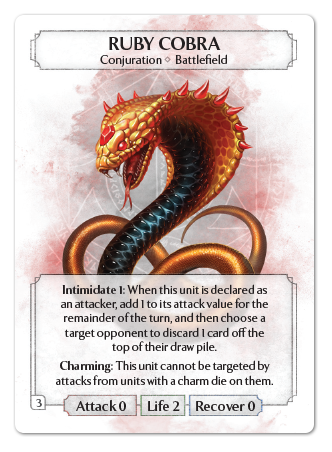 0/2/0
Intimidate 1: When this unit is declared as an attacker, add 1 to its attack value for the remainder of the turn, and then choose a target opponent to discard 1 card off the top of their draw pile.
Charming: This unit cannot be targeted by attacks from units with a charm die on them.
Ruby Cobras add quite a bite to charm-based decks! 0 attack units are a consistent theme in charm, and Orrick's deck comes packed with support for these units. However, the Cobra is able to fend for itself as an attacker with the Intimidate ability! You can even add a bit of extra battlefield control with the charm dice power, thanks to the Cobra's Charming nature.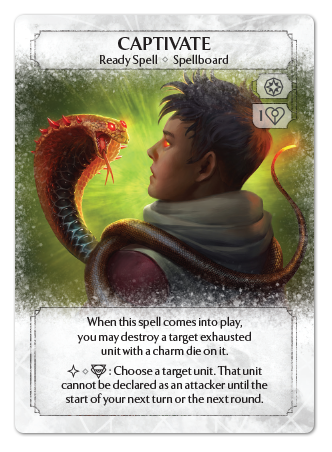 Ready Spell. Main, 1HC
When this spell comes into play, you may destroy a target exhausted unit with a charm die on it.
Side, Exhaust: Choose a target unit. That unit cannot be declared as an attacker until the start of your next turn or the next round.
Rounding out the suite of charm magic tools is Captivate. This spell has two powerful functions for holding back aggressive opponents. Playing this spell can prevent repeated use of your opponent's big threats if you are able to catch them charmed and exhausted before the round ends. On top of that, Captivate has a nice ability to stall out attacks, possibly even forcing an early Pass from your opponent if used toward the end of the round!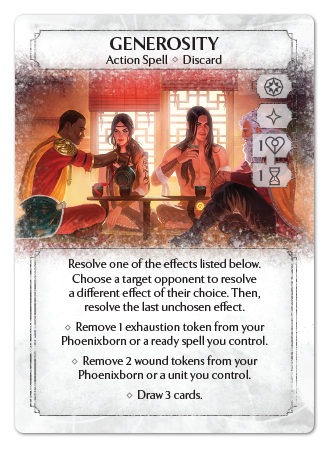 Action Spell. Main, Side, 1HC or 1TC.
Resolve one of the effects listed below. Choose a target opponent to resolve a different effect of their choice. Then, resolve the last unchosen effect.
-Remove 1 exhaustion token from your Phoenixborn or a ready spell you control.
-Remove 2 wound tokens from your Phoenixborn or a unit you control.
-Draw 3 cards.
Welcome your adversary over for tea time with Generosity, where you'll share what you have around the table. Timing is everything with this spell, as despite your kindness, you'll want to make sure you come out ahead with the best choices laid out before you. Refresh, healing, and card draw all have their place, so choose wisely!
Thanks for checking out the previews for both these upcoming expansions! If you'd like to be among the first to add these new Phoenixborn to your collection, be sure to sign up for the Team Covenant Ashes Reborn subscription! I hope you are excited to receive these expansions later this year. Take care!