Gorrenrock Survivors Preview #3
Omen Bringer, Fighting Spirit and Canyon Shelter
"My dear Elga, while I hope you are enjoying your stay here in Gorrenrock, I must decline to meet with you at this time. Please remember, you are a foreigner in this city and not in a position to impose yourself upon me. You are right to fear the coming storm. But I am told you amassed a small fortune in your morning years, so why not enjoy those comforts you have earned, and savor this twilight? Rest easy. In Gorrenrock, there are still strong shoulders to carry the many burdens of this world."
                       - Lulu Firststone
Welcome back Ashes players! Things are heating up with the next round of previews for the Gorrenrock Survivors. Check out the final previews from Lulu's deck!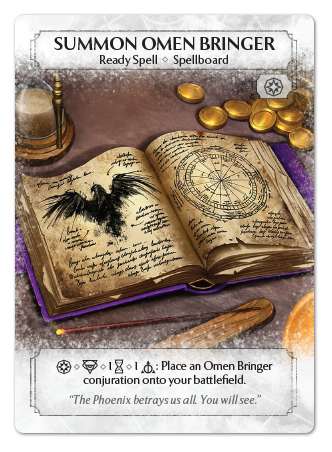 Summon Omen Bringer
Play cost: Main
Main, Exhaust, 1TC, 1B  to summon.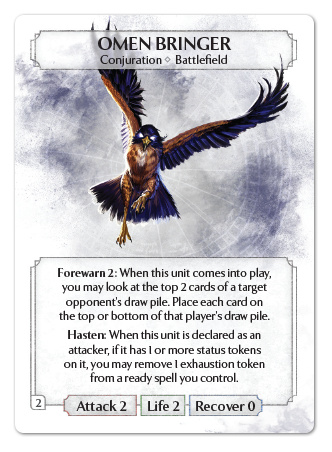 Conjuration. 2/2/0
Forewarn 2: When this unit comes into play, you may look at the top 2 cards of a target opponent's draw pile. Place each card on the top or bottom of that player's draw pile.
Hasten: When this unit is declared as an attacker, if it has 1 or more status tokens on it, you may remove 1 exhaustion token from a ready spell you control.
Time magic gains a new conjuration for its arsenal in this expansion. The Omen Bringer aids Lulu in many ways, providing foresight into the future and accelerating the rate at which she can utilize her ready spells. This conjuration is yet another way for Lulu to use her Bolster ability to its maximum potential!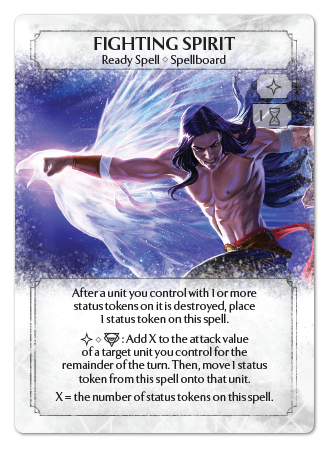 Ready Spell. Side, 1TC.
After a unit you control with 1 or more status tokens on it is destroyed, place 1 status token on this spell.
Side, Exhaust: Add X to the attack value of a target unit you control for the remainder of the turn. Then, move 1 status token from this spell onto that unit.
X = the number of status tokens on this spell.
For the fighters of Gorrenrock, status tokens represent their willpower and the clever tactics they can use in battle. Even in their defeat, this willpower can be transferred over to the spirit of another fighter with this bombastic ready spell! Careful management of Fighting Spirit can help ensure all your fighters enter the arena with their special abilities active, and maybe can even line up a final knockout punch of astronomical damage! I'm still recovering from a +7 punch...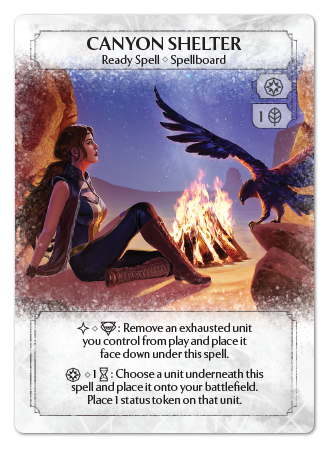 Ready Spell. Main, 1NC.
Side, Exhaust: Remove an exhausted unit you control from play and place it face down under this spell.
Main, 1TC: Choose a unit underneath this spell and place it onto your battlefield. Place 1 status token on that unit.
Canyon Shelter provides protection for the exhausted units you'd like to see fight another round. By removing a unit from your battlefield, you can also make room for more fighters right now! In the following round, use Canyon Shelter to put a unit back into the action, triggering any enter play effects again and pre-loaded with a status token!
That's all for the Gorrenrock Survivors previews! Next week, we'll wrap up these releases with the final previews from the Messenger of Peace. See you then!