Messenger of Peace Preview #2
Sunshield Sentry, Fate Reflection and Recollect
"The devoted claim Orrick was gathering his holy powers for the struggles to come. But those close to the Phoenixborn only laugh and say he was busy, both looking behind and ahead. Whatever the case, the Vermillion Council was convinced the young man had vanished from the planet and I agree with that assessment. Gilstream's return from the unknown seems to have coincided with Jericho's visit to New Gobi. What does Orrick know, and why in his speeches does he refer to the troubled times that followed the Red Rains? How are our past struggles against the chimera relevant now? Orrick Gilstream has always shown wisdom and  trustworthiness, so his words weigh heavily upon my mind."
 - Darius, Terminal Amurai
Welcome back Ashes players! Today we have another round of cards for the Messenger of Peace expansion, this time focusing on defensive and control-based effects.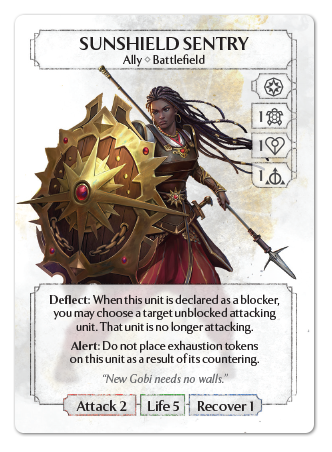 Ally. Main, 1TP, 1HC, 1B.
2/5/1
Deflect: When this unit is declared as a blocker, you may choose a target unblocked attacking unit. That unit is no longer attacking.
Alert: Do not place exhaustion tokens on this unit as a result of its countering.
Stationed on the outskirts of New Gobi, Sunshield Sentries are incredibly adept at preventing incoming attacks. The combination of Deflect and Alert abilities can be difficult to attack through, essentially forcing multiple attacking units to clash with the Sentry over several attacks. For any deck looking to shore up its weaknesses against larger and more aggressive battlefields, Sunshield Sentry is here to save the day!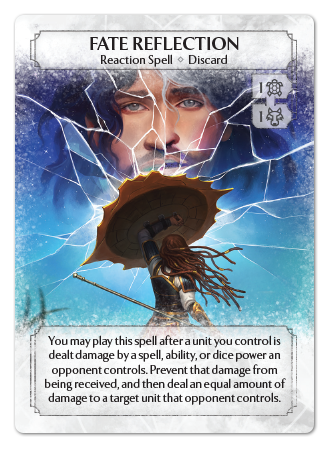 Reaction Spell. 1TP or 1IP
You may play this spell after a unit you control is dealt damage by a spell, ability, or dice power an opponent controls. Prevent that damage from being received, and then deal an equal amount of damage to a target unit that opponent controls.
Fate Reflection adds some high potency players with time and illusion power dice in their active pool. Seeing such a die can make your opponent second guess using their damage-based removal effects, as the consequences could be receiving the damage themselves!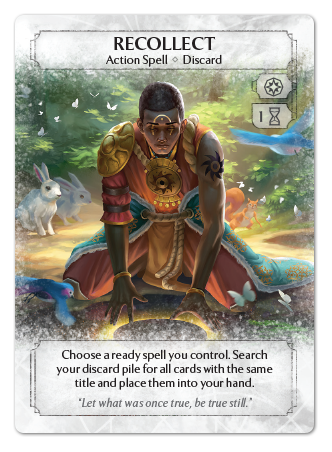 Action Spell. Main, 1TC.
Choose a ready spell you control. Search your discard pile for all cards with the same title and place them into your hand.
Recollect shines in slower games, where building up your spellboard and focus effects can be the key to out-valuing your opponent and slowing down impending fatigue damage. Orrick in particular can use this spell to recover lost Concentration ready spells, or meditate away exhausted spells to recur them and play them again in the same round!
Thanks for checking out today's preview! We head back to Gorrenrock next week for more Ashes Reborn previews. See you there!