Gorrenrock Survivors Preview #2
Emberoot Lizard, Survival of the Fittest, Inflame
Welcome back Ashes players! Things are heating up with the next round of previews for the Gorrenrock Survivors. Check out the latest from Lulu's deck!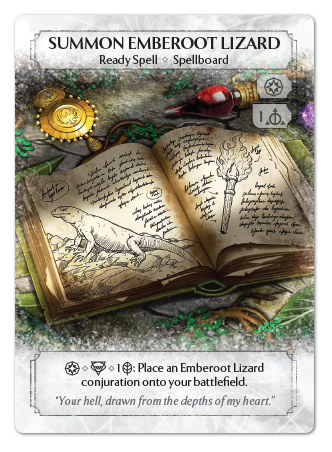 Play cost: Main, 1B.
Main, Exhaust, 1NC to summon.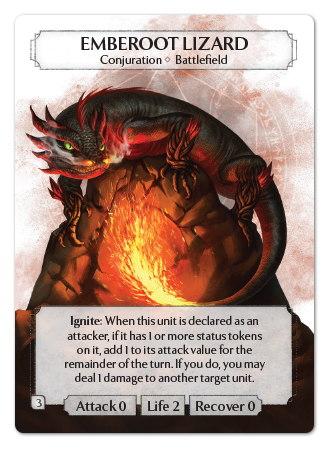 Conjuration. 0/2/0
Ignite: When this unit is declared as an attacker, if it has 1 or more status tokens on it, add 1 to its attack value for the remainder of the turn. If you do, you may deal 1 damage to another target unit.
Natural magic is well known for its powerful presence on the battlefield, and Emberoot Lizard is no exception. While it is an unassuming 0 attack unit when it enters play, once its tail is sparked with fire, things really heat up for this unit! A single status token turns this conjuration into a robust attacking unit, offering it +1 attack and 1 ping damage on attack!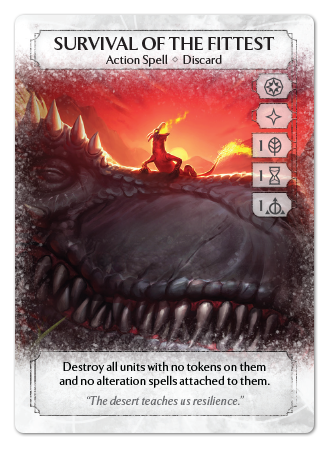 Action Spell. Main, Side, 1NC, 1TC, 1B.
Destroy all units with no tokens on them and no alteration spells attached to them.
Gorrenrock is a city within the region of Redsand, known for its harsh desert climate. It takes preparation and grit to survive travel in this environment, and those unable to hold their own are sure to fall to the natural environment. Survival of the Fittest punishes fresh-faced recruits while allowing the battleworn and adaptive to live another day.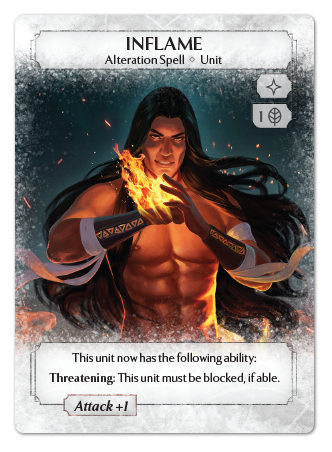 Alteration Spell. Side, 1NC.
+1 Attack
This unit now has the following ability:
Threatening: This unit must be blocked, if able.
Inflame is an alteration spell that can force some fiery action on the battlefield! Granting the Threatening ability to any unit can open up some powerful combination effects, especially when you attack with units that have abilities that rely on attacking!
I hope this preview has sparked some deckbuilding fire in you, and stay tuned for some Messenger of Peace previews next week!