Gorrenrock Survivors Preview #1
Gorrenrock Brawler, Hunting Weapons and Backtrack
Welcome back Ashes players! Recently we announced the next two Phoenixborn to re-enter the fray, Lulu and Orrick. Today we will be looking at a few cards from Lulu's expansion, the Gorrenrock Survivors!
Gorrenrock Brawler
Ally. Main, 1TP, 1NC, 2B. 4/5/1.
[INEX: Brawl 1: After a unit is destroyed, if this unit had been declared as an attacker, blocker, or guard this turn, place 1 status token on this unit.
Comeback: Main, 1B: If there are 6 or more tokens of any type on this unit, remove all tokens from this unit.]
Please welcome the new largest ally into Ashes Reborn; the Gorrenrock Brawler! This unit thrives on arena-sized battles, gaining a status token for each unit destroyed on a turn the Brawler attacks. Gorrenrock Brawlers can then make a dramatic Comeback by cashing in their battle experience in the form of 6 wound, exhaustion, or status tokens. Only the most daring of Brawlers can ride the line between life and death, but those that can are rewarded with a very cheap full refresh effect to get right back into the fight!
Hunting Weapons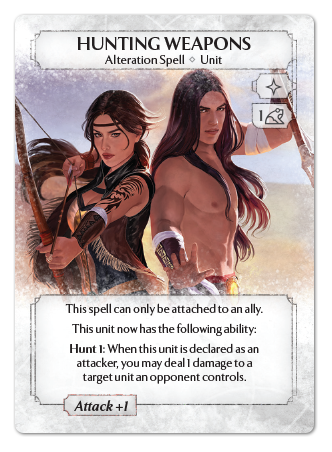 Alteration Spell. Side, 1NP. +1 Attack
This spell can only be attached to an ally. This unit now has the following ability:
Hunt 1: When this unit is declared as an attacker, you may deal 1 damage to a target unit an opponent controls.
Hunting Weapons is a skillful alteration spell that can only be wielded by allies. The resulting effect opens up a powerful timing window for attacking, providing an efficient attack buff and 1 damage ping effect before your units become blocked. Use this enhanced battle proficiency to stay on the upperhand in battle!
Backtrack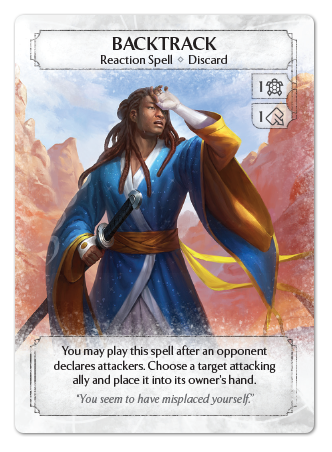 Reaction Spell. 1TP, 1 Discard.
You may play this spell after an opponent declares attackers. Choose a target attacking ally and place it into its owner's hand.
Backtrack is an incredibly powerful removal spell, particularly looking to stave off the aggressive Knight-based strategies out there. It takes some precise timing and planning to pay the rather unusual power die and discard costs, and coaxing your opponent into attacking. However, if you are able to do so at the right time, sending a big ally back to the hand will surely help swing the game into your favor! 
Enter the fray with these new brawling cards in your arsenal, and stay tuned for more previews!