Building Basics: Master Set - Saria
Raven on Repeat
Welcome back, Ashes players!
This preview, we continue to explore custom decks made from the Ashes Reborn: Rise of the Phoenixborn set! Our guest writer, Brian Broughman, is here to highlight a custom Saria deck using Resummon and Seaside Raven! Take a look and try out this deck when you receive your Ashes Reborn cards, if you are in need of deck building guidance or inspiration! This deck is a perfect pair against the Aradel deck from the last article, so be sure to try them out against each other!

Raven on Repeat
Deck designed by Brian B
Saria Guideman
Dice 5x Charm, 3x Illusion, 2x Ceremonial
1x Summon Seaside Raven
2x Resummon
3x Summon Three-Eyed Owl
2x Summon False Demon
3x Enchanted Violinist
3x Redirect
2x Stormwind Sniper
3x Hidden Power
3x Sympathy Pain
3x Fade Away
2x Strange Copy
1x Shadow Strike
2x Undying Heart
This is mostly a swing deck.  You can remove smaller units from your opponent's battlefield with the Raven's Prey or the False Demon's Nightmare ability (both are repeatable with Resummon), or with an Enchanted Violinist.  To deal with bigger threats you can use Fade Away, Strange Copy, Shadow Strike, or a Quick Strike attack from the Raven.  If you can pull ahead on the battlefield you can do damage to your opponent's Phoenixborn by attacking with the Raven and False Demons.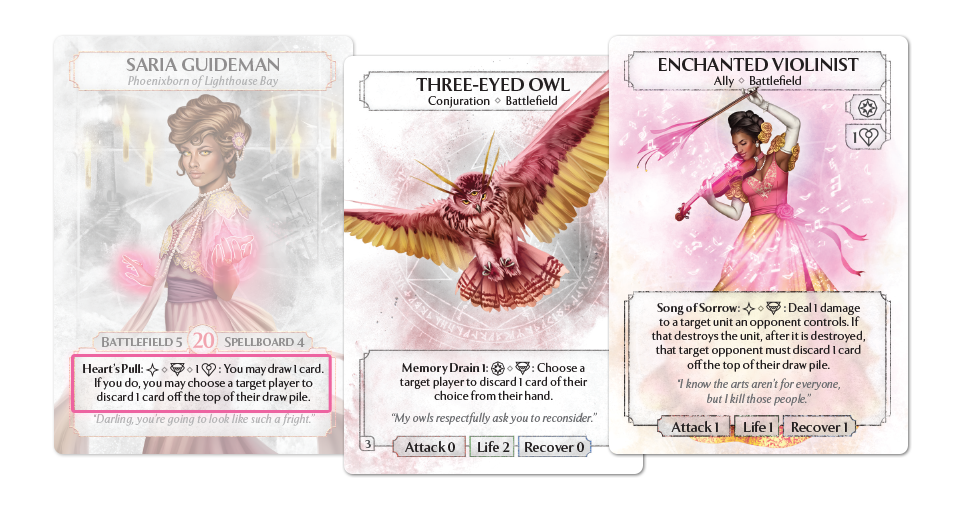 With Three-Eyed Owls, Enchanted Violinists, and Saria's Heart's Pull, however, this deck has a strong undercurrent of mill, serving as a secondary way to put damage onto the opponent if the battlefield clogs up.  With the Enchanted Violinist you want to make sure the Song of Sorrow is used to provide lethal damage to opposing units, as this forces your opponent to discard a card from the top of their deck. The mill impact of this can really add up!
Resummon is included as a combo to use with the Seaside Raven.  Ideally, you will be able to kill a unit when summoning the Raven, and then attack a unit with Raven (taking advantage of quick-strike to kill a second unit).  Hopefully your Raven is still alive (just exhausted from its attack), and can then be resummoned to repeat the process.  
Unfortunately, in the matchup suggested here, against Aradel, you will often lose the Raven to damage from Water Blast.  On the other hand, the Raven is a nice counter to Blue Jaguars.  It is a BIG Raven that likes to eat Jaguars!  Watch your opponent's natural dice closely.  If they do not have a leaf (or frog) showing, you can avoid Water Blast for at least a turn.  You can also solve this problem by using an illusion power die to turn down two of your opponent's natural dice as a side action before summoning a Raven with your main action.
Here are some brief thoughts on some of the other cards included in the deck.  Both Sympathy Pain and Shadow Strike can be used to place damage onto opposing units, helping you pull ahead on the battlefield.  Sympathy Pain is especially flexible in this regard, as almost any wounds that your opponent places onto Saria will trigger the reaction.  Redirect is included not simply as a way to protect Saria from damage, but also to help to clear up board spots and remove exhausted units.  Saria only has 5 battlefield slots and board clogging can become a real concern for her.  Because there are three copies of both Redirect and Sympathy Pain in the deck, I highly encourage you to almost always have a charm power die showing.  If nothing else, it is a great bluff that may cause your opponent to misplay.  Finally, Stormwind Sniper is an intriguing ally, because it can serve both as a source of direct damage and because its Concealed ability makes it very hard for your opponent to remove.  In the matchup against Aradel, Concealed is especially nice since it protects the Stormwind against Blue Jaguar's Gaze.  And if you buff a Stormwind Sniper with Undying Heart, it cannot even be removed with a Mist Typhoon and it gives the Stormwind enough life that it can block an attacking Rhino. 
First Five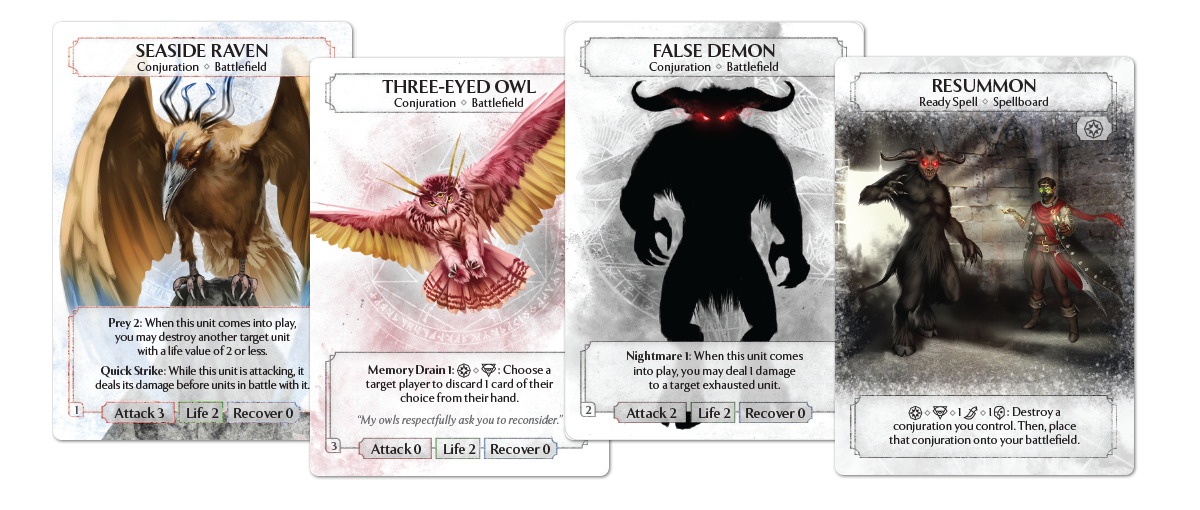 My suggested First Five is to start with a copy of each summon spell (Seaside Raven, Three-eyed Owl, False Demon) and then two flex cards.  In most matchups I would highly recommend Resummon as one of your flex cards.  It works great with the Raven.  In the matchup against Aradel, however, it is a judgment call, as she will often be able to Water Blast your Raven before you can make use of Resummon.  You can, of course, still use Resummon on False Demon or Owl.  So, it is still not a bad card to include in the first five.  Other cards to consider as possible flex cards include: 
Fade Away or Strange Copy.  Either of these can be quite good at dealing with big units.  Strange Copy is especially interesting as a way to counter the "Aggressive" Aradel opening.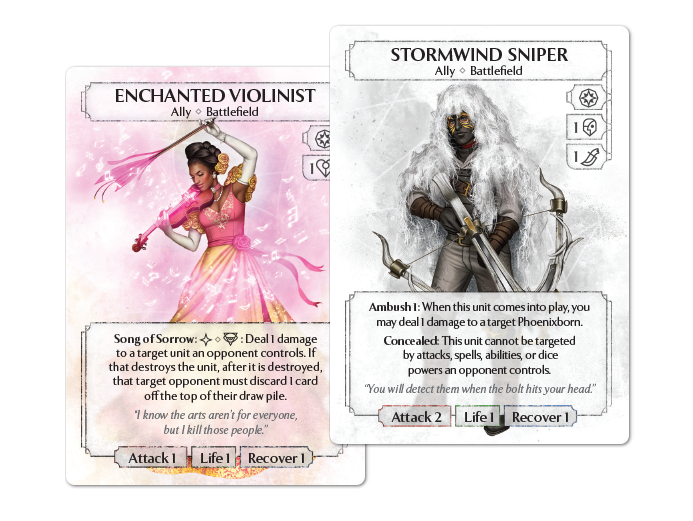 Enchanted Violinist and/or Stormwind Sniper.  These give you additional board presence early and the Violinist, in particular, also provides removal and some mill pressure. 
Aradel Matchup
Regarding the matchup against Aradel, be careful on whether to use the Owl's Memory Drain in the first round.  Normally, Memory Drain is great at disrupting your opponent's hand in the first round, but here exhausting your Owl for Memory Drain removes an eligible blocker (> 1 life) for dealing with an attacking Iron Rhino.
Lizzie Hart wrote about her Aradel Rhino deck, which has a balanced matchup against this Saria deck. Here are notes from Lizzie when playing her Aradel Rhino deck against Brian's Saria deck:
"This Saria deck doesn't have any big hitters besides the Seaside Raven, and because they only have a life value of 2, you can take care of them with a simple Water Blast. This means more often than not I find myself meditating Out of the Mist instead of using it. Because this Saria also makes use of Resummon, putting exhaustion tokens on a Seaside Raven is kind of pointless so Steady Gaze also becomes meditation fodder in this match up. If they decide to summon a Three-Eyed Owl and use Memory Drain in round 1, I would discard the Hammer Knight since you can just use a ceremonial power die to recur it. Root armor is the MVP of this match up. Normally it depends on the board state to choose which unit to put it on, but in this case, always put it on your Blue Jaguars! It puts them out of range for the Seaside Raven's Prey ability, and saves them from ping damage from an opponent's Enchanted Violinist or False Demon. It might be worth it to get an Iron Rhino out sooner rather than later, if you can hit for 7 in the first round your opponent will have a hard time keeping up. This match-up is a close one! The times we have tested it, the winner was determined by 1-2 life"
Enjoy!
Brian Broughman learned to play Ashes in 2017 with some friends in Bloomington Indiana.  He has played in a number of tournaments and was honored to select Jericho as the Phoenixborn to win the War of Ashes after he finished first in the Dallas farewell tournament in 2019.  Brian began playtesting in 2020 and he currently lives in Nashville Tennessee.