Quirky Circuits Preview #3
Meet Penny!
Hello, and welcome back to the third preview for our upcoming cooperative robot programming game, Quirky Circuits: Penny and Gizmo's Snow Day. Last week we looked at Gizmo the robot vacuum and his kitty companion. In today's article we will be taking a look at Penny, the cute snowboarding penguin.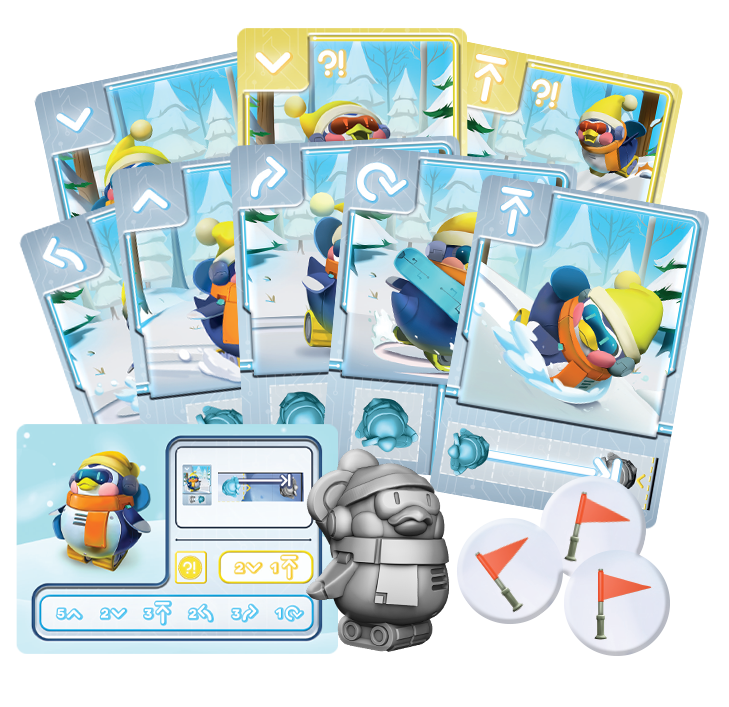 Robotopia is a world populated by adorable robots who love to follow their programming to complete tasks. It is your job to program them correctly so they can finish their tasks with enough battery power to get back to their charging unit where they can chill out and wait for their next job.
Snowbound
Penny is a robot penguin that aspires to be a professional snowboarder. Penny is always trying out new snowboarding techniques. To practice, she sets up little courses in the backyard by placing flags all around. Then Penny challenges herself to gather them all up before her battery runs out.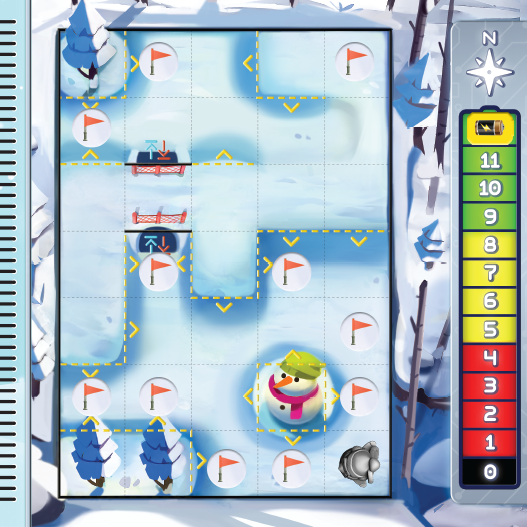 Penny is represented by a cute little plastic figure. When placing and moving Penny on the map, facing is important. Penny's forward facing is of course its beak. On Penny's back there is a snowboard, which Penny loves to use, but she can't resist sliding on her belly most of the time. Who can blame her?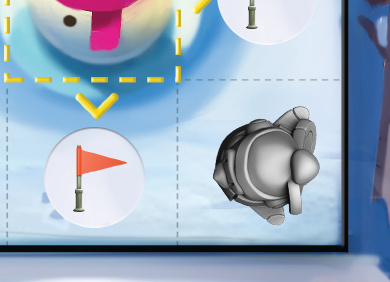 Let's look at Penny's Reference Card!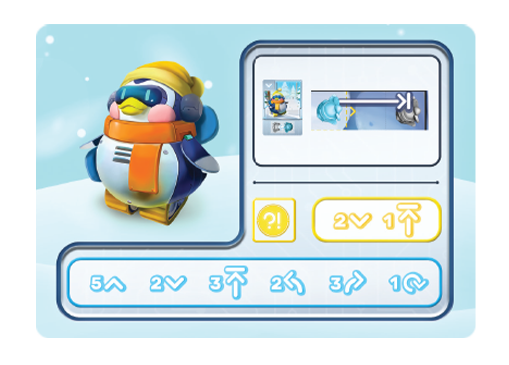 You see the example to the right of Penny's portrait? That's Penny's special function. All robot buddies have a unique way of interacting with the map's environmental challenges. Penny's special function means that whenever Penny moves across a slope (a dashed yellow line) going in the same direction as that slope's arrow, she will slide in that direction until colliding with a barrier or slope. Keep this in mind and factor it into how you play your command cards.
Speaking of command cards, notice in the blue field at the bottom of the reference card, there is a group of numbers and symbols. This shows Penny's command card type by symbol and the number that appear in her deck. Knowing this information, helps you intuit what your fellow players might have in their hand. Notice how Penny has fewer left turns and only a single turn around command card?
Just above that is a little yellow field. These are Penny's Quirk cards. Like command cards, it's important to know what Penny's quirks do, and how many she has. Quirks are only used when directed by the scenario.
Let's Look at Penny's Command Cards!

Each command card shows an illustration of the action that command card will program Penny to perform. Next to the illustration is a symbol of the command. This symbol matches one of the symbols listed on Penny's reference card. The lower portion of the card shows an example of that command being performed.
Penny has a unique command called Slide. When a slide commend card is revealed, Penny moves forward until halted by an obstacle. There are 3 slide command cards in Penny's deck.
The backs of the command cards also show a symbol that indicates what kind of command it is. Cards that turn Penny will have the turn indicator. Cards that move Penny will have the move indicator.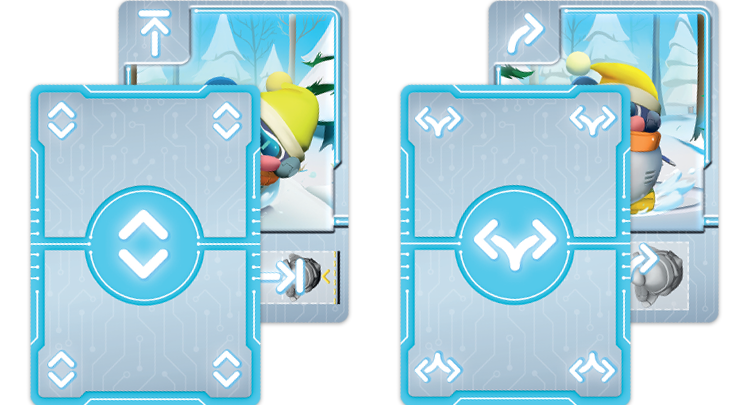 Let's Also Look at Penny's Quirks!
Quirk cards are yellow command cards that are played a little differently. When a scenario setup instructions indicates, you will shuffle Penny's quirks into the command deck.
Penny has 2 turn reverse quirks, and a single slide forward quirk.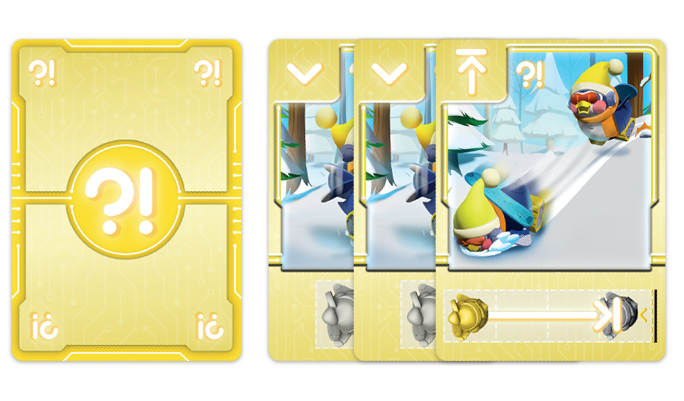 All Quirk Cards have the quirk symbol on the back of the card and never indicate whether it is a move or a turn.
Winters Mix
It's snowing in Robotopia and Penny couldn't be happier! The adorable penguin is setting up courses and collecting flags!
The first Penny scenario, titled "Hit the Slopes", is pretty easy. It's a great way to learn how Penny plays if you haven't played with her before. It's also a great warm-up if it's been a while and your teamwork skills are rusty. In later scenarios, new challenges will test your skills.
Barriers
Barriers are represented by solid black lines. Robots cannot move through barriers. When Penny collides with a barrier, she halts her movement.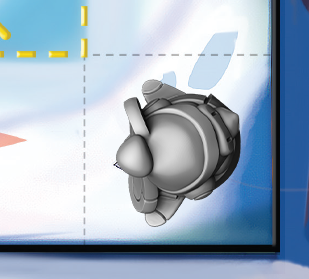 Slopes

Slopes are represented by dashed yellow lines and an arrow. Penny cannot move or slide up a slope since she cannot go against the direction of the arrow. She will instead collide with that slope and halt her movement.
Remember, because of Penny's special function, if the robot moves across a slope going in the same direction as the arrow, she will slide in that direction until colliding with a slope or barrier. This special function works even if Penny is moving in reverse when crossing the slope.
Tunnels

Penny has created some icy snow tunnels for slippery, slidey fun. If Penny slides into a tunnel, she continues sliding out of the other side. Penny can only slide into a tunnel, rather use a regular, plain old move. If it's not a slide, Penny will instead collide with that tunnel and halt her movement.
If Penny is facing forward (in the same direction she is moving) when she slides into a tunnel, she will come out of the tunnel facing forward. If Penny is facing backwards when she slides into a tunnel, she will come out of the tunnel facing backwards.
Snow Drifts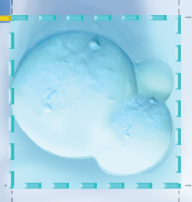 Snowdrifts are outlined by blue dashed lines. If Penny slides into a snowdrift, she halts her movement. Use these to your benefit as you plan out how to navigate Penny's course.
So now you know all about Penny the snowboarding penguin! Time to hit the slopes!
Quirky Circuits: Penny and Gizmo's Snow Day is currently available for preorder and is projected to be in stores around March 9th!