The World of Familiar Tales
Meet the Familiars
Hello, and welcome to the first article in a series, introducing our upcoming adventure game, Familiar Tales, an exciting narrative board game for 1-4 players, ages 8 and up.

In Familiar Tales, players take on the roles of four wizard's familiars who are tasked with protecting and caring for a very special child who is the key to the fate of a far-off kingdom.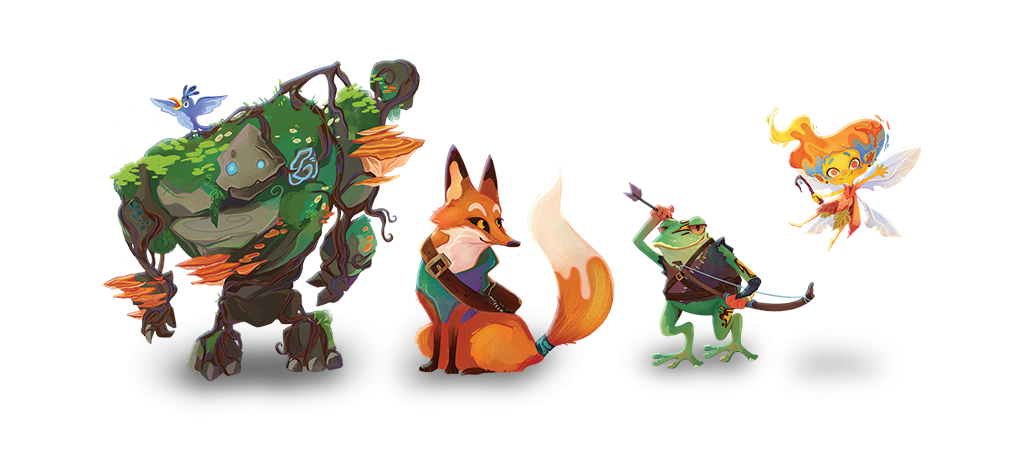 The four familiars must work together, using their various talents to overcome the challenges they face, as the evil Lord Perish and his minions search the land for the missing child.
Each familiar is a playable character that comes with a detailed plastic miniature, character card, special attack card, health and power dials, a customizable skill deck, and a deck box to store everything in between games.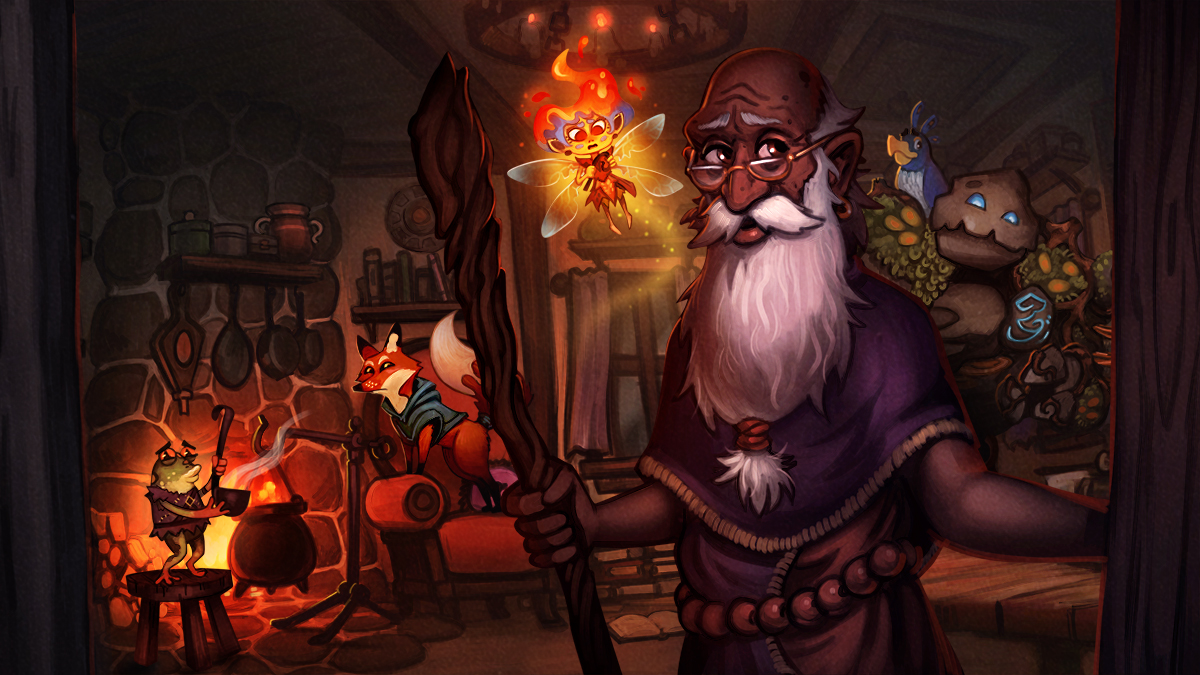 The four familiars are bonded to the great wizard Merilious, but one fateful night a mysterious visitor arrives on Merilious' doorstep, carrying a tiny baby. Fearing an imminent attack, the wizard sends the familiars into the woods with the babe while he confronts the attackers, buying them time to escape.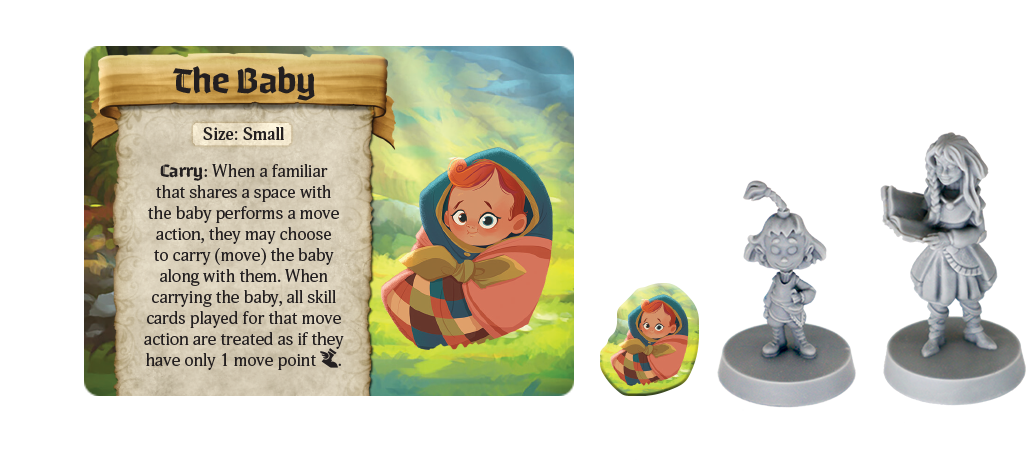 Thus begins an epic, action-packed story that spans three eras and sees the child grow from a tiny baby into a young adult. The loyal familiars must each contribute to the girl's upbringing as best they can, all while fighting to keep her out of the clutches of Lord Perish.
In Familiar Tales, you can play as:
Blaze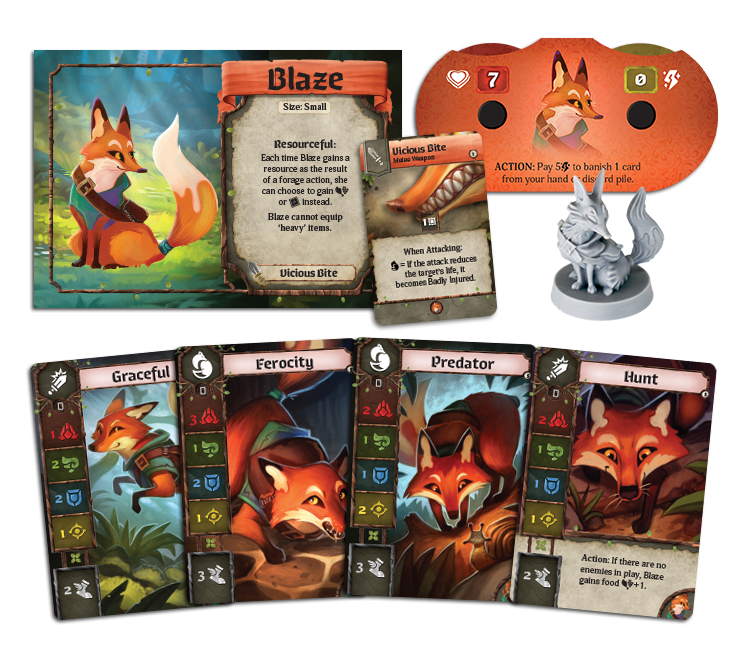 Blaze, is a fierce and protective fox! She is a swift and capable protector, a solid provider, and a tenacious fighter with her Vicious Bite attack.
Chalk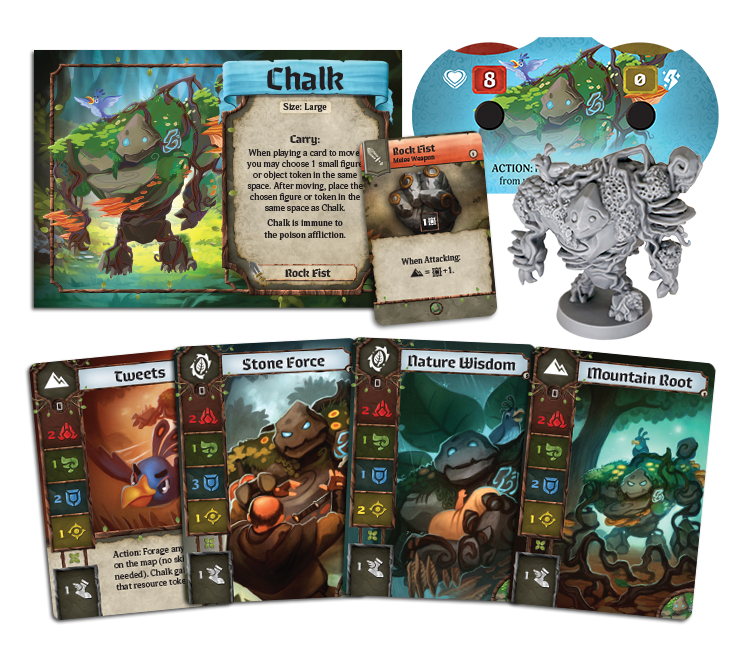 Chalk is a lumbering golem made of stone, vines, and the living earth. It is silent, but has the capacity for deep emotions. It communicates through a chirpy bluebird named Tweets who has a symbiotic relationship with Chalk. When Chalk needs to clobber somebody, it uses its Rock Fist.
Flicker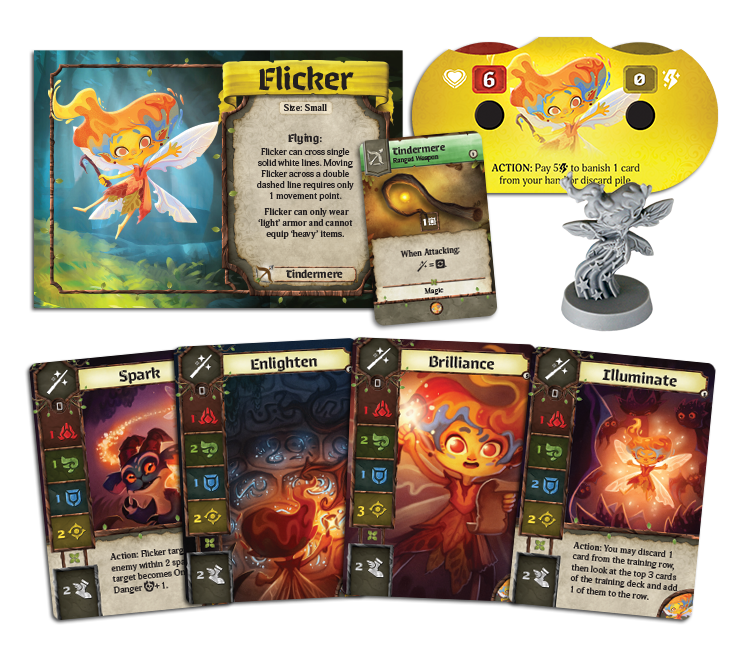 Flicker is a tiny fairy Candletinder. She is cheerful, smart, and chatty. She can fly and cast spells, and is quite formidable with her Tindermere wand.
Gribbert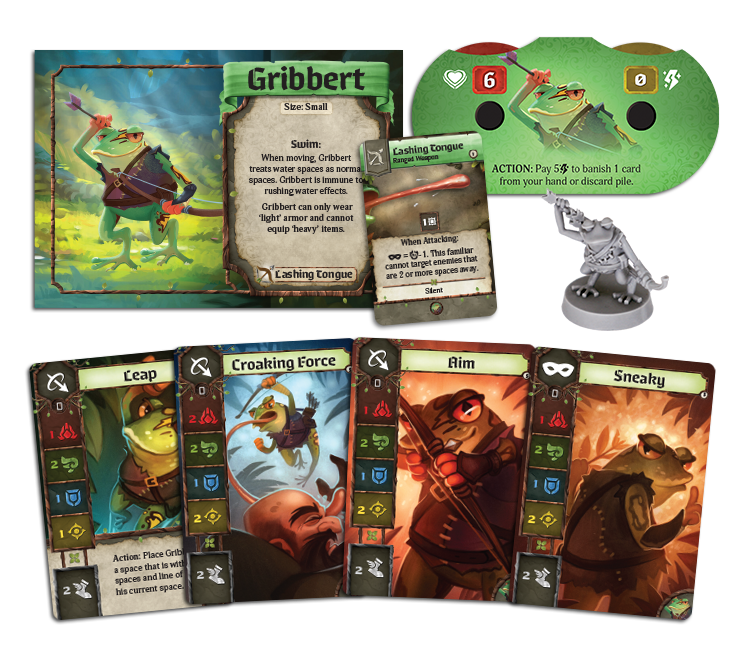 Gribbert is a small frog. He used to be a roguish human until he ran afoul of an angry witch. He is quick-witted, charismatic, and feels responsible for teaching the other familiars about the ways of humans. He's also quite accurate with his Lashing Tongue.
A World of Secrets and Adventure
Familiar Tales takes place in a far-off kingdom where magic is real and ancient mysteries lay hidden, just waiting to be discovered. It is also a land unknown to the familiars except Gribbert, as they've been sheltered from the world their whole lives. Gribbert himself is gradually losing his memories of life as a human, and telling stories about his exploits helps him keep those memories alive.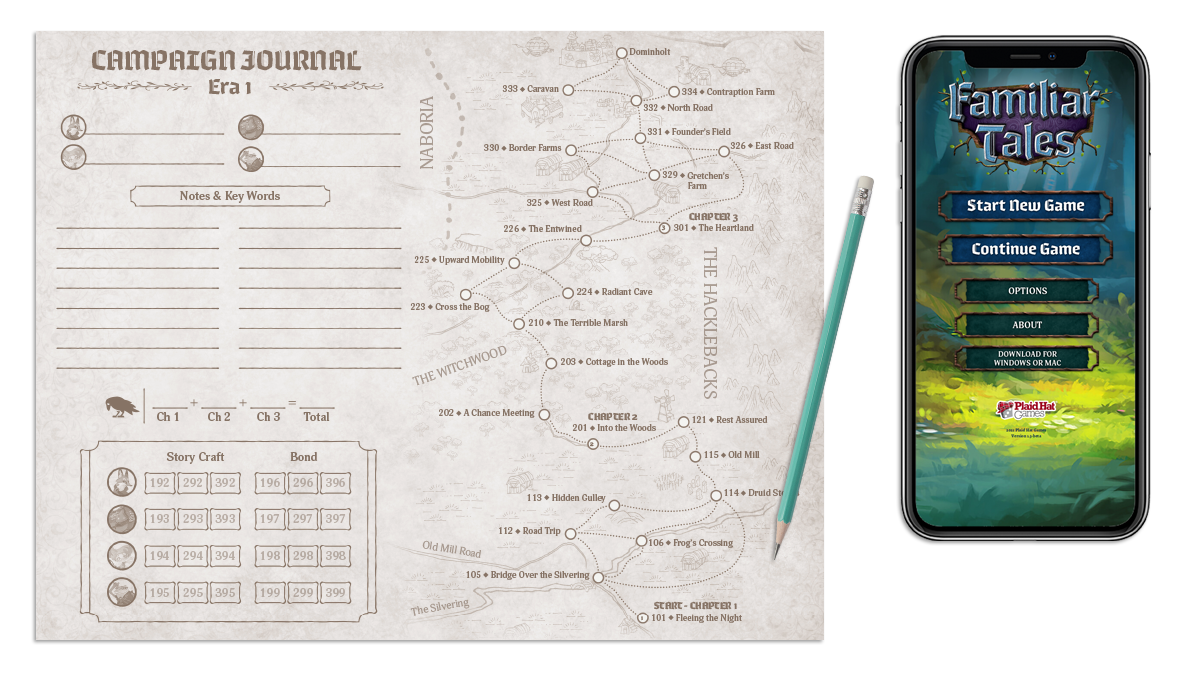 The players must work together to guide the familiars on their travels. As they explore the countryside, they will use their journal to chronicle their adventures. The Familiar Tales app will assist and provide the narrative, complete with music, sound effects, and professional voice actors.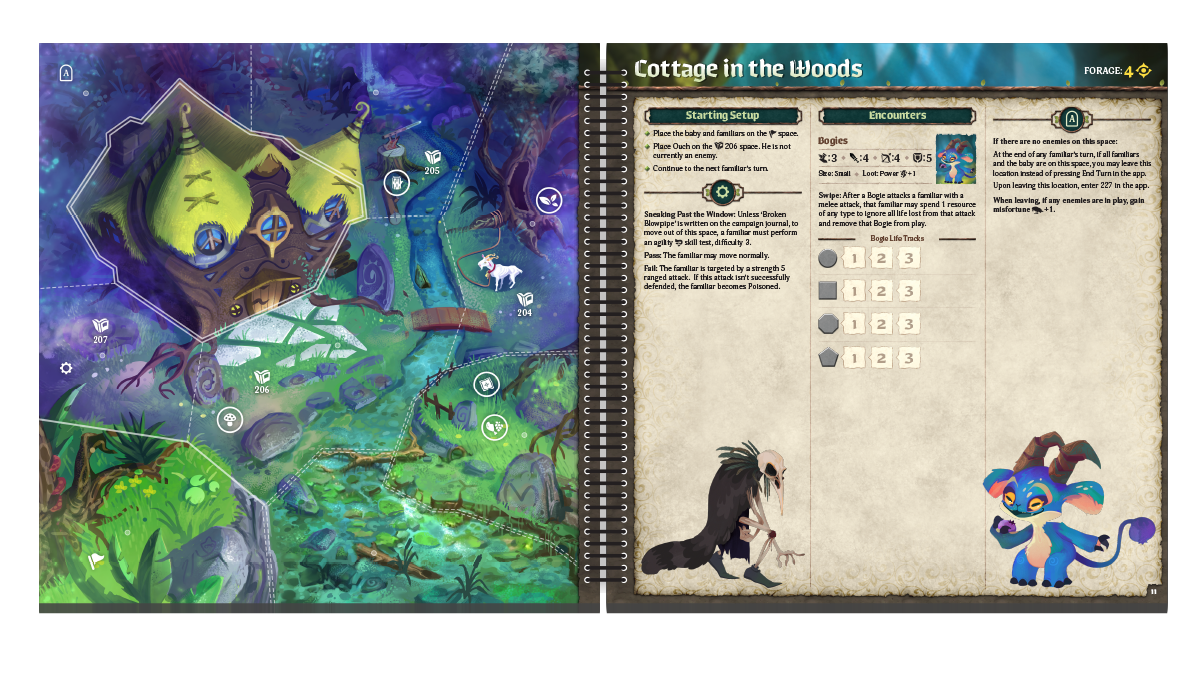 The story is played out page by page in a beautifully illustrated location book that acts as both a game board and rules reference. The game's save system allows players to choose the length of their play sessions to suit their lifestyle. Come back later and resume right where you left off!
Check back next week for a preview article about the intuitive companion app!