Fallen Kingdom Revealed!
Elut-Bal and Sacrificial Pyre
Welcome back summoners! Today is the last preview for the Fallen Kingdom, revealing Ret-Talus' strongest powers yet!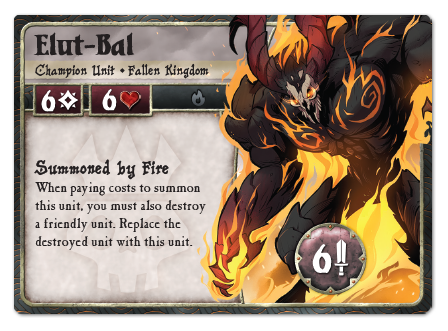 Elut-Bal is a gigantic champion, boasting a lethal 6 strength! While you must also sacrifice an ally unit to summon this demon, doing so will allow you to bring Elut-Bal right into the fray, possibly even within range of the enemy summoner! With so much potential strength, foes of the Fallen Kingdom must respect any wandering, nearby zombies as potentially ushering in the wrath of Elut-Bal!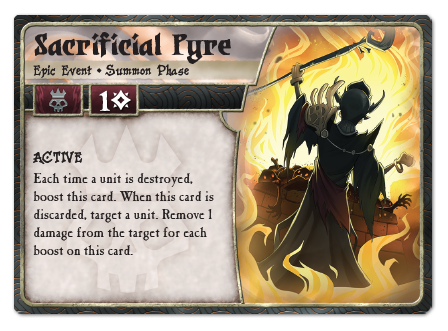 Finally, we have Ret-Talus' epic event; Sacrificial Pyre. We saw at the beginning of this faction preview how Ret-Talus can sacrifice his life value to revive the undead. With Sacrificial Pyre, Ret-Talus can recover that sacrifice many times over, depending on how much destruction he can bring in a single round. For each destroyed unit, friendly or not, this active event will boost up and convert into damage recovery next turn on a target of your choice, including your summoner!
That's all for the Fallen Kingdom! Stay tuned for the next Master Set faction preview: the Polar Dwarves!