Fallen Kingdom Revealed!
Dragos and Undead Archer
Welcome back summoners! The Fallen Kingdom is back with another round of units, each benefitting from the destruction of units nearby.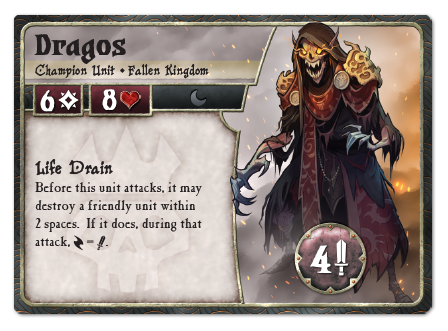 Dragos is a high damage melee champion with the ability to further increase his threat by sacrificing a nearby ally. If Dragos consumes the soul of an ally within 2 spaces, he'll be rewarded with even more effective dice rolls, which can be a great way to get some added firepower against enemy champions, gates, or even summoners!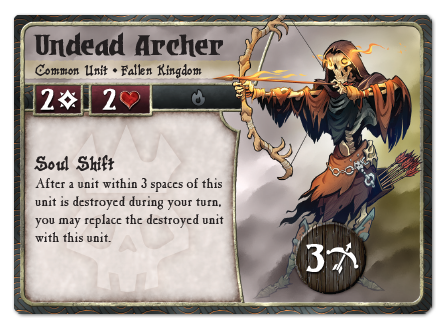 A strong Fallen Kingdom player must always be on the lookout for the destruction of units, as the Undead Archer gets a significant positional advantage if they are within range of such a situation. Their Soul Shift ability has a wide range of 3 spaces, and paired with a ranged attack value of 3 means these Archers are well equipped for assasination! Whether you are destroying enemies in combat or sacrificing allies for power, be sure to have some Undead Archers ready to hop over and take their place!
Monday we wrap up the Fallen Kingdom previews with their final champion and Epic event! See you there!