Fallen Kingdom Revealed!
Hellfire Cultists and Hellforged Weapon
Welcome back summoners! Today's previews come from deep within the fiery forges of the Fallen Kingdom. Check them out!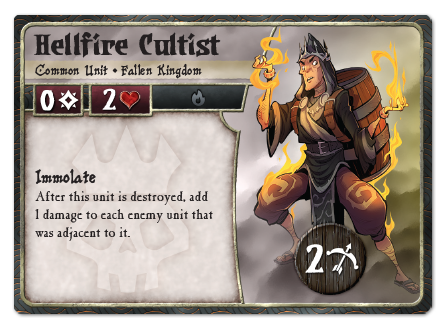 Hellfire Cultists have a simple role: to be thrown them into the heat of battle where they can explode! Their Immolate ability can dish out plenty of damage both as a retaliation to being attacked, as well as from using your own sacrificial effects to trigger it. At a cost of 0, it is plenty easy to send in some cultists into the mix and guarantee they leave a mark!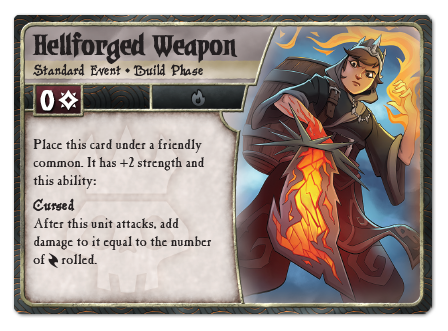 The Hellforged Weapon event is another low cost way to amplify your damage dealing capabilities, but it comes with a drawback. In exchange for +2 strength on a common you control, any special symbols rolled will deal cursed damage back to the wielder. Should you have a Hellfire Cultist equipped with this card, you may even trigger a devastating chain reaction of explosive damage!
Tomorrow, we continue our daily Summoner Wars previews by exploring how much Ret-Talus is willing to sacrifice for victory. See you there!