Fallen Kingdom Revealed
Ret-Talus and Undead Carrier
Welcome back, summoners! It is time to begin previewing the next faction from the Summoner Wars Master Set: the Fallen Kingdom! Ret-Talus is back with a full new suite of undead warriors, sacrificial tactics, and rains of hellfire!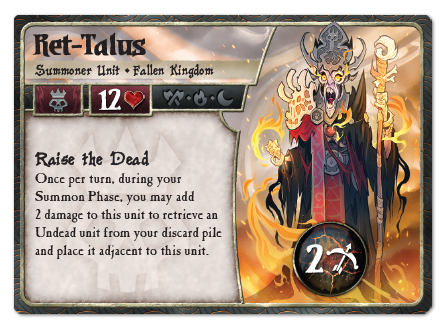 The Fallen Kingdom is no stranger to making sacrifices for power, whatever the cost. Their summoner, Ret-Talus, can sacrifice his own health to raise an Undead common and place it next to him. The Fallen Kingdom deck has several Undead options to choose from, including this next preview, the Undead Carrier!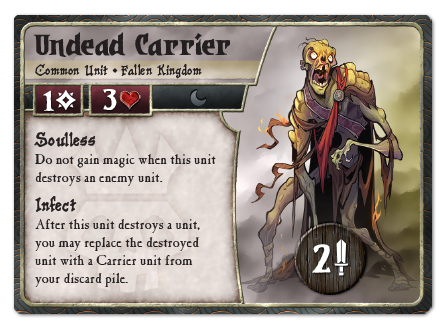 The Undead Carriers are an essential part of cultivating an endless zombie horde, as destroying an enemy with one will exchange magic received for another copy of a carrier from your discard pile. Even as you run out of resources, Ret-Talus can pull back from the brink of defeat and repopulate the battlefield with a chain of Undead Carriers!
Tomorrow, we continue our daily Summoner Wars previews as we explore the fiery threats of the Fallen Kingdom!