Savanna Elves Revealed!
Makeinda Ru and Spirit Mage
Welcome back summoners! Today is the last preview for the Savanna Elves, after which you'll see them at their full power!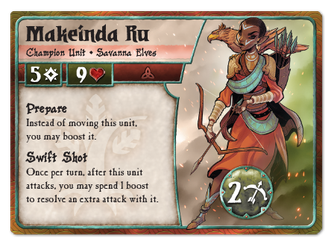 Makeinda Ru may look familiar. In fact, she has identical abilities to the Border Archer from last preview! Makeinda Ru takes all the function of a Border Archer and pairs it with 9 life, meaning she'll be much more equipped to hold down a lane over time, using Swift Shot on any enemy that enters her range!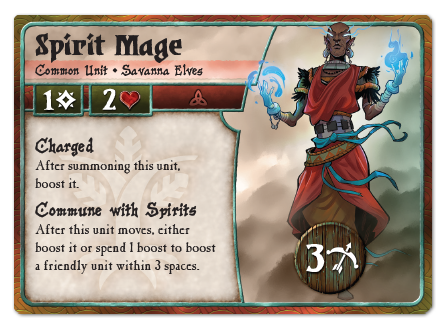 Our last unit of the Savanna Elves is the Spirit Mage. This unit plays a strong support role in keeping your army boosted to their maximum potential. In addition, since this unit comes into play boosted, Spirit Mages are readily equipped to take advantage of any boost abilities granted to them!
That's all for the Savanna Elves! Stay tuned for the next Master Set faction preview: the Fallen Kingdom!