Savanna Elves Revealed!
Chant of Weaving and Lioness
Welcome back summoners! For today's preview, check out some Savanna Elf staple cards for their boost-based strategies.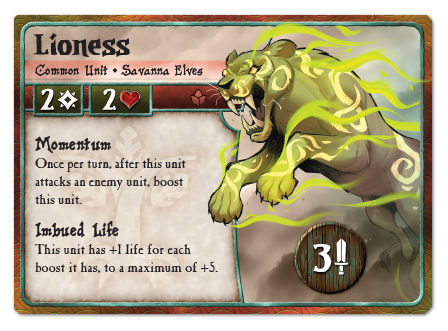 The Savanna Elves' Lioness is one of the best generators and recipients of boost tokens. She is able to self-boost simply by attacking, and is rewarded with extra life for each boost she gains! Gaining life from boosting is a great snowballing effect, as she can leverage her increased life to continue threatening her boost tokens to convert into damage via Abua Shi's Chant of Power we saw last preview!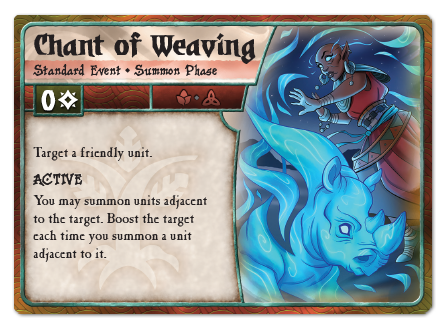 Chant of Weaving offers up two key utility pieces for a growing Savanna Elf army. Summoning adjacent to your units is a great way to get some extra surprise reach towards your opponent's summoner. Additionally, this Chant will boost the unit in which you are summoning next to, further extending your forward momentum as you develop your front line offense!
Tomorrow, we continue our daily Summoner Wars previews with two powerful champions of the Savanna Elves. See you there!