Savanna Elves Revealed!
Abua Shi and Chant of Power
Welcome back, summoners! It is time to begin previewing the next faction from the Summoner Wars Second Edition Master Set: the Savanna Elves! Abua Shi makes his return to the battlefield, leading the Savanna Elves to victory with boosted strength and powerful chants. Let's take a look!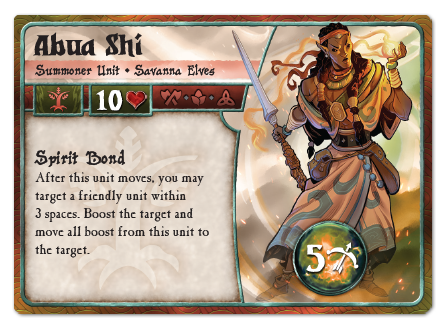 Abua Shi comes ready to fight with a tremendous 5 ranged attack! Even with a lower life of 10, his raw offensive power is his best defense, cleanly clearing away any encroaching common enemies. His Spirit Bond ability serves as a glue that holds the rest of his army together, generating boost tokens for a wide variety of uses, as well as paying forward any excess boost tokens that Abua Shi may have received himself.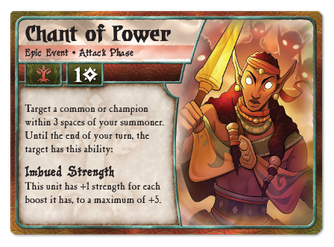 Abua Shi's epic event, Chant of Power, is a faction-defining strength boost, turning any boosted unit into a potentially lethal threat! With their summoner paving the way for a boost-centered strategy, the Savanna Elves often win through the sheer damage output of Chant of Power!
Tomorrow, we continue our daily Summoner Wars previews as we explore more boosting synergy and positional advantages of the Savanna Elves!