Building Basics: Master Set - Noah
Snipes and Stripes

Snipes and Stripes
Deck designed by Brian B
Noah Redmoon
Dice 3x Ceremonial, 3x Charm, 4x Illusion
3x Abundance
3x Blood Archer
2x Enchanted Violinist
2x Fade Away
3x Hidden Power
2x Iron Worker
2x Redirect
1x Shifting Mist
3x Stormwind Sniper
3x Summon Masked Wolf
2x Summon Sleeping Widows
2x Summon Three-Eyed Owl
2x Sympathy Pain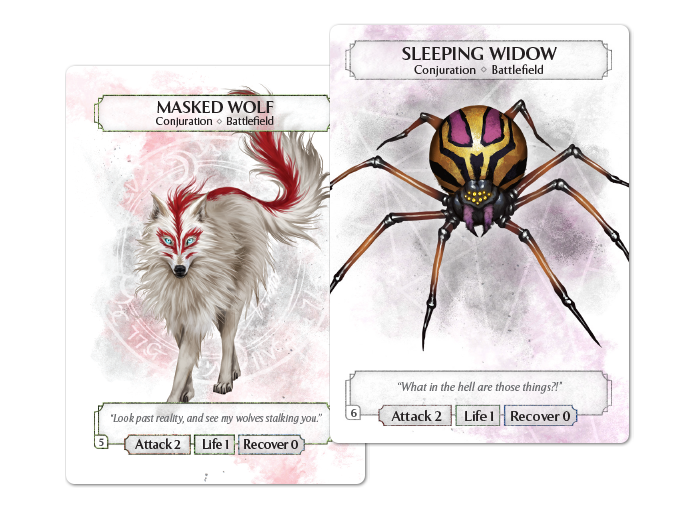 This deck creates explosive swings with Masked Wolves and Sleeping Widows.  These units do not require main actions to place, and thus the damage they deal can arrive seemingly out of nowhere. Abundance is included mainly to help you draw into extra copies of Summon Masked Wolf.  Iron Worker also helps here, since its ability lets you draw extra cards at the start of each round.  Once the Wolf book is focused, you get an extra side action if you pay with a power die.  You can summon up to three Masked Wolves on a single turn and attack with them immediately.  If the board stalls out, Abundance can be used to push damage onto your opponent once their deck is out of cards.  
Most of the other cards in the deck are designed to help you control the battlefield.  Enchanted Violinist and Blood Archer provide free ping damage to clear out small units.  Fade away can be used to remove larger threats at the end of the round.  Sympathy Pain has a dual use, since it can either be used to place wound tokens on the opposing Phoenixborn or onto a target unit.
While the Three-Eyed Owl cannot be used to kill opposing units, it will indirectly occupy opponent resources to protect their hand against Memory Drain.  This is particularly important in the first round.  If your opponent decides to ignore the owl this deck can easily pivot to an Owl+Abundance mill strategy.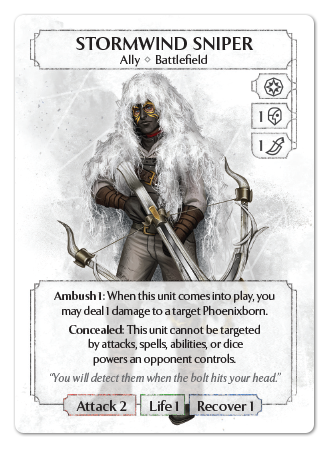 Finally, the Stormwind Sniper is special.  The Concealed ability can give your opponent fits if you play it right.  Concealed units cannot be targeted by attacks or spells, or really anything as long as the unit remains unexhausted.  The only efficient way to remove a concealed unit is with an area-of-effect spell.  For example, the Maeoni deck that is matched up with this one, includes Mist Typhoon.  Your opponent will ideally want to play Mist Typhoon when you have a board full of one-life units in addition to the Stormwind Sniper.  Don't give Maeoni this pleasure.  Play Stormwind when your board has relatively few widows and wolves and don't attack with the sniper, since you need to keep the unit unexhausted.  This will either force Maeoni to waste a Mist Typhoon to clear out a single Stormwind Sniper or force her to swing at your Phoenixborn, even though she knows that the sniper can block the attack. 
First Five

There is a lot of flexibility in your choice of First Five for this deck.  I think you should always include an owl book and a wolf book, and I would typically recommend Shifting Mist for dice fixing.  But the other two cards could be some combination of the following: Sleeping Widows, Abundance, Fade Away, Blood Archer, or Iron Worker.  An approach I like is to play both the owl book and wolf book (note that one is placed with a side action) on your first turn.  Then on your next turn, summon an owl.  Your opponent will often kill the owl immediately to avoid a first round memory drain.  You can use this to trigger sleeping widows, and then on your next turn, use your side action to summon a wolf, and immediately swing for 6 damage with two widows and a wolf.  Be sure to save a die for Noah's Shadow Target.  Shutting down a summoning book in the first round is pretty useful.        
In the matchup against Maeoni, deck out next week, watch out for Mist Typhoon and Refresh on the Silver Snake.  Sometimes this may mean keeping an owl unexhausted to serve as a backup blocker. In other cases it may mean keeping a charm power die up so that you can redirect damage from a snake.
I hope you enjoy playing this deck!
Brian Broughman learned to play Ashes in 2017 with some friends in Bloomington Indiana.  He has played in a number of tournaments and was honored to select Jericho as the Phoenixborn to win the War of Ashes after he finished first in the Dallas farewell tournament in 2019.  Brian began playtesting in 2020 and he currently lives in Nashville Tennessee.